Seventeen editions, fifteen years, and over three hundred forty episodes broadcast – Strictly Comes Dancing has definitely gone down in the history of the British pop culture. First presented in 2004, the UK's top dancing competition has become a weekend's classic for thousands of families all across the country, who each week devotedly support their favourite celebrities in their dance challenges. Over the years it became so popular that most of the big UK bookmakers created a special betting category allowing you to bet on Strictly Come Dancing!
After all these years, we have quite a good understanding of what it's all about – a ballroom blitz filled up with the pompous atmosphere, bright-shining costumes, and meticulous hairstyles we wish we knew how to copy at home. But behind this truly amusing picture, there's more we can probably imagine. And a bit part of it has little or close to nothing in common the TV glamour we all got used to.
Here are the 10 facts you didn't know about Strictly Come Dancing!
10 – Tanning Is The Key!
No, it's not that our favourite dancers and celebrities practise new dance moves on a beach. Rather than enjoying long days of sunshine… they simply befriend fake tan. There's a dedicated team who runs two tanning booths on the backstage of the show. But how much of the tan are we talking about? According to several sources, it's about 55 litres of fake tan every series. Sounds like a lot? Maybe, but it doesn't change the fact the fake tan aesthetics have spoken to the audience. Fans can even buy self-tanning sprays branded with Strictly Come Dancing!
09 – Make-up On Point
Speaking of numbers – let's go even bigger. If you think the tanning team has it hard – think of the hard-working make-up crew. Supposedly, between 2004 and 2015, over 1200 sets of fake eye-lashes and 1000 bottles of nail polish have been used during the show. Add 350 mascara wands to it. Oh, and the unbeatable liquid glitter – just 150 litres! And they say that natural beauty is what we'll all after these days…
08 – (Not!) A Bad Hair Day
Remember the hairstyles we're all jealous about? No wonder we are, as there is an entire crew making sure the dancers' hairstyles look great at all times. And that's definitely not the easiest task to do, considering the dance moves that come in the package. Over 500 cans of hair spray are used in every series. Just to compare – with this amount of the cosmetic, you would be able to fill up to 6 petrol tanks of a Mini Cooper. Now – are you still jealous of the stars who have to carry tones of hair spray on their heads?
07 – Dress To Success!
You hear Strictly, you think sequins. Correct? Well, that's understandable as everything we see on telly is super bling. But in reality, no actual sequins are used in the show, as instead rhinestones and crystals are favoured. Just to make sure the costume department is always ready for last-minute fixes, there are over 170,000 crystals stored in the studio. Better safe (and shiny!) than sorry, right?
06 – Team Spirit
It takes to two tango… and ten more to make a dress. Around 12 people in total are behind every each of the dresses we can see on Strictly Come Dancing. Given the team has about 40 hours to create an outfit that will astonish the viewers and a dancer themselves, the size of the team is understandable. It truly is a race against the clock!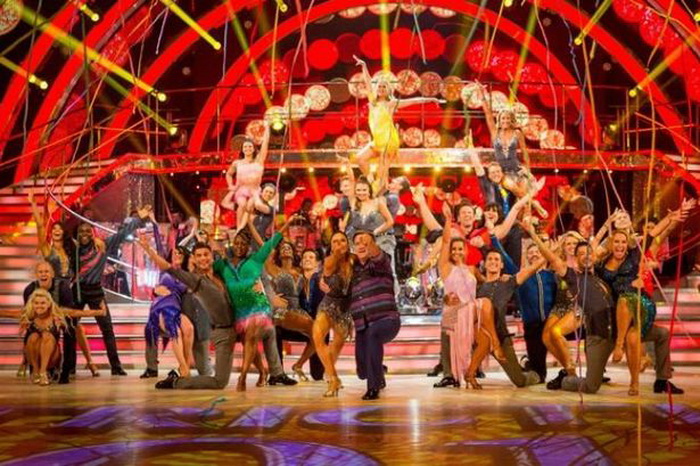 05 – Last-Minute Fixes
Time is king, no doubt about it! No matter how many people work on mastering dancers' creations, the last-minute corrections are inevitable. The Strictly team has confirmed that sometimes it's needed to act fast, and by fast we mean the single minutes before the couples come on the stage. No, no pressure at all!
04 – Glam Ain't For Free!
The costumes both celebrities and professional dancers wear on the dance floor are as expensive as they look to be. No question about that. Supposedly, the average cost of one dress amounts up to £2,000! A one-time whim? For the Strictly dancers, yes, but don't worry! Even in this consumption-driven show, there are things that are used longer than for the duration of the episode… The dresses, once worn, are sold for other professional dancers or auctioned off for special occasions, such as school proms.
03 – Light, Camera, Action!
As the Saturday night episodes are live, all necessary measures need to be taken to ensure a smooth running of the show. And by the "perfectionism" we mean even going an extra mile neither of us would like to be forced to take. Imagine being restricted from drinking for two hours only to guarantee you won't feel like using the loo later… Apparently, Tess Daly has been following this routine for a number of seasons now!
02 – High-Profile Fans
If you think Strictly Come Dancing speaks to the masses – then yes, you're right. But not only! It turns out that the show has found the devoted audience in the higher (if not the highest!) classes, too. The most notable viewers include Her Majesty The Queen and the Duchess of Cornwall! Now, imagine being on the dancefloor and knowing who your audience is…
01 – Code Names
Before we can read hundreds of gossips about Strictly celebrities, the first few weeks of each series are crucial for the production team who need to keep the contestants' name a secret. For this reason, before the line-up is officially announced, the crew uses code names varying from Disney cartoons to Shakespeare's characters. Top three up to these days? Banana-Man, Goat Cheese and Buzz Lightyear.
Surprised? Now, wait for Saturday to come and try not to think about these bizarre facts when watching Strictly! No other weekend telly session will ever be the same! And, as the show doesn't seem to be taken off the programme any time soon, it's a matter of time our list will be spiced up with more shocking news. Stay tuned!