Every year there are special occasions which people around the world like to enjoy. Christmas is of course a classic example which many of us love, while Easter is also a time that is special to millions of people. One other annual event which lots of countries like to celebrate in one way or another is Halloween. With its creepy feel and list of characters involving witches, zombies and vampires, it is a time of year we all love to be scared by.
As well as heading out to Halloween parties, most people love sitting down with a good horror during this time of year. But what are the ten most chilling horror movies to watch this Halloween season?
10 – The Texas Chainsaw Massacre
Forget about all the remakes, sequels and prequels this Halloween – the original 1974 Texas Chainsaw Massacre is the one to watch. Although if you are in the house alone and someone knocks on the door trick and treating, you might jump! Such an infamous movie needs little introduction but for anyone who has not seen it yet – be prepared. It stars a family of hippie-hating maniacs with a penchant for meat hooks, bone furniture and chopping people up with chainsaws. Full of blood and gore, it still manages to shock.
09 – The House of the Devil
This is a more recent film from 2009 and shows that modern horrors are just as good for scares over Halloween. From director Ti West, it cleverly mimics the look/feel of 1980's horrors for an effective shot of nostalgia. The main story follows broke student Samantha who takes on what seems at first glance a simple babysitting job for the Ulman's. Things soon start to get weird though and she has to use all her wits to survive what this strange couple have in store for her. Combining slasher flick scares with haunted house and satanic panic themes, this keeps you hooked until the last shot.
08 – The Descent
Many people find Halloween scary because of the monsters and creatures dreamt up at this time of year. Films with monstrous creations are therefore always worth a look when the end of October arrives. The Descent is a fine choice and sees a group of women go caving in North Carolina. Once there though, they realise they are not alone and are swiftly hunted down by whatever lurks underneath the ground. While there is some blood and gore, this movie works mostly for the jumps it delivers. Released in 2005, it has some great acting in and keeps you gripped from the first shot.
07 – Twenty-Eight Days Later
If you like to be scared by the thought of zombies wandering the earth this Halloween, why not check out Danny Boyle's Twenty-Eight Days Later? Written by top author Alex Garland, the central performance from Peaky Blinder's Cillian Murphy is mesmerizing. The story revolves around a mysterious virus being accidently released into the world, its fast spread and the collapse of society. Those who are not yet infected are left in a race to survive and this fast-paced drama is a thrilling ride. The zombies for example are not slow-paced morons – but lightning quick killers! With a great score and striking visuals, it is a winner.
06 – Friday The 13th
A real classic horror franchise to dip into if you dare are the Friday The 13th movies. Although they got worse as the years went on, the first one from 1980 is a really good film for chills. Starring a memorable bad guy in the form of hockey mask wearing psycho Jason Vorhees, it centers around a reopened Camp Crystal Lake. The troubled past this place has comes back to haunt the current batch of young counselors though. With some inventive death scenes, a truly creepy vibe and a twitchy musical score, it manages to keep suspense levels high all the way through.
05 – Scream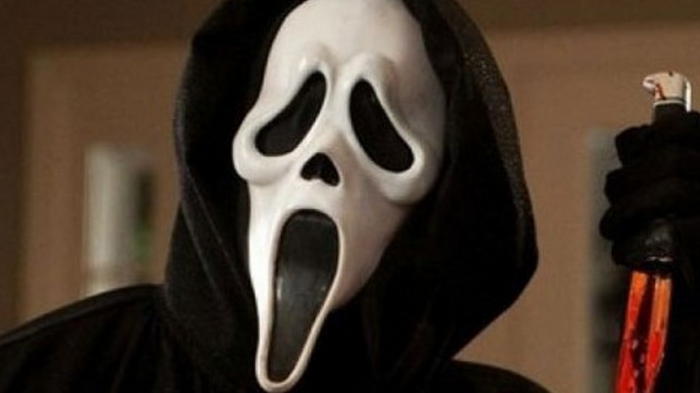 The original Scream from 1996 felt like a fresh start for horror films and is certainly a good one to catch this Halloween. Starring Courtney Cox, it is a clever film which never talks down to its audience and plays on horror cliches in a knowing way. It also made people very nervous to take phone calls when home alone for a long time! The masked killer of the film became an iconic bad guy and the first movie inevitably led to sequels. It is this first one though that has the perfect mix of scares, gore, jumpy moments and suspense.
04 – The Exorcist
If you are looking for films which mimic the supernatural aspect of Halloween, then The Exorcist still rates highly. Even though it has been out a long time now, there is something in the acting and atmosphere which makes it chill you to the bone still. Full of iconic scares and ominous music, it tells the story of a 12 year old girl who is believed to be possessed by the devil. The ensuing battle between good and evil when Father Karras shows up is stuff of film legend. If you have never seen this, it is a great Halloween flick which will stay in your mind for days.
03 – Suspiria
Director Dario Argento has a list of cult classics which could have made our scary movie list for Halloween. Films like Inferno and The Mother of Tears spring to mind for example. 1977's Suspiria though seems the obvious choice for its connection to witchcraft. Starring Jessica Harper, the movie is based on an old Thomas de Quincy story and follows an American ballerina studying abroad in Germany. A series of disturbing murders though soon see her fearing secret occult and supernatural dangers are at hand. A real feast for the senses, this is both art-house and wildly entertaining.
02 – Halloween
In truth, any of instalment of this franchise is a good bet for movie fun when Halloween comes around. The fact that they are all usually set during that time of year helps no end! The original though is still arguably the pick of the bunch and saw John Carpenter really make his mark. From the prowling camera work to the edgy musical score and memorable bad guy Michael Myers, it really did have everything a scary film for this time of year needs. When you also add in a fine performance from Jamie Lee Curtis and a taut, suspenseful atmosphere, you can see why it ranks so highly still.
01 – A Nightmare on Elm Street
This is another infamous movie and one that scared adults AND kids witless in the 1980's. As such it is the ideal chilling horror flick to enjoy this Halloween. The story revolves around dead pervert Freddie Krueger who was killed by the parents of kids he had been accused of molesting. Not happy with his fate, Kreuger haunts the dreams of his killer's kids and slaughters them as they sleep. Wes Craven directs this classic masterfully and points out a very good observation – we are never more vulnerable than when asleep!
Halloween is a spooky time of year and one that we all secretly love to be scared by. If you really want to get into the swing of the season, watching any of the above movies is a great idea. Whether you view alone or with friends, they are sure to put you in the perfect mood for this time of year.