There can be little doubt that Xmas is the best time of year for many of us. The combination of Santa, presents, time off school or work with lots of tasty food and drink is hard to beat. When you add in the special festive feeling that all the decorations and snow bring then it really is magical. To get into the Christmas spirit, a good Xmas move is always wise. It will make you feel happy and get you ready for Santa to come down your chimney anytime soon!
Of course, the sheer popularity of Christmas means there have been many films made about it over the years. Here are ten of the most amazing and festive to check out.
10 – Arthur Christmas
A big niche within Xmas films is those movies aimed at kids. After all, Xmas is mostly about children, family and finding ways to make it more special for any little ones you have around. This is a great film for doing just that! An animated classic, it tells the story of how Santa manages to deliver his gifts around the world. It also sees Santa on the verge of retirement with the battle on to succeed him. Arthur is one of his son's who no-one pays much attention to but goes on a magical journey in the film to save one little girl's Xmas. This is a funny, touching and very festive tale to enjoy.
09 – Deck The Halls
Released in 2006, this festive film stars both Danny De Vito and Mathew Broderick in the main roles. This is more of an adult film and as such is perfect for when you want a Xmas film that is more grown-up to watch. The story sees De Vito and Broderick as two neighbours battling it out to see who can decorate their house the best over the holidays. There are lots of laugh out loud moments and some seriously over the top lights to gawp at!
08 – Holiday Inn
If you would rather get some old-school Hollywood glamour at Christmas, then this is your film. Probably not one for kids due to it being in black and white, it brings together Fred Astaire with Bing Crosby. It also boasts a soundtrack from celebrated composer Irving Berlin that he wrote specially for the film. In it, the two main characters have a successful act on the New York nightclub scene which is broken up one decides to retire to Connecticut to run a farm. Along the way there are lots of romantic twists and great songs to enjoy as well as fine performances from both Astaire and Crosby.
07 – The Polar Express
Heading back into films the whole family will love, we have this modern classic. Hailed when first released for the ground-breaking animation techniques used, it also has a very good voiceover from Tom Hanks as the main character. The basic story sees a young boy hop aboard The Polar Express as it heads to see Santa at the North Pole. The story has enough great supporting characters and dialogue to remain interesting, even for little ones. If it gets to Xmas eve and you need a film to really get the kids excited for Santa coming, then this is it.
06 – Jingle All The Way
Although this was a real departure for Arnold Schwarzenegger when first released, it has since become a Christmas classic. It tells the story of Arnie's character as a workaholic dad who is never there for his son. To make up for this, he promises to buy him the latest action-hero doll for Xmas. Cue much hilarity and dashing around as Arnie tries desperately to find the elusive doll. The film runs along at a brisk pace and has some really funny moments as parents battle for the hard to find action figure. Much of the humour comes from Arnie's brilliant turn in the title role and some of the great lines he comes out with though.
05 – The Snowman
This may not be as well known as some other big hits on here but is a real classic. From the early 1980's, it may look a bit dated now in terms of the animation techniques used but the tale never gets old. It sees a little boy wake up to find the snowman in his garden has come to life one night at Christmas time. While the sun is in, they go on a series of thrilling adventures together before day breaks once more. This film is also notable for the great soundtrack provided by very young Aled Jones.
04 – Frozen
Coming back to more recent times, there is this magical Disney movie. Telling the story of two sisters Elsa and Ana, one of whom has the power to control ice and snow, this is a really brilliant family film. Full of quirky supporting characters like snowman Olaf and ice cutter Kristoff, the kids especially will love the humor and Disney take on all things wintery. It has many amazing songs in to sing along to also – probably the most famous being 'Let It Go'. Kid friendly without being too overly sentimental, this is one to snuggle up to after Xmas dinner.
03 – Home Alone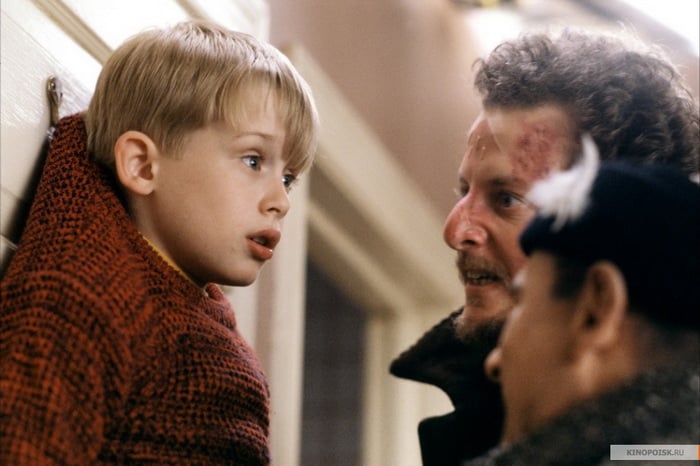 This was a 1990 film from John Hughes but is mostly known for shooting a young Macauley Culkin to fame. Culkin plays the character of Kevin who lives with an extended family and gets somehow left behind when they all go off on holiday at Xmas. This leaves him home alone to fend off the attentions of some less than friendly burglars. The scenes with his home-made booby traps are still funny and Culkin brings real charm to his role. This is another great film for the whole family and spawned a not quite as good sequel.
02 – It's A Wonderful Life
On the face of it, the plot of this film seems like it just wouldn't work as a Christmas classic as it contain themes of depression and suicide! Starring the amazing James Stewart, it is also directed by the great Frank Capra. Released in 1946, it tells the story of George Bailey who has given up on his own dreams to help others. This leads to him becoming depressed and thinking of committing suicide. Before he can his guardian angel intervenes to show him how much he is loved and give him his lust for life back. The ultimate feel-good movie, this is a real blast of old-school Hollywood style for your family Xmas.
01 – Elf
This 2003 classic starring Will Ferrell is many people's favourite Christmas film. It sees Ferrell playing Buddy, a human raised as an Elf in the North Pole after climbing into Santa's sack by mistake one Christmas Eve. When he reaches adulthood, Buddy travels back to see his real father and help him make it back onto Santa's nice list. Full of laugh-out loud moments when Buddy encounter the cynical human world, Ferrell is on top form here. It is also very Christmassy to get you in the festive spirit!
If you are needing a quick and easy way to bring Xmas into your home, then the above movies are great. All have the right amount of sentiment, humour and festive touches to get you feeling just right. If you haven't seen any then check them out before Xmas is over for another year quickly!