In the whole Horror genre, there are many different types of film. From slasher to supernatural and psychological, there are actually many kinds to enjoy. One sub-genre of Horror that is very popular is the 'Found Footage' movie. This is where the film starts off with video footage being found and then the movie unravelling by the audience watching this footage. It is a very effective method of presenting films as it gives a very realistic, personal feel to what is happening. Indeed, some of the early found footage movies even had people thinking that what was being shown had really happened!
If you like this kind of Horror, then here are some of the best ones ever made:
10 – The Poughkeepsie Tapes

We start off with a not very well-known movie that is pretty sick. It was actually filmed in 2007 but has never had an official cinema release. The films backers MGM scheduled it for a February 2008 release but then mysteriously removed it at the last minute. For many years it was simply impossible to get hold of but it can now be purchased on DVD. The reason may have been the controversial and graphic nature of the footage. The basic story sees police raid a home in Poughkeepsie, New York where they think a serial killer is living. While no person is there to arrest, they find a stash of video tapes which, when watched, show footage of the killer abducting, torturing and murdering his many victims. This is one film that lives long in the memory when watched.
09 – V/H/S 2

This found footage gem follows on from the first V/H/S film but is arguably better. Released in 2013, it links several short films into one long piece with an overall narrative, that being the found footage angle. Many pick out the section 'Safe Haven' as the stand-out piece with its insight into the goings on of a fictional cult. The second short 'Clinical Trial' is also worth a look though for its out there ideas and truly scary ghosts. Overall, this is a very effective and memorable found footage release.
08 – My Little Eye

Moving on we have this scary shocker that was first seen in 2002. As well as being a truly chilling ride, it was also notable for the appearance of Bradley Cooper in his second ever role. The basic premise sees five strangers rock up at an isolated mansion to star in an online reality show. Where it comes to life is that the five people in the mansion soon realise that the people watching have sinister motives. As the terror and dread mount so does the body count. Well directed by Marc Evans, this has a taut atmosphere all the way through to keep you watching.
07 – The Sacrament

Another superb found footage title is this one from new Horror genius Ti West. It is broadly based on the famous real-life Jonestown massacre in the 1970's but is entirely fictional in the places and people seen. The film sees a team of American reporters granted access to the unnamed cults compound in an unspecified foreign country. When they begin to uncover all is not well, a chain of events is triggered which leads to chaos and ultimate horror. The found footage realism works very well here and West keeps the viewer on edge right until the end.
06 – The Last Horror Movie

It is not just Hollywood that can use the found footage concept to great effect. This is a 2003 movie from the UK which stars actor Kevin Howarth. It is his chilling portrayal of a smiling, crazy psychopath that really makes this film a must see. He just holds the cameras attention with his presence and really convinces in the main role. The film is also very naturalistic in style especially with the murder scenes which gives it great depth. Although not gory, there is something about the matter-of-fact tone and lack of blood that make it more chilling.
05 – The Blair Witch Project

This was the film that kicked off the found footage angle for a new generation! It had such an impact when it came out that it was truly terrifying. There were even reports of people running out of cinemas or not sleeping at night after seeing it! The film sees three friends take a camera out into the woods to investigate the legend of the Blair Witch who is meant to haunt them. While this basic plot is simple and the effects are too, the way the simplest of devices are used to full effect is very clever. Often a simple black screen is enough to get you watching from behind the sofa! The ending is also a real punch in the face with many theories over what it means.
04 – REC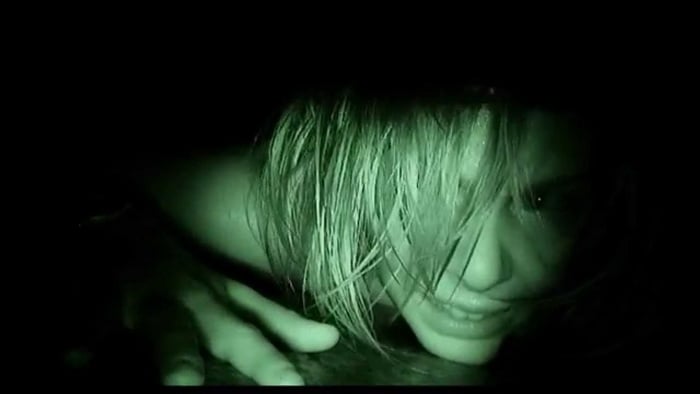 Keeping with modern found footage flicks we have this 2007 release. Originally a huge hit in Spain, it was so popular that Hollywood remade it and Europe saw 3 sequels. The original Spanish version is the one to watch though for the ultra-realistic feel and choice of jumpy sequences in it. The basic plot sees a TV reporter and fire crew turn up to an apartment building where something is happening. As they make their way through the building, it becomes obvious that the residents have all turned into crazed zombies' intent on killing them. A fabulous thrill ride, this is worth seeing.
03 – Paranormal Activity

One of the most successful franchises to use found footage techniques is the Paranormal Activity series. The very first film in it remains the best though and took almost $200 million at the box office. It cleverly takes ghosts out of the graveyard and into an ordinary couples' home for maximum effect. The film sees a young woman being terrorized by a supernatural entity – her boyfriend then decides to document what happens by filming it all. Full of scares and with great performances from the two lead actors, the ending is particularly shocking!
02 – Cannibal Holocaust

Back in the 1970's and 80's, Horror was at something of a peak. Looking for new ways to inspire fear, Italian director Ruggero Deodato invented the found footage genre with this outrageous tale. The beginning of the film sees a rescue team head to the jungles of the Amazon to locate a team of lost journalists. Upon landing, they can only find the lost film footage that the journalists made prior to their disappearance. The film then sees the footage shown on-screen in the now widely know found footage format.
This is a very violent, twisted and controversial film with many shocking scenes. From footage of one of the American journalists being stripped, beaten and attacked sexually to scenes of animal cruelty and bloody torture, it really is a tough watch. However, no-one can deny its importance in the found footage genre and overall impact,
01 – Lake Mungo

This may be a surprise to some as number one on our list as it is not massively well-known. Released in 2008, it is an Australian film which deals with the aftermath of a 16-year-old girls accidental drowning on her grief-stricken family. Although that may not sound overly scary, the realistic way the movie is filmed and the series of unsettling shocks in the second half really make it a fine piece. The cast performances are very powerful and it is one movie that stays with you for a long time after you have seen it. Just don't watch it alone and in a dark room before bed!
As you can see from the films listed above, there are some real found footage Horror gems that really stand up to close attention. All not only provide ultra-realistic shocks but strong performances and storylines that stay with you for ages afterwards. If you like Horror, then any of the above will be right up your street.