When it comes to watching movies, there are a lot of choices out there. Mainstream films with conventional things like sensible plots and normal people are always good but what if you fancy something a little different now and then? The answer is to check out strange and obscure movies which offer a totally mind-bending experience to those who see them. To help you get started, we look at the ten most bizarre movies ever made!
10 – Eraserhead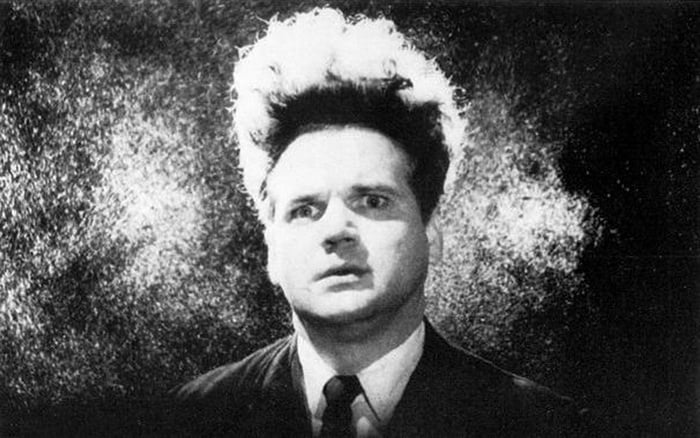 Even the title of this movie from David Lynch is a bit out there compared to normal. Lynch is well known for his weird films and this example from early in his career in 1977 shows why. It is essentially a bizarre body horror flick which does not get more clearer after repeated viewings. It begins with some levers being pulled in space as the head of lead character Henry Spencer floats in the clouds below. Over the course of the film various horrific and weird things happen, such as the very disturbing appearance of Spencer's baby. Although it does not have much plot and is therefore hard to follow, its use of sound and visuals has won it cult status with fans.
09 – Gummo
Released in 1997, Gummo is an unforgettable movie in many ways because it is so damn strange. It is one of those films that you half think you should not be watching and leaves you with more questions than it answers come the end. From director Harmony Korine, it features a young Chloe Sevigny as one of the main characters. And what a bunch of characters they are in this film! From skinhead racists to a man who pimps out his sister or a mute child in bunny ears, they are a very unsettling bunch. They all live in a town called Xenia, Ohio which has been left desolate after a tornado hits. The movie follows the characters as they try to go about their lives and beat boredom in this forgotten town.
08 – Videodrome
The 1980's was known for being a strange time for general in film and one where directors experimented with what could shock audiences most. This flick from 1983 stars a young James Woods and also Debbie Harry from Blondie. Set in Canada, Woods plays the character of Max who comes across a TV signal that is showing extreme violence and gore. Obsessed with finding where the signal and images are being broadcast from, Max goes into a rabbit hole of conspiracy theories and mind control. The film is mostly known for the bizarre hallucinations Max sees which are shown on-screen in lurid detail. It is also notable for being a movie from renowned director David Cronenberg.
07 – The Holy Mountain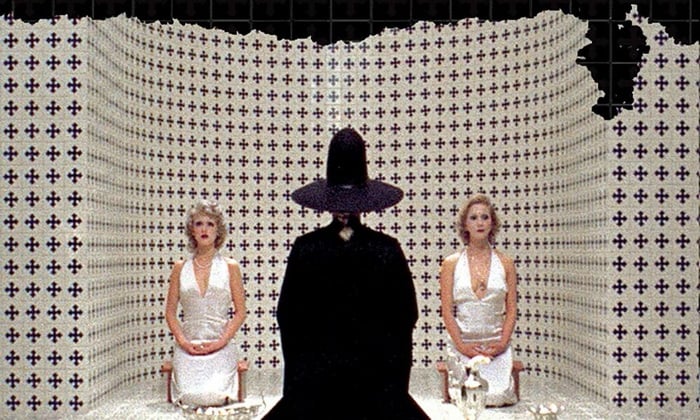 Being weird is not just confined to modern times or the 1980's. This ultra-strange classic dates back to 1973. An American-Mexican joint projects, it was written, produced and directed by Alejandro Jodorowsky. He also stars in it for good measure too! The plot (if you could call it that) sees characters based on tarot cards and star signs undergo a spiritual journey of transformation, under the guidance of an alchemist. The film is infamous for its shocking, crude and explicit imagery and certainly sticks in the mind after a viewing. A truly psychedelic product of its times, it is thought that the director and cast were on hallucinogenic drugs before and during filming.
06 – Society
From 1989, we have this gory and very obscure tale of high society from director Brian Yuzna. It is an esoteric and horrific tale from start to finish – this is no surprise when you learn Yuzna had produced the H.P. Lovecraft adaptation 'Re-Animator' previously. The plot sees a young guy called Bill stumble across a tape of what sounds like a violent sexual orgy involving his family members. Bill eventually finds out that the recording is genuine and the person who gave it him is now dead. The rest of the film involves high-level conspiracies and lots of disturbing, blood-soaked orgies. Noted for the awesome special FX and make-up when first released, it is a wild ride.
05 – Holy Motors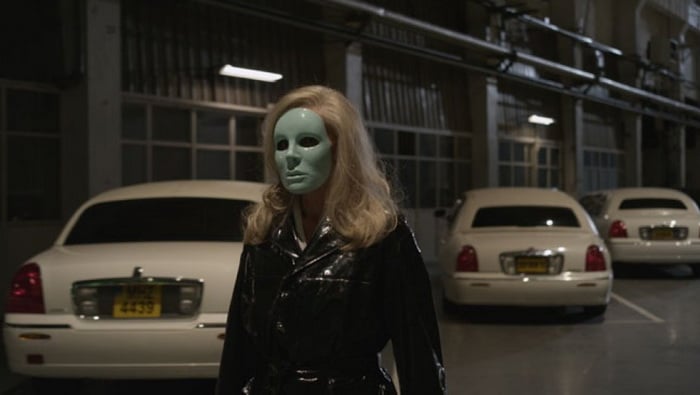 This is a recent movie from 2012 and is a French-German collaboration. Director Leo Carax is on top form here and creates a surreal delight for film goers who like things that don't make sense. Interestingly, it also has big names like Eva Mendes and Kylie Minogue in small roles. The plot revolves around a guy called Oscar who we see jump into a limousine at the start of the movie to begin work. We never quite know what he does though and this is where the mystery comes in. Over the course of the film, he changes costumes and characters regularly. This spans playing a crazed kidnapper to being a Chinese gangster or supportive Dad. Eventually, we learn that there are many other people with Oscar's 'job' too! Both difficult to grasp and mesmerising to watch, director Carax has explained that the film is an analysis of how the internet has made it hard to pin down anyone's true identity anymore.
04 – Black Moon
Another French-German effort, Black Moon is from 1975. A true avant-garde product of its time, it is still weird enough to shock and baffle today. The story sees a war being played out on Earth between men and women for supremacy. The main character of Lily escapes this by fleeing to the countryside where she starts to experience some really unusual things. This includes a man who can only speak via touching people, naked villagers rounding up farm animals and Lily being breastfed by another woman. To make it even stranger, a unicorn turns up which Lily herself then breastfeeds. Many believe that the film is a take on the then emerging feminist movement in the 1970's and how it was affecting relations between genders.
03 – Zardoz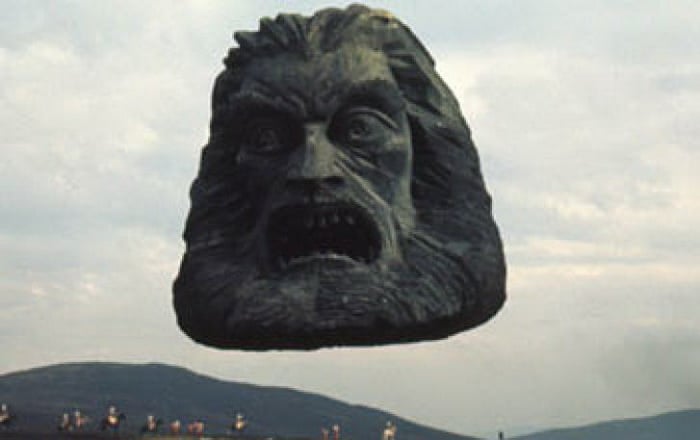 Another 1970's movie which has a cult following for being so strange is Zardoz. This film also stars Sean Connery in a role he would probably like to forget. A sci-fi flick, the hard to grasp plot and outlandish costumes are what really grabs your attention. It is set on Earth after an apocalypse. Earth is now inhabited by humans (called Brutals in the film) and Eternals who are immortal. Brutals live a terrible life and only serve to produce food for the Eternals who live in luxury. Zardoz is a flying head which helps to supply weapons to Brutal freedom fighters (led by Connery) who are rebelling against the Eternals tyranny. A film which is almost as amusing as it is obscure, it is worth a look.
02 – Dogtooth
Greece is not exactly a powerhouse of modern filmmaking but it did make this classic of ultra-weird cinema. Dogtooth comes from director Yorgos Lanthimos and is one of the more unsettling pieces we have on our list. The plot sees a couple live with their 3 grown children on a fenced compound. The children have never been allowed to leave the compound – they have to lose an incisor (or dogtooth) and buy a car first. While they wait, the children pass the time playing games and watching Rocky IV. Quickly it becomes clear that the parents are forcibly keeping the children in the compound and using violence to control them. Flashes of this violence and also incest show up at random points throughout the film as well for extra weirdness. Although one child does escape to the outside world by the end, it is hard to feel good about this, due to what else has gone on before.
01 – Funky Forest: The First Contact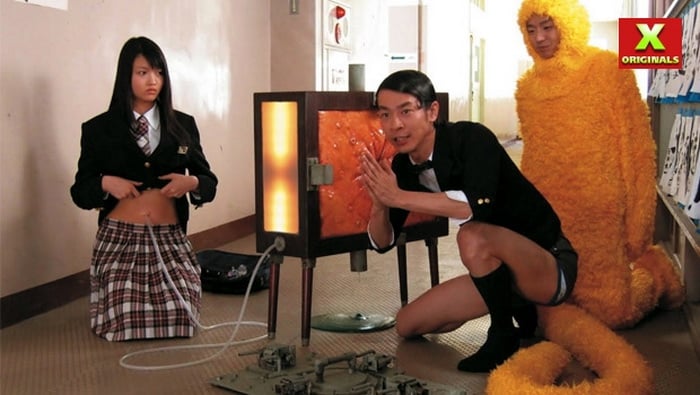 This is a truly bizarre Japanese comedy from 2005 which goes on for over 2 hours with barely any plot to speak of. It certainly stays with you though and sticks in the mind after you have sat through it. Keen film fans will spot well-known names like Rinko Kikuchi and Takanobu Asano. It follows the lives of a random cast of characters such as a guitar player and music fan who are all connected in one way or another. As well as the live action scenes, there are animated scenes also to make what is going on even more bizarre. Mix in footage of two men in white suits arguing randomly in-between other scenes and you have a really strange film! Told in two halves, the second half is particularly strange.
While watching Hollywood blockbusters and more mainstream fare is always fun, you cannot beat checking out a properly strange film now and then. Not only do they expose you to new ways of looking at film and new ideas but they can be a lot more interesting as well. If you want a few crackers to get going with, the above should help.