Are you ready for your next Netflix and chill night? The only problem is trying to find something good to watch without wasting too much time sifting through the available choices. If you are looking for something that can occupy you for some time to come, you need to find the next TV series to get hooked on. Take a look at the Top 10 Most Watched TV Series on Netflix to help get you started!
10 – American Horror Story
This HBO series took television by storm with thousands of adoring fans! Now, you can watch the first five seasons on Netflix! This series shows viewers the definition of horror through a display of multiple story lines. Besides the horror and sometimes disturbing content, what really intrigued viewers was the uniqueness of reusing cast members to play different characters throughout the seasons you. You can see the definition in horror in a murder house, insane asylum, witch coven, freak show and hotel. What is even more interesting is that small things in the stories can be occasionally connected to one another. Sit back, eat popcorn, and ignore the chill shivering down your spine.
09 – Dexter
We have all had those taboo thoughts of eliminating what we deem as evil and "undeserving" but Dexter goes to another level. Dexter is a serial killer who was trained by his father, a policeman, to cover his tracks impeccably well. He justifies his blood lust by only hunting those he believes are threats to the innocence of society. Gang bangers, murders of the innocent, rapist, you name it; Dexter is coming for them. You get to see into the mastermind of how his plans are executed and the complex simplicity of his emotions. However, it isn't easy. Between pleasing a girlfriend to appear normal, other inexperienced or careless murders that make his deeds difficult and lying to his sister who is on the police force, drama is always present. Despite personal morals, you will find yourself cheering for him!
08 – Salem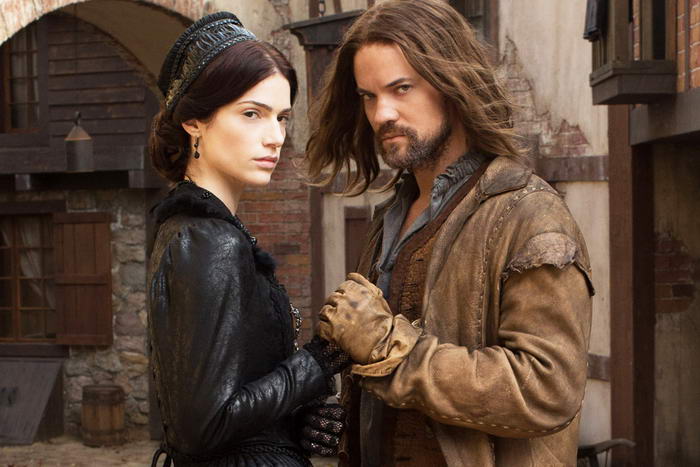 Take a trip back to the 17th century during the Salem witch trials with a splash of American supernatural horror. While we have believed many innocent women were killed in the name of witch-hunting, Salem tells a story of how it was all according to plan for a powerful witch, Mary Sibley. You see, mass hysteria causing innocent death basically gave her easy sacrifices to use for the grand scheme witches have for the Puritans. However, plans complicate with her conflictions of the past with a returned lover, John Alden, and other witches challenging her capabilities. Between the quarrels of love, despairs of repression, hardships of discovery and blurred lines between truth and lies, both Puritans and witches bloodily fight for winning agenda over the other.
07 – Nurse Jackie
If you struggle with getting through the day, every day, and need a little crutch to help you get by, you can definitely relate to Nurse Jackie! Jackie, a nurse obviously, works in the E.R. and deals with situations that we all would rather avoid. Between work, marriage, and a troubled daughter, Jackie needs a pick-me-up during the day; prescription pills. Large amounts of medication allow her to function through all of the drama and chaos. Every episode you wonder how her friends, family, and work are kept in the dark. However, things take a turn for the worst for Jackie when a piece of the puzzle that enables her to get her daily meds tears her family apart. Aside from that, the hospital is hot in the case of drug tests and missing medication! By the end of each episode, you are dying to find out what Jackie is going to do next and what secret information a loved one will discover!
06 – The 100
The 100 is a sci-fi series that plays upon the "what if" scenario. Almost a century ago, all civilization was wiped out due to a nuclear apocalypse. Some people did manage to escape into space but at the present time, mankind's population resides in a space station, The Ark, which is running out of oxygen needed to keep supporting the population. A group of lawfully convicted teenagers, 100 exact, are sent to Earth as experiments to see if the planet can be habitable once more. You will be following heroine, Clark, who works hard to try to communicate with the Ark and keep the misguided group from abandoning those left in space out of spite. A little twist that the 100 unpleasantly discover will leave you shocked and wanting to see what else happens! Whether it is love, action, uncertainty, drama, science fiction or anything else, The 100 has a little something for everyone!
05 – The Flash
Popular DC superhero, Flash, landed a hit TV series called The Flash. In it, Barry Allen discovers his abilities of super speed upon waking from a coma that was caused by being hit by lightning and radiation from a particle accelerator explosion during a storm. The catch is, other people were affected by the explosion and turned into metahumans who use their extraordinary powers for crime. With the help of witty and genius friends from Star Labs, Flash protects the city and strives to take down enemy speedster Zoom and other foes from different universes. Between fighting evil, hiding the love he has for his best friend, improving his powers, trying to prove his father's innocence in the case of his mother's murder and fixing mistakes he makes from changing time in the Speed Force, Barry has his hands full as a superhero!
04 – Raising Hope
Comedy drama, Raising Hope, amusingly shares the story of character Jimmy Chance's life which focus' around an event within the first episode that changes his life forever; knocking up a murder in the back of his van. Now unintentionally thrown into the world of fatherhood, he is determined to be the best dad he can be with the help of his not so responsible parents and far from lucid grandmother, Maw Maw. The Chances always seem to find themselves in a pickle but manage to get out of sticky situations with lessons learned or help from friendly co-workers, including Sabrina who captured Jimmy's adoration. Not only is the TV serious overall funny but it also encompasses a lot of frustrating adulthood situations we can all relate to.
03 – Star Wars: The Clone Wars
Who doesn't love Star Wars? In The Clone Wars you get to see what General Skywalker was like before becoming iconic Darth Vadar and even learn history of the clones before Order 66, abandoning their loyalty to the Jedi. It is an animated series which is not something you may be originally used to for Star Wars but it is certainly interesting and gives you a massive amount of information to geek out on! Embark on the journey with Anakin, Obi-Wan, and Padawan Ahsoka in fighting off Separatists and securing the Republic. Along the way, they encounter special tasks ranging from training Jedi younglings and warding off pirates. If you wanted to see the story before Luke Skywalker, you should watch this show!
02 – Penny Dreadful
Horror drama series, Penny Dreadful, is centered in 19th-century Britain with a variety of characters you may recognize from other fiction like Dr. Frankenstein, Dorian Gray, Van Helsing and more. Vanessa Ives, the show's strong heroine who is able to communicate with entities from the spiritual side, battle underworld forces with her group of troubled and unique comrades. There are multiple seasons with hour-long episodes for you to binge watch over the weekend. Be prepared to feast your eyes on gruesome gore and sexual nudity that do not follow the boundaries of modest moderation. Each episode you will learn an interesting plot twist that gives clue to the bigger picture of evil threats they must face along with a peak into the personal lives of the heroes and heroines. Do not be shocked to find yourself immersed in surprising sensual and horrific drama as the storylines are dare we say… dreadful!
01 – F is for Family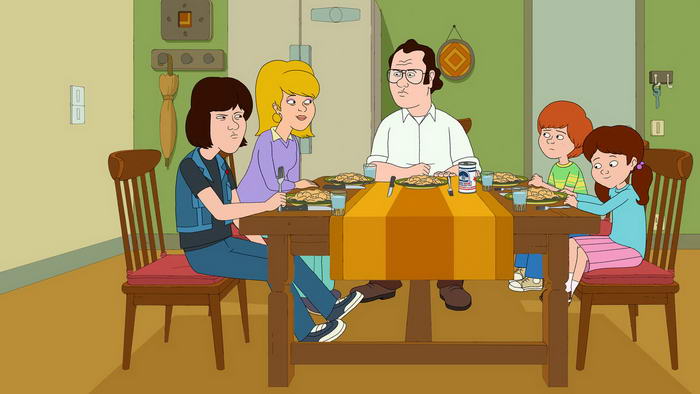 This animated sitcom debuted in December of 2015 and has been quickly gaining popularity. Written by and centered on the family of famous comedian, Bill Burr, F is for Family showcases Burr's family while he was a boy with adult humor we can appreciate. Voicing the role of his father, character Frank Murphy is a war veteran working as a baggage handler with a serious and yet hysterical temper. His wife and children go about their day trying to calm the storm within him, for the most part, dealing with individual problems of their own. At the end of the day, they love each other despite obscene words and stick together as they face bullies, co-workers, and societal conformities that they don't quite shape into. This sitcom has a colorful range of profanity but can certainly tickle your funny bone. We wouldn't expect less in a product coming from Bill Burr. There are sadly only six episodes for the first season but fans are stoked to hear that approval for season 2 is official with a very special tweet confirmation from Bill Burr himself!