There are many herbs, spices and food stuff that have fabulous health benefits for humans. One of the very best in this regard is ginger. Widely considered as one of the most tasty and powerful spices on the planet, it is popular in a number of cuisines globally. One of the first spices to be exported from the Orient, it first became popular when used by the ancient Greek and Roman civilizations. Interestingly, it is the root of the ginger plant that is used in cooking rather than the plant or flowers.
Here are ten of the most surprising things ginger can do for you and your health.
10 – Loaded With Gingerol
Ginger has long been used in alternative medicine around the world for its anti-inflammatory and anti-oxidant properties. The main reason it is great at doing this when taken is due to the gingerol element found within the ginger root. Gingerol is not only what gives ginger its amazing properties but also its distinctive smell. As a bioactive compound, gingerol is one of the most powerful around which is what makes ginger so amazing.
09 – Nausea Relief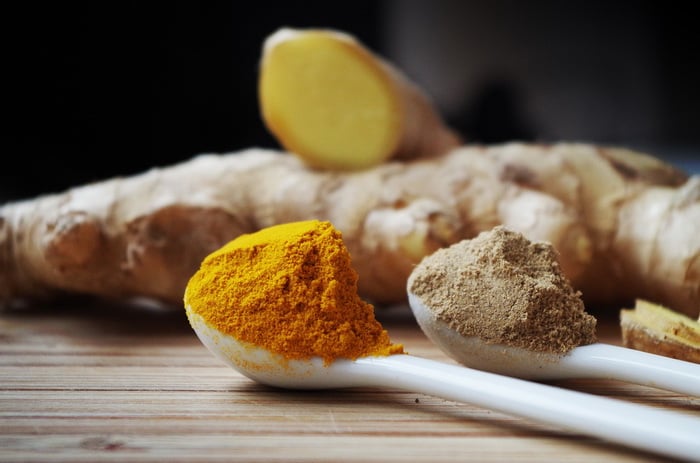 One very common use for ginger over the centuries has been in relieving symptoms of nausea. This can be anything from helping with sea sickness to dealing with nausea in cancer patients or after surgery. Once again it seems that compounds including gingerol in the ginger help to soothe the nauseous feelings within the person suffering from them.
08 – Great For Helping With Muscle Pain
The excellent anti-inflammatory properties of ginger means that it is great for helping with muscle pain or stiffness. This is naturally particularly good for those who like to exercise but might feel it the next day! As ginger helps to prevent inflammation within the body, a few grams per day can help to reduce the impact of exercise on the muscles themselves.
07 – Osteoarthritis Prevented
Osteoarthritis is a very common health complaint as the human body ages. It involves the joints in the body degenerating over time to leave sufferers with joint pain or stiffness. As above, the anti-inflammatory properties of ginger help with this and can relive joint pain in sufferers. To get the best results, it needs to be taken each day at a controlled amount to let the body build up a supply within.
06 – Superb For Fighting Diabetes
Although this is a new area of study for how to use ginger, early studies have shown it effective in fighting diabetes. It seems that the compounds within ginger are fabulous at normalizing blood sugar levels in humans which in turn helps to prevent diabetes from taking hold. It seems that the best advice for now is to take a few grams per day to help the body use the spice to its full effect.
05 – Helps Ease Indigestion

Anyone who has experienced indigestion will know how painful it can be. The actual cause is the delayed emptying of the stomach after food which leads to the pain afterwards. Ginger has been found to be effective at helping the stomach to empty which makes it a brilliant indigestion fighter. Taking ginger can really speed up how fast your stomach empties after a meal and prevent any discomfort from forming as normal.
04 – Great For Menstrual Pain
Every woman out there knows how painful periods can be at times. If you find regular menstrual pain a drag, then let ginger help you out. Studies have shown that when one gram is taken each day for the first three days of the period, it greatly reduces any pain felt. Even more impressively, it has been found to be as good as ibuprofen at doing this!
03 – Lowers Cholesterol Levels In Body
One of the major health issues many can face is high cholesterol levels in the body. This is a bad thing as it can lead to a higher chance of heart attacks. This is another area where ginger has been shown to help. Studies conducted found that ginger taken regularly helped lower the bad LDL lipoproteins in the body which cause high cholesterol.
02 – Cancer Fighting Properties
Cancer is probably the biggest killer on the planet right now. It is so common that practically everyone knows someone who has got cancer or died from it. There are many forms of cancer, but all involve abnormal cells growing in the body that eventually cause issues. Although it is not a cure, ginger has been found to help in fighting cancer. The compound 6-ginger found in the spice has been found to work in the body to fight the cancer cells from within.
01 – Can Help Improve Brain Function

One of the main causes of brain diseases like Alzheimer's is the function of the brain degenerating over time. This is mainly due to oxidative stress and chronic inflammation in the brain itself. The anti-oxidant and anti-inflammatory properties within ginger are superb at fighting these causes to keep the brain healthy for longer. So, for a healthier and longer lasting brain, keep taking that ginger!
Ginger has long been one of the most popular spices around for how amazing it taste and smells. However, when you know just how good it is for you too then there are even more reasons to use it in your cooking. Just a few grams per day can be enough to keep you fit and healthy for years to come.
*Images via pixabay