It is hard not to get caught up in the warm glow of holiday decorations, sights, smells, and good spirit. It's the most wonderful time of the year and you plan on spending it in celebration! With that being said, it is time to bring out the holiday recipes for a party. How else would you celebrate? As you prepare for your seasonal celebration, or just want to enjoy sitting back and watching a holiday special, do not forget to spice up a delectable drink! Grownups can enjoy adult exclusive drinks with a variety of winter flavors. Take a look at the 10 Most Delicious Drinks for the Holiday Season and see which recipes you can try!
10 – Cosmopolitan
You can't go wrong with a yummy cosmopolitan! Pour 1 cup of vodka, ½ cup of triple sec, ½ cup of cranberry juice, and ¼ cup of squeezed lime juice into a cocktail shaker with ice. After shaking well, pour it into martini glasses through a strainer. Drink up!
09 – Chai Toddy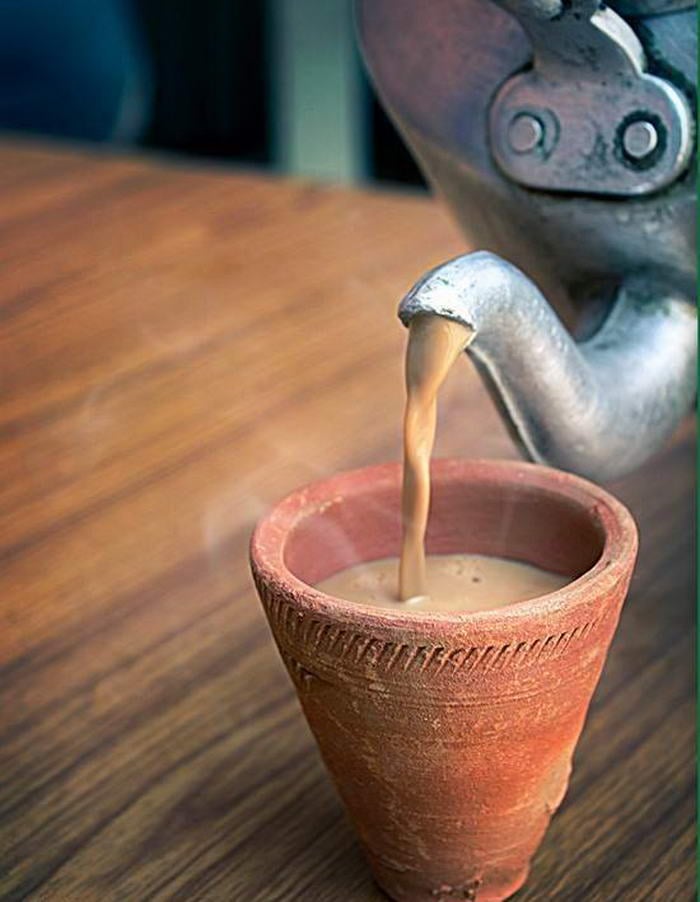 Use this Indian-inspired version of hot toddy as a conversation starter! Over medium-low heat, simmer a part of chai tea concentrate and a part of whole milk. For flavor, stir in 1 star anise and remove from the heat. Add 1 ounce of brandy and DeKuyper Buttershots liqueur or butterscotch schnapps into a mug. Then, add the chai tea mixture. Gently stir and dust the top with ½ of a crushed and powdered graham cracker.
08 – Vanilla Dark and Stormy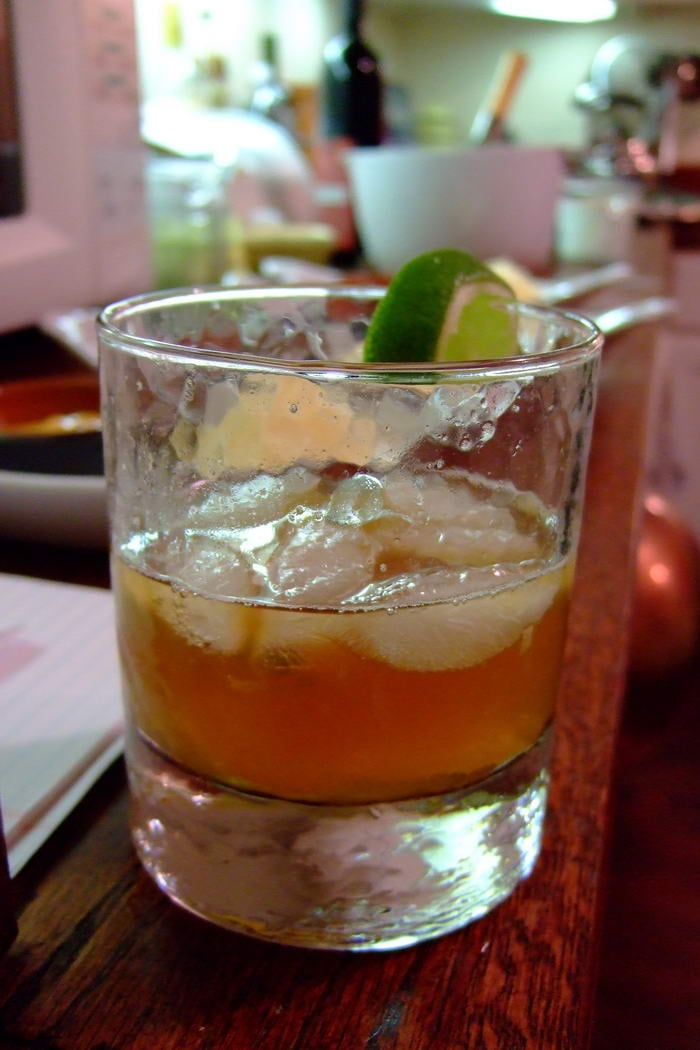 After caroling, whip up a vanilla dark and stormy to help you relax. In a pitcher, combine 2 cups of dark rum, 3 cups of ginger beer, juice from 4 limes and a splash of vanilla extract. That's it! Serve a glass on the rocks and add a lime wedge for a finished touch.
07 – Holiday Party Punch
Sometimes less is more. Impress your guests with a simple, delicious holiday party punch! Combine 4 cups of cranberry juice, 1 bottle of sparkling cider, 1 liter of ginger ale, ¼ cup of lemon juice, and 12 ounces of vodka over ice in a large bowl. Finish by floating the slices of 1 orange on top of the punch.
06 – Candy Cane Cocktail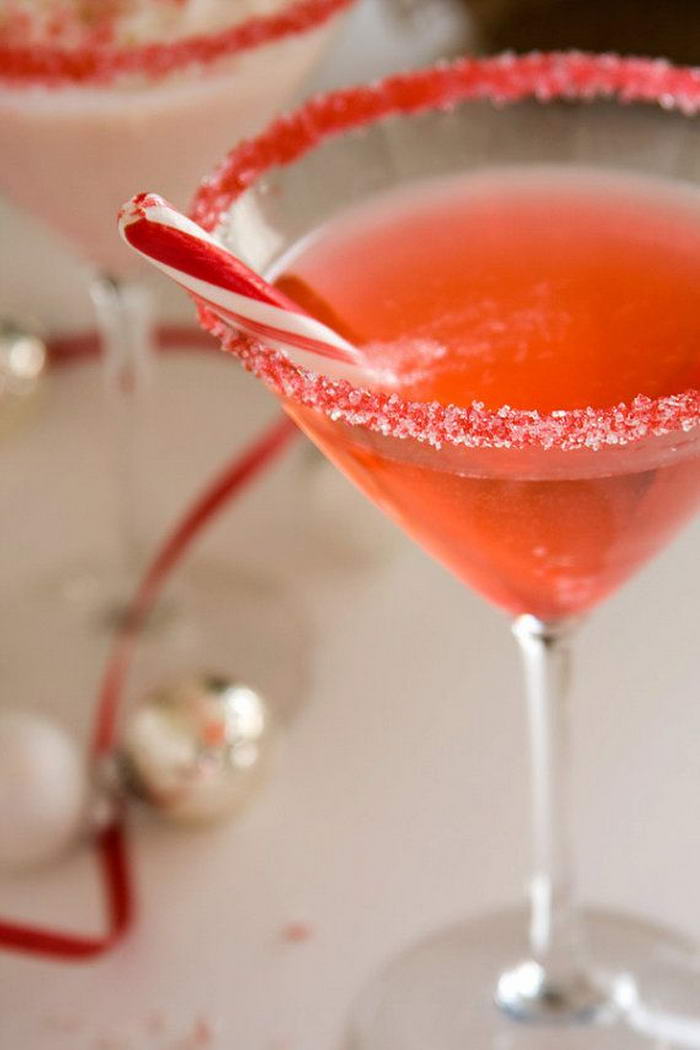 This tasty drink is heaven for those who love the flavors of cocktails and candy cane treats! It is perfect for parties since the drink has minimal ingredients and is easy to make. To create this cocktail, you must mix a shot of vanilla rum, a shot of white chocolate liqueur, and one shot of peppermint schnapps into a cocktail shaker filled with ice. Shake well and strain the mixture into a martini glass. Lastly, the cocktail only needs to be garnished with a candy cane to be served.
05 – Christmas in a Glass
The name says it all! Pour 1 bottle of well chilled Prosecco, or another preferred sparkling dry white wine, into glasses. Add approximately a capful of gingerbread, or cranberry, flavored syrup. Serve and enjoy!
04 – Maple Butter Kiss
A Maple Butter Kiss cocktail hits the spot for anyone with a sweet tooth craving. Pour 1 ½ ounces of vodka, a ½ ounce of DeKuyper Buttershots liqueur or butterscotch schnapps, and ¼ ounces of real maple syrup into an ice-filled cocktail shaker. Strain the mixture into a martini glass after vigorously shaking. Top the drink off with a sprinkle of fresh-ground nutmeg!
03 – Peppermint Hot Chocolate
This tasty delight will lift spirits for the holiday season and is very easy to make. Creatively, this drink is made from scratch! Whisk 6 12-ounce cans of evaporated milk, 1/3 cup of chocolate liqueur, and ¼ cup of peppermint schnapps into a slow cooker. A warm saucepan over low heat can be a substitute for the slow cooker. Cook on low for 3 hours, occasionally stirring, and pour into mugs. Whipped topping and candy canes can be used as garnishes.
02 – Hot Buttered Rum
The mention of buttered rum is mouth watering! The deliciousness of hot buttered rum makes for a toasty drink to serve at winter parties or for a cold day delicacy. Mix until smooth 2/3 cups of brown sugar, ½ cup of room temperature butter, ¼ cup of honey, ½ tsp of ground cinnamon, ¼ tsp of nutmeg, 1/8 tsp of ground cloves and a pinch of salt with an electric blender. Place the mixture into a large measuring cup and add ¾ cup of spiced rum and 2 cups of boiling water. Stir until the mixture dissolves. Finally, divide the drink into mugs and garnish with a cinnamon stick!
01 – Irish Eggnog
Eggnog is a holiday classic! Add a little wow factor to your seasonal treat to bring the party together. In a bowl, whisk 1 egg, 1 ounce of Irish cream liqueur, and ¼ ounce of Irish whiskey until smooth. Boil 2 cups of whole milk and pour over the egg mixture. Mix well by stirring. Pour the mixture into mugs and sprinkle with nutmeg. Finally, garnish with cinnamon sticks.