Fast food has been a popular way to beat hunger for many years now. From McDonalds to Burger King and beyond, there are many famous brands that have met this need for people worldwide. One huge brand in this sector is Kentucky Fried Chicken, or 'KFC', as it is more usually known. The succulent chicken pieces and delicious blend of secret spices makes it very popular the world over with hungry families.
Although we know the brand and the famous Colonel Sanders who founded it originally, what else is there that we do not know about this fast food chain? Here are ten of the most interesting facts about it you may not already know.
10 – It Started Out In Corbin, Kentucky
The first interesting fact you may not know is exactly where and how this chain started out. Of course, we know it was from Kentucky but where in particular? The home town of KFC is in fact a place called Corbin. This is where Colonel Sanders opened his first restaurant, called Sanders Court and Café. This actually started off as a petrol station where Sanders worked as an employee to begin with. Over time, he started to serve his home-made chicken as well as petrol which soon became well-known. After turning it into Sanders Court and Café, he soon expanded into another premises over the road to grow.
09 – Colonel Sanders Was Called Harland
The real name of the infamous inventor of KFC was actually Harland Sanders. He took on the name of Colonel at a later date, despite never having actually serving in the US Army to gain it! The moniker of Colonel was actually bestowed upon him twice in 1935 and 1949 by the Governors of Kentucky. This was in recognition of his service to the state and the way that KFC had made Kentucky a famous name around the world.
08 – KFC Is Xmas Day Dinner In Japan
One very interesting fact you may not know is that the Japanese eat KFC for their main meal on Christmas Day. That is certainly different than the Turkey many of us normally go for! It all started years ago when the manager of one KFC restaurant in Japan saw a gap in the market for a Xmas day box to sell to his customers. As there was no existing meal tradition around Xmas in the country, it filled a void and soon became a real tradition that many still adhere to. Beware though – if you have to line-up to order one on Xmas day itself then you may have to wait for a few hours!
07 – 11 Herbs and Spices in Secret Recipe
Maybe the most enduring reason for KFC's popularity is the secret recipe in the coating. This famous coating gives KFC chicken its unique and delicious taste that we all love. The idea of a secret recipe also make KFC seem more exotic and interesting than its rivals. The recipe really is a secret though – although we know that 11 separate herbs and spices go into it, no-one knows exactly what they are or in what ratio. Sander did of course but he is now dead!
06 – They Came Up With The First No Bun Burger
When you think of KFC, you may think of whole pieces of chicken to eat only. However, they in fact sell a wide range of products to enjoy. One of them is the famous 'Double Down' which is a chicken burger but with no bun! Instead of a bread roll, two pieces of southern-fried chicken breast are used to sandwich the bacon and cheese in-between. Both naughty and tasty, it is a true first.
05 – Sanders Personal Affects Can Be Brought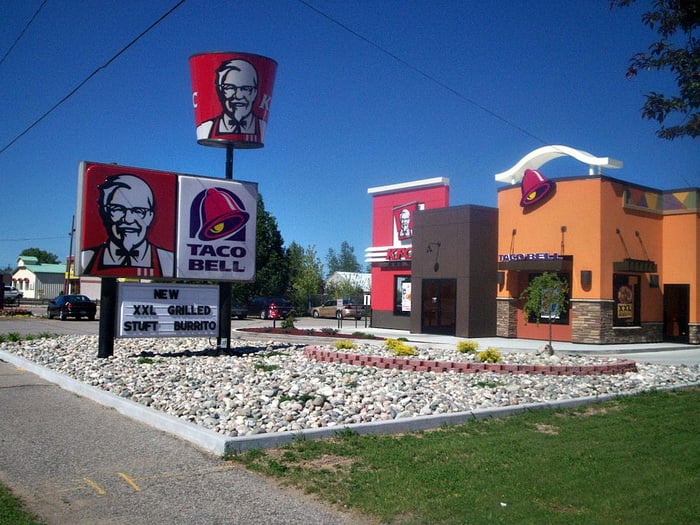 The man behind KFC was almost as popular as the food his chain sold. This has meant that interest in his personal belongings after death remain high. When you consider he has been dead for nigh on 40 years, this is quite something. There have been many examples of his personal possessions being sold off via auction over the years including hats and belt buckles. The collection came from his driver Dick Miller who built up a range of Sanders memorabilia while driving the Colonel to KFC's around America. Miller has nothing but praise for Sanders although one day off in his whole career does seem a bit harsh!
04 – Sanders Did Not Come Up With The Name
It may seem unbelievable, but the Colonel is not credited with coming up with the Kentucky Fried Chicken name. Instead, this is widely attributed to a painter he once hired to work for him called Don Anderson. This was not the only help Sanders got with his fast food dreams though. The famous bucket logo that is still used to this day was not his either! This was invented by hi friend Pete Harman who was one of the first KFC franchisees in history.
03 – You Can Buy A Version Of The Spice Mix Online
Although the proper KFC recipe is a secret, it has not stopped many people over time trying to work it out. Some are so convinced they have nailed it, that they then sell their mix online to make money. While it is not an official KFC product, there people claim it is the nearest you will ever get in terms of making your own fried chicken that tastes the same. The great thing is that with these mixes you can spice up other things at home like wedge or mushrooms as well as chicken.
02 – It Opened A Store in China in 1987
1987 was a massive year for KFC as it opened its first Chinese store in Beijing. At the time, this was huge as China was something of a closed country to the West still. Since then, it has seen great success there and been the best performing fast-food chain in the whole country. This came after early success around South East Asia where it was known as 'Ken De Jin'. The success KFC has seen in China just shows what a globally recognised brand it has become.
01 – Head to Osaka For All-You-Can-Eat
If you really love KFC, then Osaka in Japan is the place to head! This has seen the first all-you-can-eat KFC open up. Customers are given 90 minutes to eat as much as they can and fill up on the famous fried chicken. There are also other foods to try from pasta to chicken burgers. Although it can get a little busy, this is one place that all KFC lovers will want to visit at least once!
From its humble beginnings in the USA to global success, KFC has come a long way. While the business acumen of Colonel Sanders explains a lot of this, it is simple the delicious taste of the chicken that is the main factor. If you love fried chicken, then it is certainly the best fast-food around to try.