Top Gear is one of the best loved and most popular TV series in recent history. Its blend of fast cars, irreverent humour and charismatic presenters made it an instant hit with fans especially after its modern re-invention in 2002. The post 2002 presenters of Jeremy Clarkson, James May and Richard Hammond worked superbly together and in Clarkson had a real star performer. Although many did not like his machismo and masculine humour, many more did as the viewing figures showed.
We take a look at the ten most funny, controversial and shocking Top Gear moments from their time presenting:
10 – Clarkson Test Driving the P45

This example falls firmly within the funny category of Top Gear stories. As was usually the case, Jeremy Clarkson was at the centre of events, gleefully causing chaos and mischief. In an effort to produce a small car for city driving, he came up with the self-built P45. Just the look of the machine with the tall Clarkson squeezed into its small interior was enough to make you laugh!
It got better though when he took it out on the road for a spin. The slow speed of the vehicle soon led to a huge traffic jam behind him and the lack of windscreen wipers saw him using a squeegee to clear his visor instead! The lack of protection from the weather and the complete lack of any suspension also led to viewers finding his attempts most amusing as he bumbled down the road.
09 – Test Driving the Hover Van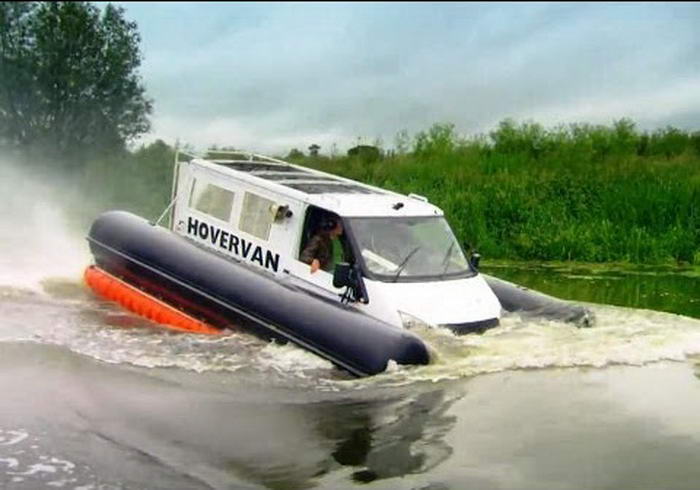 Having somehow acquired a 'Hover Van' which was a cross between a canal barge and a van, the three presenters were sent out on an actual canal to test it out. Cue much hilarity and pure anarchy as they ploughed their way along!
Although the journey started well enough, the extreme splash caused by the machine and the loud noise it produced in use soon caused problems for local residents on the canal side and other canal users. That's before we've got to crashing into a Grade 1 listed bridge, getting stuck in a lock and James May getting soaked. All together now "I'm bloody drenched, you idiot!"
08 – Glamming Up in Vietnam

For the trip around Vietnam, the boys decided to spruce their image up a bit and do something different. This led to them all dressing in what can only be described as Austin Powers type outfits. The sight of them all in sixties flower-power shirts and velvet jackets, riding along on scooters while the confused locals looked on was priceless. Not to mention what Richard Hammond wrote on Clarkson's bike helmet!
07 – Laughing at James Mays Bashed up Caravan

In the competition between James May and Jeremy Clarkson to pull a caravan to a campsite before the other, this moment stood out. I think what viewers most liked was that you could see Clarkson was genuinely amused and not putting it on for the camera.
He had got to the campsite first (although his caravan had long since gone) and saw the approaching James May coming into the grounds. The sight of the battered caravan with no wheels been dragged along was too much for him as he descended into fits of laughter. We as viewers naturally joined him!
06 – The Icy Plunge Pool

There are many people who you may look to for artic survival tips – Bear Grylls or Ray Mears maybe. It has to be said that the three Top Gear presenters are not the first names you think of. But in a memorable Polar Special episode, this is just what they got themselves into.
The sight of the instructor telling them to jump into the icy water and all three looking at him in disbelief and not moving an inch is totally classic. The best is yet to come though – as each of them relay excuses as to why they won't take the icy plunge, the fed-up instructor gives Clarkson an almighty shove with no warning and in he goes. Cue much hilarity from the watching audience along with Hammond and May.
05 – 'Act Your Age, Get a Car'

In a brilliant episode where the boys are invited to produce a video to promote cycling and road safety, they decide to go a little off brief – with hilarious results! Once again, the main culprit seems to be Clarkson who it seems is definitely not a fan of cycling or bikes on the road!
The funniest moment is when they play the vide to the panel of cycling experts and enthusiasts. Their faces as the strapline of 'Act Your Age, Get a Car' comes up is priceless and makes for one of the best Top Gear moments ever. Clarkson's eventual solution of making cycling safer by stopping people from cycling is another side-splitting idea in this episode when you see the panels reaction.
04 – Catching a Ferry

The eternal question of 'What to Do When You're Late for the Ferry?' is address by the boys in this programme and never fails to raise a smile. The sight of Clarkson (again!) tearing through the terminal and up to the ferry in a Twingo car is absolute TV dynamite. The way he throws it around the corners and speeds round the slow-moving lorries is amazing.
The other two funny and notable points of this particular episode is the fact he has British actor Ross Kemp in the car boot the whole time for reasons unknown and the final jump off the pier as he tries to land on the departing boat. Naturally, he doesn't make it which gives us all one final laugh!
03 – Clarkson Upsets Germany and Poland

It wouldn't be a proper list about Top Gear, and Jeremy Clarkson, if we didn't mention a couple of the more controversial moments also. One of these was the time when Mr Clarkson managed to upset Germany and Poland with some ill-advised comments around the Second World War.
In an episode of the programme aired in 2009, Clarkson decided to stir up feelings from WWII while talking about the Volkswagen Scirocco. When asked to come up with a slogan for its fuel economy, he blurted out "Volkswagen Scirocco TDI. Berlin to Warsaw in one tank." The complaints flooded in and the show's air of anarchy was confirmed.
02 – Alabama Pride

The deep south of America is a beautiful place but not renowned for its tolerance to gay rights. Naturally in a 2007 episode where they were travelling through this part of the USA, the boys thought it would be good fun to tease the locals about this. Adorning each of the three vehicles they were travelling in with pro-gay slogans, they soon found out it was no joke to the residents there.
By the time they'd travelled through town, they had all been abused verbally and had stones thrown at their cars by outraged Americans. While they made it out ok, this was probably one of the times they sailed a bit too close to the wind.
01 – Clarkson Upsets Malaysia
2007 turned out to be quite a year for the Top Gear gang as more controversy arrived in that period. This time it involved Jeremy Clarkson and the entire country of Malaysia! Clarkson had tested out the national Perodua Kelisa car made in Malaysia and decided he didn't like it.
Having that as an opinion is not a problem, calling the Malaysian people "jungle people who wear leaves as shoes" certainly is. Let's put it this way, I don't think he'll be going to Malaysia on holiday ever!
As you can see, Top Gear has had many fine moments that fans loved to watch. Although it has since gone from the BBC in its classic format due to Jeremy Clarkson's fracas with a producer, the Grand Tour series on Amazon Prime has continued their legacy. Time will tell what the future brings for Messrs Clarkson, May and Hammond in their motoring quest. Top Gear as a programme continues to be broadcast but many feel it is simply not the same without the three definitive presenters at the helm.