Sitcoms have been a staple of television entertainment for decades, providing us with laughter, relatable situations, and memorable characters. From family-focused comedies to workplace humor, sitcoms have a unique ability to bring people together and create a shared viewing experience. In this article, we'll explore the 10 most popular sitcoms of all times, taking a closer look at their casts, storylines, and the reasons why they've become iconic.
10 – Two and a Half Men
What do you expect when you have a "playboy" Jingle writer, a divorced and homeless brother with the dash of a dumb yet cute 10 – year old – it's a complete mad – house! The series smashed many records and won many awards for their outstanding comedy, which just makes you love the show. If you like a little 'naughty' comedy – you definitely need to watch this.
09 – The Big Bang Theory
Another Chuck Lorre creation, The Big Bang Theory, premiered in 2007 and lasted for 12 seasons. The show followed the lives of four socially awkward scientists and their interactions with the people around them, particularly the attractive neighbor, Penny, played by Kaley Cuoco. With a talented ensemble cast, including Jim Parsons, Johnny Galecki, and Simon Helberg, the sitcom became a massive hit and garnered a dedicated fan base.
08 – M*A*S*H
Based on the 1970 film of the same name, MASH aired from 1972 to 1983 and became one of the most beloved sitcoms in American television history. Set during the Korean War, the series followed the lives of the staff of the 4077th Mobile Army Surgical Hospital. With a mix of comedy and drama, the show tackled serious themes while maintaining its humor. Alan Alda's portrayal of Hawkeye Pierce remains iconic to this day.
07 – How I met your Mother
This romantic comedy series aired from 2005 to 2014, telling the story of Ted Mosby and his journey to find true love. The show was narrated by an older Ted, recounting his adventures to his children. With a talented cast, including Jason Segel, Cobie Smulders, and Neil Patrick Harris, How I Met Your Mother became known for its unique storytelling structure and memorable catchphrases.
06 – Everybody Loves Raymond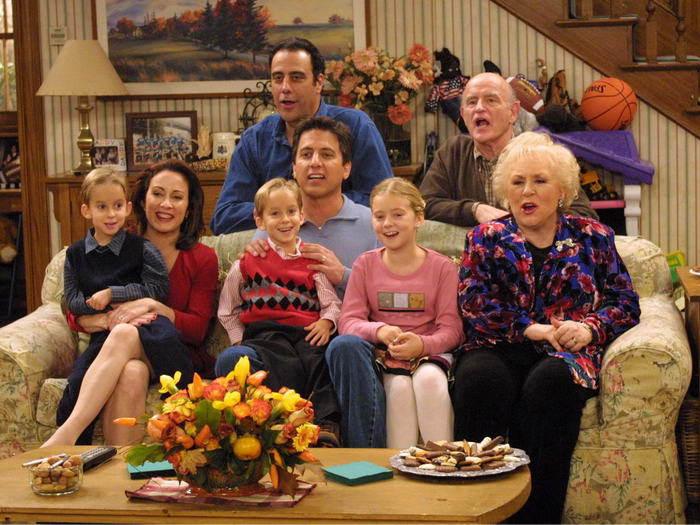 Created by Phil Rosenthal and starring Ray Romano, Everybody Loves Raymond aired from 1996 to 2005. The show focused on the life of Ray Barone, a sportswriter, and his interactions with his wife, children, and eccentric parents. The sitcom's relatable family dynamics and humorous situations made it a hit with audiences.
05 – That '70s Show
Set in the 1970s, this nostalgic sitcom aired from 1998 to 2006 and followed the lives of six teenage friends. With a cast that included Topher Grace, Laura Prepon, and Ashton Kutcher, the show was praised for its portrayal of the decade's pop culture and the challenges faced by its characters. The series also launched the careers of several actors, including Mila Kunis.
04 – The Simpsons
This animated sitcom created by Matt Groening has been on the air since 1989, making it the longest-running American sitcom. The show follows the lives of the Simpson family, with their unique personalities and hilarious antics. The Simpsons has become a cultural phenomenon, known for its satirical take on American life and its memorable catchphrases.
03 – Cheers
Airing from 1982 to 1993, Cheers was a sitcom set in a Boston bar where "everybody knows your name." The show revolved around the lives of the bar's patrons and staff, with a memorable ensemble cast that included Ted Danson, Shelley Long, Rhea Perlman, and Kelsey Grammer. Fans and critics praised Cheers for its witty humor, well-developed character relationships, and emotional moments.
02 – Seinfield
Often referred to as "the show about nothing," Seinfeld was created by Jerry Seinfeld and Larry David and aired from 1989 to 1998. Starring Seinfeld, Jason Alexander, Julia Louis-Dreyfus, and Michael Richards, the sitcom followed the lives of four friends in New York City, navigating the absurdities of everyday life. Seinfeld became a cultural phenomenon, known for its unique humor, memorable catchphrases, and iconic episodes.
01 – Friends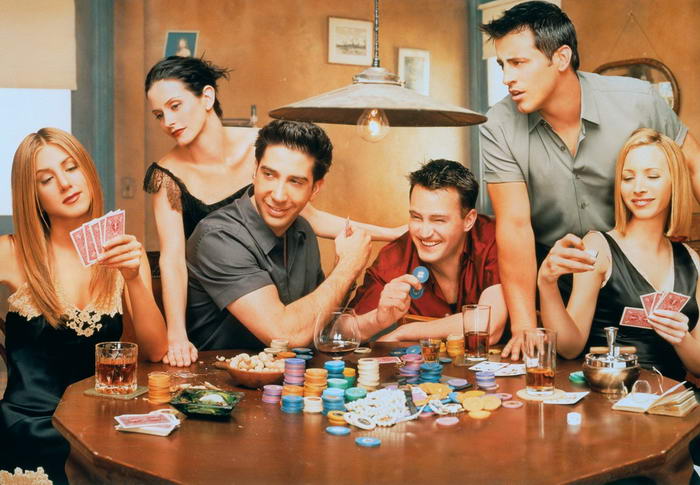 One of the most iconic sitcoms of all time, Friends aired from 1994 to 2004 and followed the lives of six friends living in New York City. The show starred Jennifer Aniston, Courteney Cox, Lisa Kudrow, Matt LeBlanc, Matthew Perry, and David Schwimmer. Friends became a massive hit, thanks to its relatable storylines, memorable catchphrases, and the chemistry between its ensemble cast.
Sitcoms have provided us with countless hours of entertainment, laughter, and connection. These 10 most popular sitcoms of all times have left an indelible mark on television history. And their impact continues to be felt today. From unforgettable catchphrases to iconic characters. These shows have not only entertained us but also shaped popular culture and left a lasting legacy.
FAQs about Sitcoms:
How are sitcoms different from other television shows?
Sitcoms, short for "situational comedies," are typically characterized by their focus on humor, recurring characters, and episodic storylines set in a consistent location.
Why have sitcoms remained popular over the years?
Sitcoms have remained popular because they provide a sense of familiarity and comfort to viewers. Their lighthearted nature allows audiences to escape from the stresses of everyday life and connect with the characters and their experiences.
How have sitcoms evolved over time?
Sitcoms have evolved in terms of storytelling, character development, and representation. While early sitcoms often relied on simple, formulaic storylines, modern sitcoms explore more complex themes and diverse perspectives.