The world of rock music is full of legendary guitarists who have shaped the sound of the genre. From Jimi Hendrix's fiery solos to Eddie Van Halen's blistering riffs, the famous rock guitar has captured the hearts and souls of music fans around the world. These guitar gods have influenced generations of musicians and inspired countless fans to pick up a guitar and start playing. In this article, we'll take a look at the 10 most famous rock guitar gods of all time, and explore what makes them so legendary. Get ready to rock out!
Rock music has been a staple of popular culture for decades, and some of the most iconic musicians of all time are guitarists. From Jimmy Page and Eric Clapton to Eddie Van Halen and Jimi Hendrix, these legendary musicians have left an indelible mark on the rock genre with their electrifying solos and innovative playing styles. In this article, we celebrate the most famous rock guitarists of all time, taking a look at their careers, musical influences, and impact on the rock world. Whether you're a fan of classic rock, heavy metal, or alternative rock, these musicians have helped shape the sound of modern music and continue to inspire new generations of guitarists.
10 – Chuck Berry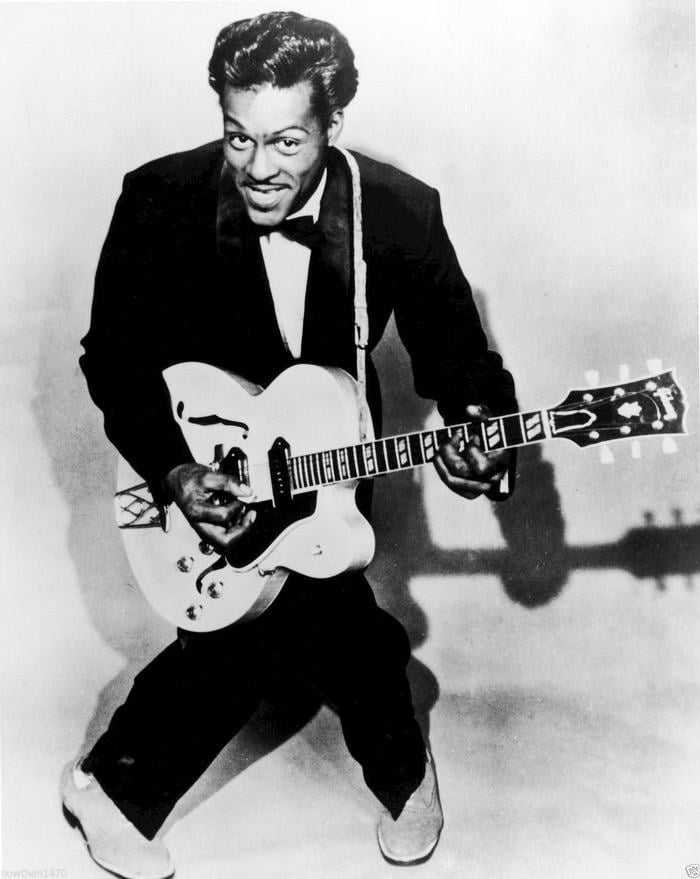 By Universal Attractions (management) (eBay itemphoto frontphoto back) [Public domain], via Wikimedia Commons
No list of guitar gods would be complete without Chuck Berry. Arguably the inventor of rock and roll, Berry's responsible for some of the most famous guitar licks in the world. With such hits as "Roll Over Beethoven" and "Johnny B. Goode" to his name, Berry's illustrious career has influenced every generation of guitarist that has come after him.
09 – David Gilmour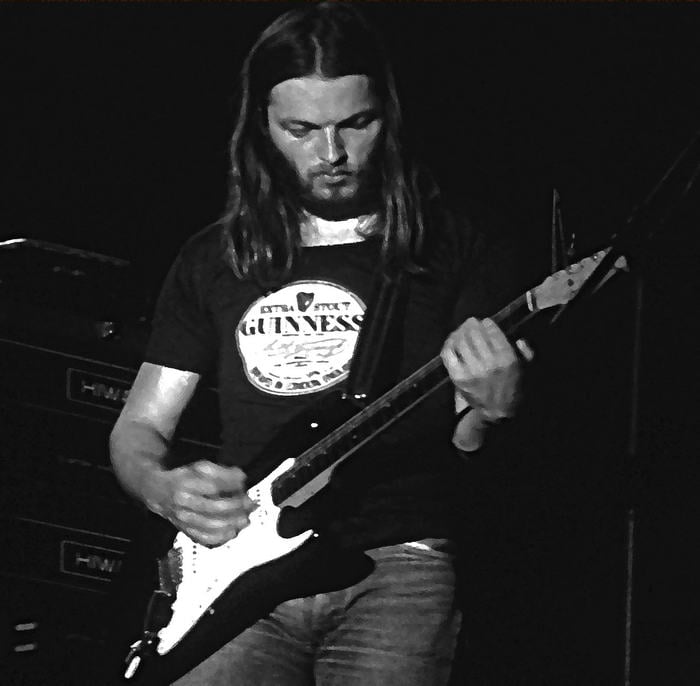 By Jean-Pierre Jeannin [CC BY-SA 2.0], via Wikimedia Commons
Not just another brick in the wall, David Gilmour makes the cut due to his ground breaking work with prog-rock band, Pink Floyd. Known for his use of effects (particularly that of the echo), Gilmour balances dreamy melodies with sharp, passionate, and surprisingly bluesy solos.
08 – Slash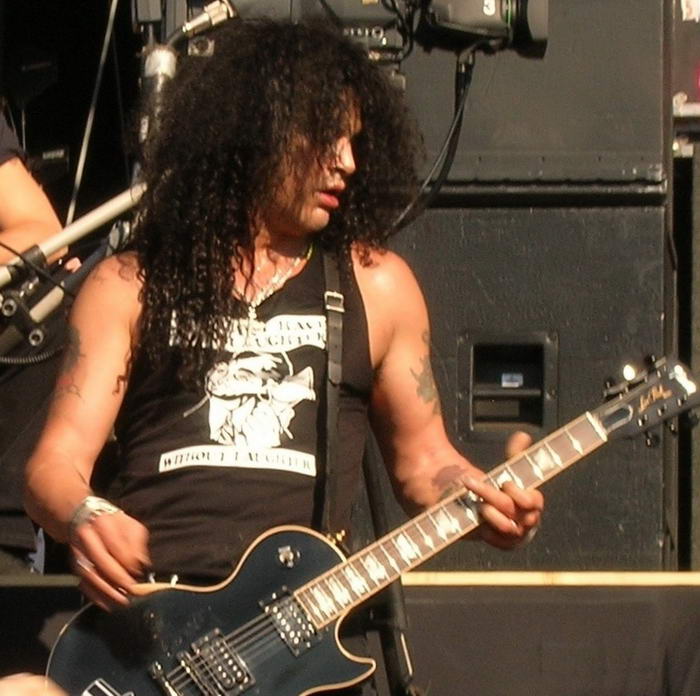 By Andrejk (photographed by myself) [Public domain], via Wikimedia Commons
As Guns n' Roses lead guitarist, Saul Hudson (aka Slash) brought sophistication and restraint to an otherwise lavish and wild band. Confrontational and gritty, Slash's reliance on slurs have created his distinctive sound. Through the use of slides, pull-offs, and hammer-ons, his licks and solos are surprisingly melodic, with influences of blues and rock greats suffused in his playing.
07 – Stevie Ray Vaughan
By Illustrated by Brad Holland (fanart.tv) [Public domain], via Wikimedia Commons
Stevie Ray Vaughan had a very short lived career; however, during his brief life he managed to create a distinctive sound that still influences modern musicians like Gary Clark Jr. and John Mayer. His sound was bright, bold, and just plain clean, as he rarely used distortion or pedals to enhance his playing. Relying purely on his technical skill and big (amplified) sound, Vaughan created a style that blended blues, rock, and jazz.
06 – Jeff Beck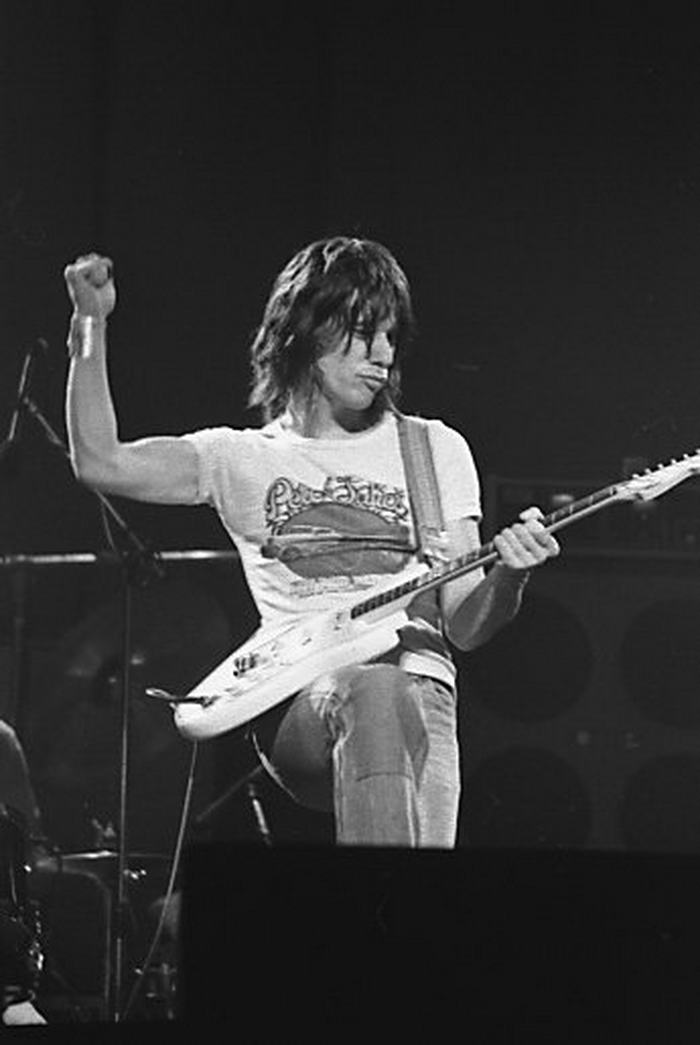 By Jean-Luc Ourlin (originally posted to Flickr as Jeff Beck) [CC BY-SA 2.0], via Wikimedia Commons
This English guitarist got his start with Rock & Roll Hall of Famers The Yardbirds. Though short-lived, the band made huge innovations to the sound of the electric guitar, mixing blues, pop, and rock with various distortions to create their signature style. After their break-up, Beck has since built an impressive career and has been commended for his fast fret-work and fat sound.
05 – Eddie Van Halen
By Anirudh Koul from Montreal, Canada [CC BY 2.0], via Wikimedia Commons
Eddie Van Halen is on the list because of all his unusual accoutrements he brings to his solos. With a unique picking style that allows for two-hand tapping, Van Halen layers his solos with texture by bringing his right hand to tap against the fret.
04 – Eric Clapton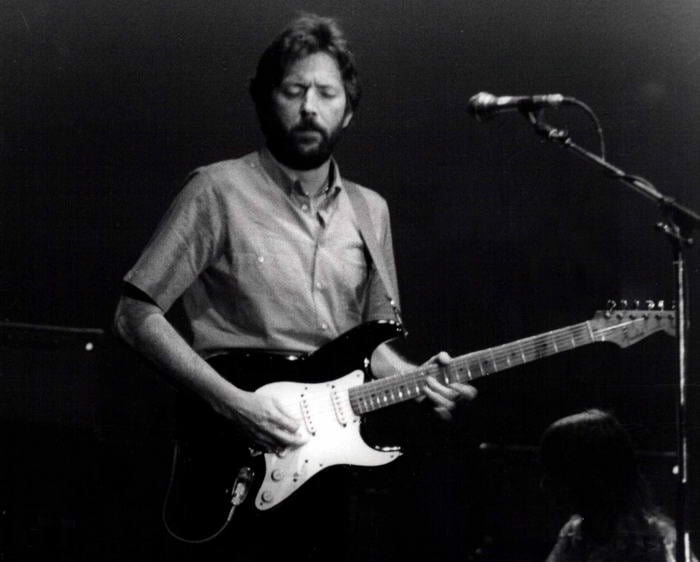 By Stoned59 [CC BY 2.0], via Wikimedia Commons
Another alumnus of The Yardbirds, Eric Clapton got his start playing alongside Jeff Beck. It was his work with Bluesbreakers and Cream, however, that earned him the nickname of 'God'. With a nickname like that, there's no question Clapton is one of the greats.
03 – Jimmy Page
By Andrew Smith [GFDL or CC BY-SA 3.0], via Wikimedia Commons
Jimmy Page is the last former member of The Yardbirds to find his way on this list. Just as his former bandmates carved out successful careers for themselves, Page went on to help form Led Zeppelin after The Yardbirds disbanded. Master of the power-riff, he's a favourite among favourites, as most guitarist call Page the be-all and end-all of guitar.
02 – Brian May
By Jaidn (Own work) [GFDL or CC BY-SA 4.0-3.0-2.5-2.0-1.0], via Wikimedia Commons
There's little wonder why Brian May, lead guitarist of Queen (only one of the biggest rock band in the world) finds his way on the list. Harmonies galore, May's layered playing is an extravagant onslaught of sound that we've all come to know and love about Queen. He's also hailed for his versatile playing style, as May can jump from trebly pop-opera solos (a la Bohemian Rhapsody) to the nearly metal licks featured on Sheer Heart Attack.
01 – Jimi Hendrix
By Original photographer unknown [Public domain], via Wikimedia Commons
Finding his way to the top of most lists, Jimi Hendrix is truly a deity amongst gods. He was a revolutionary, using peddles and distortion to create a new musical landscape for the guitar. Effortlessly balancing rhythm and riffs (while playing behind his head, no less), Hendrix created a totally unique sound that people still try to emulate to this day. "Purple Haze," "Foxy Lady," and "Hey Joe" are just a few of his hits that rocked the world.
When your favourites include such notables as Hendrix, May, and Van Halen, it's hard to forget why you learned the guitar in the first place. Every time you put on one of their records, you can't help but pick up your guitar and imitate their style. Eric Clapton (God himself) amazes audiences across the world playing mostly only on a Fender Strat. So did Jimi Hendrix, in between playing a Gibson SG and a Flying V. Maybe, like Jimmy Page, you're more partial to a Gibson than a Fender, or maybe you prefer an Ibanez over any other brand. You won't know until you try! Each guitar has its own weight and feel, and until you experience that in person, you may never know. One of the easiest ways to find out what suits you best is to check out your local music store and try out a few licks on each of the most popular electric guitars to get a feel for each one. From the sound they can produce to the way they look in your hands, you'll never know until you try. Plus, you might be surprised at just how easy it is to emulate your fav when you've got the same guitar.
It might not be Van Halen's Frankenstrat or one of May's hand-built guitars, but you don't need anything fancy. Any premier brand (like Fender or Gibson) will produce a quality sound, making it that much easier to play like your favourite and imagine your name making it on the list of famous rock guitar.