Hollywood is an industry based on compelling movies and block-busting epics. While the actors, effects and storylines are key to this, there is no doubt that film directors are hugely important as well. Stanley Kubrick is an iconic director who has made some of the most talked about films in history. This may lead you to think you know all there is to know about his films.
It may surprise you therefore to find out that there are some truly out there stories which Kubrick movies contain. Here are the ten most interesting and shocking to find out about.
10 – McDowell's Scratched Eyeball
One of Kubrick's most infamous film is 'A Clockwork Orange'. Following the depraved actions of main character Alex and his gang, it is known for its ultraviolence and controversial scenes. In the film, Alex is eventually arrested and undergoes aversion therapy to cure him. This basically involves being strapped to a chair with his eyes clamped open and being forced to watch graphic footage of violence.
What you might not know is that Kubrick forced Malcolm McDowell (the actor who played Alex) to have his eyelids clamped open for real when filming took place. The only problem was that the hooks holding the clamps in place kept falling off and scratching McDowell's corneas. This left him in absolute agony afterwards!
09 – Troubles On 'The Shining' Set
This hard to work for director was known for pushing actors to their limit and reshooting the same scene multiple times if he felt it necessary. This was certainly the case when he made 'The Shining'. This was also a shoot which took lead actress Shelley Duvall to her breaking point. One scene was reshot 45 times for example on Kubrick's demands.
This saw the emotion and distress Duvall displayed in it totally real (it is where she fends off her husband with a baseball bat). In addition, Kubrick felt he would get the exact performance he wanted from Duvall by keeping her isolated from everyone else for the whole shoot, ignoring her and telling everyone else to ignore her too.
08 – 2001:A Space Odyssey
Released back in 1968, this movie is a masterpiece of cinema and still looks futuristic today. A technical tour de force from Kubrick, it was all done in the days when computer generated FX were not an option. This saw the director commission Vickers-Armstrong Engineering to make a real-life $750,000 version of the space station to film in. The full-scale replica was constantly moving around the actors as they filmed which gave it the illusion of being in space – and also made it disorientating for them after being on it for many hours! Kubrick also got real-life documents from NASA to help with authenticity when making this movie.
07 – Tom Cruise Not Safe On 'Eyes Wide Shut'
This dark thriller with occult overtones was the last film Kubrick worked on. Starring Tom Cruise and Nicole Kidman, it told the tale of their two married characters and how their relationship unravels due to suppressed secrets. The shoot was tough for the two big-name actors who were married at the time. Kubrick would press them about their own insecurities and relationship issues, which he would then write into the story. This was not easy to say the least!
The climax of this came when a dream sequence was filmed which involved Kidman's character having sex with another man. The director banned Cruise from the set for the entire 6 days it took to film and also banned Kidman from telling him anything about it! This surely annoyed Cruise – almost as much as Kubrick making him do 90 takes of walking through a door at one point.
06 – 'Dr Strangelove' Had Some Truth To It
Anyone who has seen this Stanley Kubrick classic will remember it starts with the unhinged General Jack D Ripper giving the go-ahead for a nuclear attack on Russia. This sees the US President in the movie (played by Peter Sellers) spending most of his time trying to stop this unhinged madman doing any further damage. It seems though that this scenario in American politics was not so far-fetched.
In the 1950's, US President Eisenhower put into place contingency plans, should the Soviet Union launch a nuclear attack on the US first. The plan said that, if the US President could not be reached or was incapable of authorizing a counter-strike, certain high-level Generals could on his behalf! This raised great alarm with Eisenhower's successor, JFK, who realised that lots of American nukes were scattered all over Europe and under the control of military officers. Maybe the films story of a mad General going crazy with nukes was not so fictional after all!
05 – 'Barry Lyndon' Had Terrorist Troubles
1971 saw the famed director begin to film an 18th Century period drama called 'Barry Lyndon'. The beginning sees Ryan O'Neal's main character (who is Irish) join the British Army. Filming was done mainly in Ireland for authenticity and saw lots of the cast dressed in British Army Redcoat uniforms from the period. This did not sit well with the IRA paramilitary group though! The early 1970's was a troubled period in Irish history and the IRA were not impressed with what was happing on location. This saw the group eventually give Kubrick and his crew 24 hours to leave Ireland or face the consequences. Needless to say, they did the sensible thing and left.
04 – 'Full Metal Jacket' Was A Toxic Shoot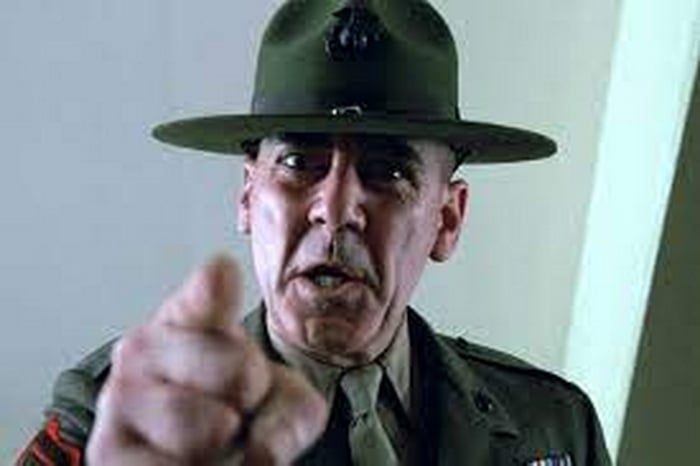 The closing scenes of Vietnam war movie 'Full Metal Jacket' were actually shot in an abandoned gasworks in London. The director had part of the site demolished for shooting and transformed it into the city of Hue instead. What no-one knew though (certainly not the cast) was that the gasworks site was filled with deadly asbestos. This was mainly down to the buildings which had been knocked down for shooting and the asbestos they left behind. Kubrick paid no attention to the dust and coal which covered the site and had the cast crawl around in it for hours to get the footage he required.
03 – 'Spartacus' Had A Deleted Scene
Another well-known Kubrick classic was the historical epic 'Spartacus'. The directors first cut of this movie proved controversial though as it contained a homoerotic scene between the characters of Laurence Olivier and Tony Curtis. The scene was originally deleted to ensure the film could be widely released and not incur the wrath of the church. Come 1991 though, times had changed and it saw 'Spartacus' re-released with the deleted bathhouse scene present.
02 – Fake Kidnapping on 'Paths of Glory' Set
Stanley Kubrick movies seem to have a habit of attracting controversy and weird happenings on-set. Filming the WWI thriller 'Paths of Glory' certainly did not disappoint here! The main storyline sees a French General command his men to storm a well-fortified German base. Knowing they will all certainly die, the men refuse and three are court-martialed for cowardice. One of the men involved was played by US actor Timothy Carey. Known for being hard to handle, it seems Carey get jealous of the attention main star Kirk Douglas was getting on-set and faked his own kidnapping one night. After sticking to his story and refusing to sign a statement drafted to explain the incident on his behalf, Carey was fired!
01 – Kubrick Had To Change 'The Shining's' Ending
As is common with most new films now, 'The Shining' was initially shown to a select audience for feedback before its general launch. While everyone loved it, the original ending was deemed to confusing and the studio made the director amend it to the ending we know today. But what was this alternate ending which most don't know about?
After Jack Torrance freezes to death in the maze of the hotel, we see what become of his family. This sees Torrance's wife and son back in the hotel reception area and hotel manager Stuart Ullman appear. Ullman informs Torrance's wife that a thorough search of the hotel and grounds has thrown nothing suspicious up. Insisting that the family stay at his place in LA while they recover from their ordeal, he turns to throw a tennis ball to Torrance's son. In a chilling twist, it turns out to be the same one rolled to the child by an unseen force earlier in the movie!
Stanley Kubrick was one of the most influential, controversial and well-known filmmakers in Hollywood history. As the above shows, the strange subject matter of his films and his demanding style of directing often led to strange things happening on-set. If you did not know about the above before, they really do shed new light on watching any of these classic movies going forward.