Bill Gekas is an award winning photographer out of Australia. Melbourne-based photographer is famous with his beautiful portraits of his 5-year-old daughter, posing in the scenes of the classic paintings by artists like Velazquez, Vermeer, Rembrandt, Raphael or Caravaggio. He learnt the technicals of photography using a 35mm film slr camera from the mid 90's and switched to digital in 2005, practicing the art of photography and constantly refining his style. Gekas says, "I like blurring the line between fine art and portraiture, creating something deeper."
Don't forget to visit his official website to see more of Gekas's work and let us know what you think of his father-daughter photo project in the comments section.
Check out 10 Most Beautiful Portraits Inspired By Classic Paintings.
10 – The merchant's daughter By Bill Gekas©
09 – The Letter By Bill Gekas©
08 – Potatoes By Bill Gekas©
07 – Girl without an earring By Bill Gekas©
06 – Field Day By Bill Gekas©
05 – Feline friend By Bill Gekas©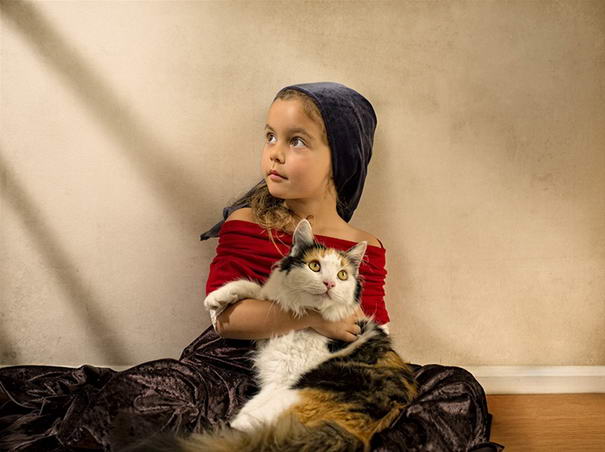 04 – Evacuee By Bill Gekas©
03 – Doilies In Delft By Bill Gekas©
02 – Cameo By Bill Gekas©
01 – Athena Ballerina By Bill Gekas©
Via: Bill Gekas