Everyone can use just a little more exercise whether it be to maintain a healthy lifestyle or not squeezing into jeans anymore. Exercise improves health and gives us the energy to face each day ahead. However – it doesn't need to cost a fortune! Gym memberships and personal training can go from a little to way over budget. Throw aside thoughts of having to use a gym to get your workout in and get physically active with some (or all!) of the Top 10 Most Least Expensive Ways to Exercise!
10 – Park Far Away

Say goodbye to the valet service and front door parking! Whenever you go somewhere, park as far back in the parking lot that you are comfortable with. This simple change will have you burning calories without even noticing. Whatever your final destination, make a conscious effort to take the spot farthest from the door. Every little bit adds up!
09 – Bike or Walk to Work

Biking is wonderful for your entire body and the environment while providing you with a high-cardio workout. Take different routes so you don't get bored. Watch the numbers on your scale drop while also reducing your carbon footprint. If you really are not a bike person, walk to work if possible.
08 – Perform Circuit Exercises During Commercials

Don't get up for a snack during those boring commercials. Instead, use the time to do some simple circuit training. Rent free how-to DVDs from your local library or take advantage of all the no-cost websites that are available for the taking. You can develop your own routine and be ready to get in shape the next time your favorite show comes on.
07 – Dance Away

Get your groove on with a bunch of friends! Dancing is a fantastic cardiovascular workout that is plenty of fun at the same time. Just make sure to skip the alcoholic calories and stick to hydrating water instead. You can also dance right home!
06 – Tennis Free Play

Every town has some kind of free – or very cheap – tennis courts. Play outside in the nice weather and switch to indoors once the snow flies. It's a great aerobic activity – have you seen the shape professionals are in? Check out your local recreational center!
05 – Get Roped

It was just for fun as kids but now jumping rope is a good exercise for your maintaining the health of your heart (and other parts as well). They cost next to nothing, are totally portable, and can really rack up the calorie burn!
04 – Go Jogging in the Park

There are joggers in every park you visit so there must be something to it! Perfect for an all-over workout, you also get the chance to spend time out in the sun and fresh air. Not only will you have more energy, you will also sleep like a baby.
03 – Take the Stairs

Get your heart pumping by letting the elevator leave without you! Aim to take the stairs whenever possible to give your legs and glutes a super workout. Make it supercharged by running up and down if you are able.
02 – Yoga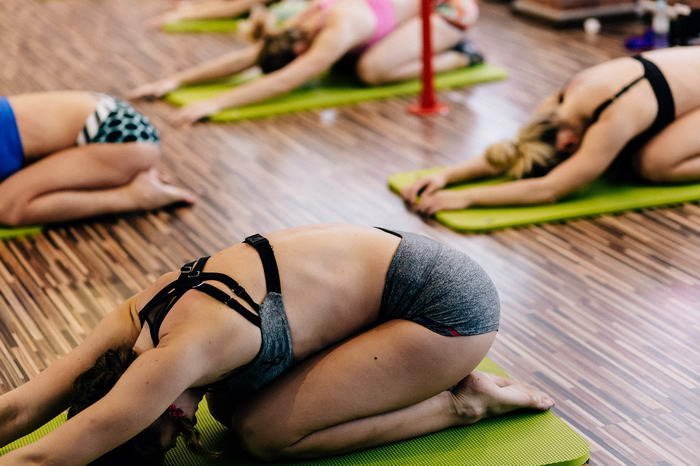 Yoga is one of the most popular forms of exercise today. Not only will you lose weight, you gain flexibility, sleep better, and have much lower stress levels. Since you only need a mat, this is perfect to do anytime, anywhere.
01 – Play Outside With the Kids

Along with exercising for free, playing outside will give the added benefit of some quality time with the kiddos. Suggest a game of tag, jump rope, hide-and-seek, or anything that makes you feel like a kid again!
*Images via pixabay.com