Every home deserves to be decorated with the greatest amount of passion and style. This is especially true if you are moving into a new place or have recently done so. Taking the time to inject your own personality and style into the property will make it much more pleasurable to spend time in. It will also impress anyone you have over to visit and will really deliver that wow factor that all new homeowners want.
How do you go about adding some glamour and luxury to your new home? Here the ten most amazing design tips to help:
10 – Gorgeous sofa
In any new home, the sofa will play a key role. Not only will it be where you all spend lots of time, but it will also often be the one thing that is most on show. Choose one in an unusual material or color for maximum effect, and make sure that it is big enough to lounge around on comfortably.
09 – Fresh paint job
The next way to really add some fresh beauty to your new home is by getting some new paint onto the walls. It may not require the whole house to be repainted, but it is worth doing so in the key rooms, such as the kitchen, bathroom, master bedroom and lounge. This will not only make your home look amazing but will also allow you to choose the colors you want in it.
08 – Dazzling mirrors
If you really want to add space, class and a lighter feel to your new home, then mirrors are key. There are some gorgeous styles to choose from – oversized mirrors are particularly popular for the eye-catching visual appeal they give.
07 – Pretty cushions and throws
Very often, adding style to your new home will involve thinking about the small details. Using beautiful cushions and throws is a great example of this point. Not only do they give you a quick way to change the look of your home, but they also make it look stunning. Simply choose the color and style that fits in with your current décor and scatter a few around for superb visual impact.
06 – Add some greenery to the place
Nothing says laid-back sophistication and elegance like some house plants. Many professional interior designers will use plants to add a splash of color to the property and help cleanse the air. Simply pop down to your local garden center and find the ideal ones that give the style you are seeking.
05 – Stylish water feature – inside!
Everyone knows the relaxing effect and style that water features give to the garden. A great tip for any new home is to bring this inside with a water fountain inside the property. They not only look amazing and sound sublime but also allow you to make your new home totally unique.
04 – Choose the right bed
There are many rooms to decorate in your new home, but the bedroom is key. This is your own sanctuary that will give you somewhere to rest and recover in. It is therefore really important to choose a bed that offers not only great looks but also a peaceful night's sleep. Make sure to use top-quality sheets to dress it for that five-star hotel look.
03 – Stunning artwork
When it comes to adding serious glamour and visual appeal to your new place, artwork is hard to beat. With so many pictures out there to choose from, it is easy to find a few that combine dazzling colors with beautiful subject matter. A few of the right pieces hung up in key rooms will have an instant impact.
02 – Fabulous lighting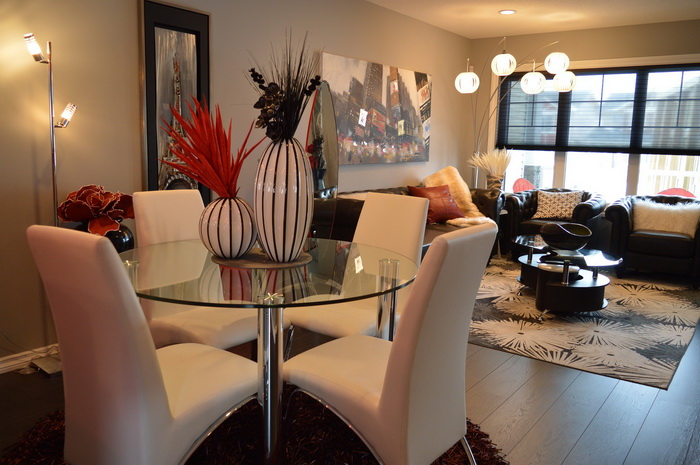 Many new homeowners will neglect to think about the lighting they have, but this is a mistake. Lighting goes far beyond the functional aspect and plays a big role in the overall look of your house. Making sure that you have beautifully shaped lighting fixtures made from the most luxurious materials is the order of the day here.
01 – Use amazingly crafted shutters
Perhaps the single best tip for creating instant style and class in any new home is to use shutters for your windows. These allow you to stop people peering in and control the light coming into the property and also look fabulous. There are lots of different styles to choose from, so you are bound to find one you love.
Make your new home feel amazing
If you have recently moved into your new home, then it is an exciting time. Not only will you want to get unpacked, but you will also want to start making it your own. The above tips will allow you to do this easily and make sure that it looks super-stylish for years to come.