Beds are a dominating presence of any room they're placed. Also it is the fact that we spend a significant percentage of our lifes in our warm beds. Despite these facts, most of us don't think of putting too much effort into the kind of our bed we have, outside of the size, bed sheets, and comfort. Generally we all use wooden, metal, leather or ottoman beds. You should admit that these beds are mostly boring about the look even they are comfortable to sleep in.
If you want to have a super bedroom with unusual and creative bed to amaze your friends, here are 10 inspirational examples for you. You would be surprised at how many insanely creative beds exist for those wanting to sleep in something extraordinary and funky. Some of these beds succeed in being completely outrageous, and others are more sleek,funky and uniquely designed. They're all ultimately creative examples of furniture design.
Check out 10 Most Creative and Funky Beds For Your Inspiration.
10 – Private Cloud – Rocking Bed By Manuel Kloker
This amazing bed looks like a giant rocking chair, or to be more exact like a rocking bed. You will need more space in your room than a usual bed needs to place it.
09 – Book Bed By Yusuke Suzuki
Book bed is created by Japanese artist Yusuke Suzuki especially to add more than a playful note into a children's bedroom.
08 – Mercedes Bed
This is a concept bed by the way. But you have chance to sleep in Mercedes bed at The V8 Hotel in Stuttgart, Germany.
07 – Float Bed By Max Longin
This incredible design was inspired after designer Max Longin had been sitting on a suspension bridge and noticed the nice, calming movement the bridge produced-a perfect sensation to fall asleep to. Result is beautiful!
06 – Bookcase Into A Bed By Karen Babel
Young designer Karen created a bookcase that transforms into a bed. A mattress stands upright in four bits and forms the bulk of the bookcase.
05 – Lomme
This egglike bed comes equipped with a "light therapy" alarm clock, a massaging viscoelastic memory foam mattress and a control unit that is a specially modified iPhone.
04 – Sonic Bed by Kaffe Matthews
The sonic bed is a king-size bed with 12-channel surround sound. The best way to wake up, don't you think so?
03 – Floating Bed By Birchwater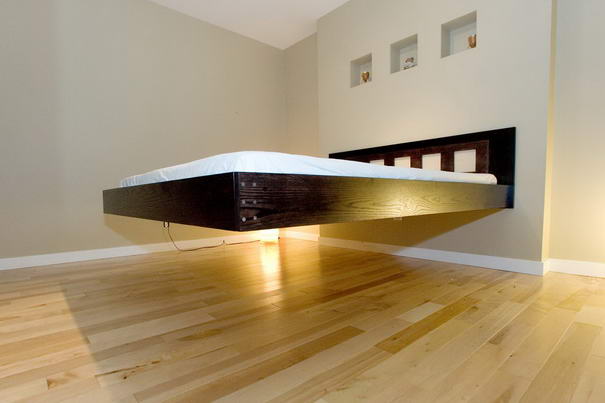 To give this bed its floating appearance, the frame was attached to the wall and supports a single post under the center. This bed can have a strong impact on your friends, and they will be quite impressed!
02 – The Bird's Nest Bed By O*GE Architects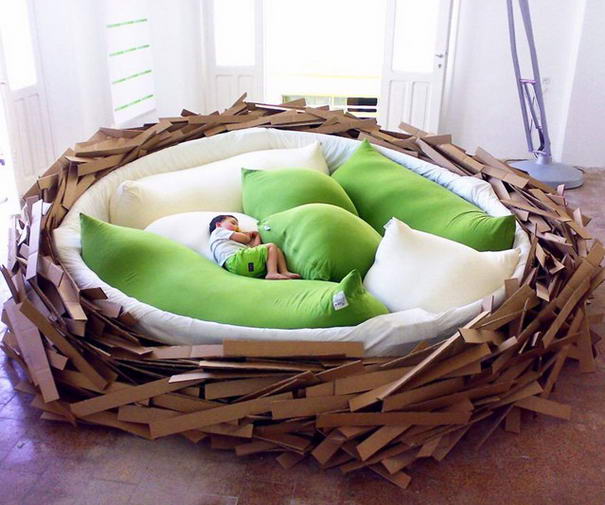 Round in shape and created as an compliment to the meticulous flying architects of nature, The Bird's Nest is designed in 3 different sizes with largest measuring 14.8 feet in diameter.
01 – Feel Seating System Deluxe
The Feel Deluxe is made of 120 soft and extremely pleasant balls.
The oversized dimensions gives plenty of room for singles, couples and families. The large dimensions offer plenty of room to sink into and drift away completely. Feel Deluxe has been embraced by the leading architects, interior designers and best design magazines.