With these ''10 Most Creative'' lists, i try to find things that will inspire you, give you ideas and make your home a better place to live. Today's creative list is full of unusual and beautiful bookshelf designs from various designers.
Bookshelves are designed in our homes, schools, offices, libraries and companies to keep books, office files and other documents at one place. Today, bookshelf is not just a piece of furniture rather it has also taken a form of art. Creative and artistically designed bookshelves showcase the creative and designing skills of the creator. If you're tired of simply stacking your books along your windowsill, this post is for you.
Check out 10 Most Creative Bookshelf Designs.
10 – Circular bookshelf By David Garcia
This circular bookshelf, part of the Archive Series by designer David Garcia, is designed to help a bibliophile store and transport a half ton of books. To move it, you just stand in the center and start walking.
09 – Tangram Bookshelf By Daniele Lago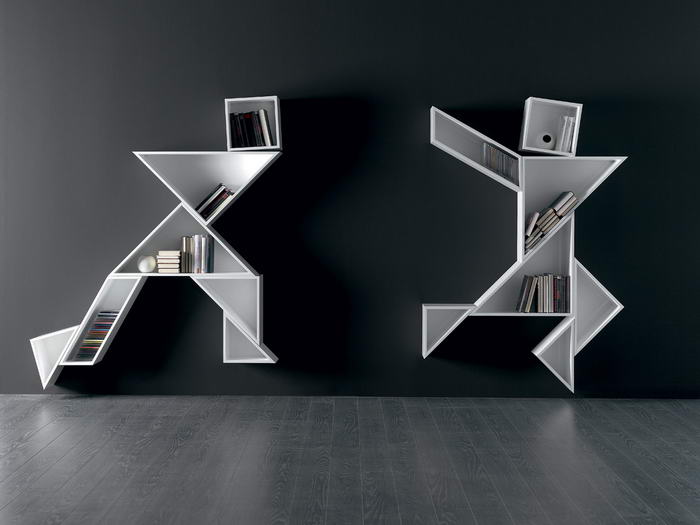 Modular bookshelf system designed by Daniele Lago. Seven pieces combined with imagination make new shapes come to life.
08 – Elastico Bookshelf by Arianna Vivenzio
The design by Arianna Vivenzio, elactico bookshelf will hold whatever; just squeeze it between the elastic "shelves".
07 – Equilibrium Bookcase by Malagana Designs
While its compartments seem to float in the air, Equilibrium can hold over 120 Lbs of weight and its different modules allow to keep books and magazines organized in a natural tilted position that eliminates the need for bookends.
06 – The Infinity Bookcase By Job Koelewijn
Dutch artist Job Koelewijn sure knows how to make an awesome bookcase. Behold his lemniscate bookshelf that represents the infinite power of books and learning.
05 – Twin by Zeynep Cinisli
TWIN is a bookshelf representing the two sides of Istanbul, Asian and European, and the bridges connecting them. It compares this connection with the relation of twins. The bookshelf is a cabinet when closed, when it is pulled to sides, the shelves representing the bridges become apparent. Via the selves with rails the TWIN becomes dynamic.
04 – Storyline Bookshelf By Frederik Roijé
Storyline Shelf is designed by Frederik Roijé and is an excellent solution to store your books in a modern way.
03 – Chuck Bookshelf by Natascha Harra-Frischkorn
At first glance a simple wooden wall shelf, at closer inspection a shelving system made up of flexible wooden planks that is adapting to the objects it preserves and displays. Chuck consists of six wooden planks with two stainless steel locking collars placed at the ends.
02 – Winter Tree By Twentyfirst
Winter Tree's design is simple, yet completely unusual. "Wintertree" could be placed in a airy and spacious living room design with a contemporary touch. It comes in both white and dark brown, which are unpretentious colors, easy to integrate in almost any type of simple interior.
01 – Primo Quarto By Giuseppe Viganò
This light, stunning bookcase is arched rather like a waxing moon. Functional and at the same time creating a strong decorative effect, it consists of slanting internal shelves and dividers that create a curved line, with a decidedly harmonious effect.