Our planet is loaded with beautiful buildings, and this ''10 most'' list is just a small portion of what is out there. In fact, hundred years ago, choosing the world's most beautiful and glamorous buildings was easy. For example , The Taj Mahal, Hagia Sophia, La Sagrada Familia, may be Imam Mosque in Iran. But in today's world, it is more complicated than before. Because the whole notion was chewed up and spit out by those troublemaking Modernists. We are learning to think about architecture in terms of beauty again. Below are just 10 random examples. Feel free to add yours in comments section.
Here are 10 Most Glamorous Buildings Around The World…
10 – De Rotterdam

Netherland's one of the most celebrated architect, Rem Koolhaas, has completed the nation's largest building here, and one of the biggest in Europe. It is conceived as a vertical city: three interconnected mixed-use towers accommodating offices, apartments, a hotel, conference facilities, shops, restaurants, and cafes.
09 – Shenzhen International Airport Terminal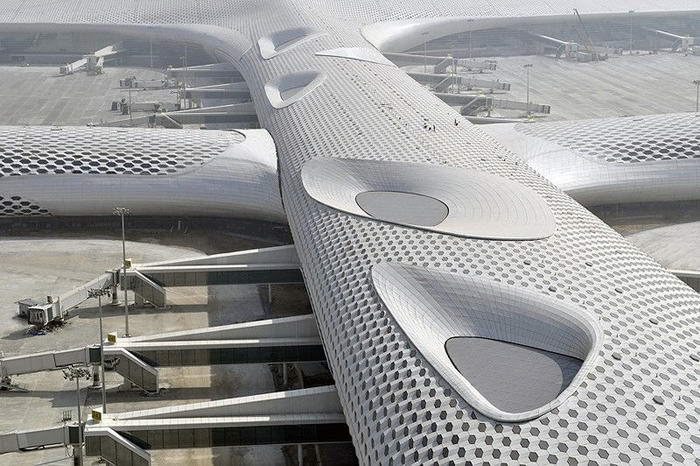 Italian architects Massimiliano and Doriana Fuksas have designed Terminal 3 at Shenzhen Bao'an International Airport in China. The building is striking not only for its size, but also futuristic design: daylight effectively penetrates the translucent facade to the interior.
08 – Statoil's Norway HQ

Image via @ Placebo Effects
Designed by a-lab architects, innovative and prize-winning structure ''Statoil Headquarters'' has been created on the site of the former Oslo airport at Fornebu, an area on the outskirts of the city that is rapidly being transformed into a dynamic new business centre.
07 – Heydar Aliyev Center

Designed by Iraqi-British architect Zaha Hadid, it is designed to be the primary building for the nation's cultural programs, expresses the sensibilities of Azeri culture. All functions of the Center, together with entrances, are represented by folds in a single continuous surface.
06 – The La Trobe Institute for Molecular Science

Photography by @ Dianna Snape
Designed by Lyons Architecture, the La Trobe Institute for Molecular Science is a six-storey building with hexagonal windows stretching across its front and rear facades. It is a new building on La Trobe University's Bundoora Campus in Melbourne, Australia.
05 – Dalian International Conference Center

Image by © COOP HIMMELB(L)AU
Designed by Austrian architects Bureau of Coop Himmelb (l), Dalian International Conference Center is housing a conference center, theater and opera house, exhibition area, parking, delivery and disposal in China.
04 – Emporia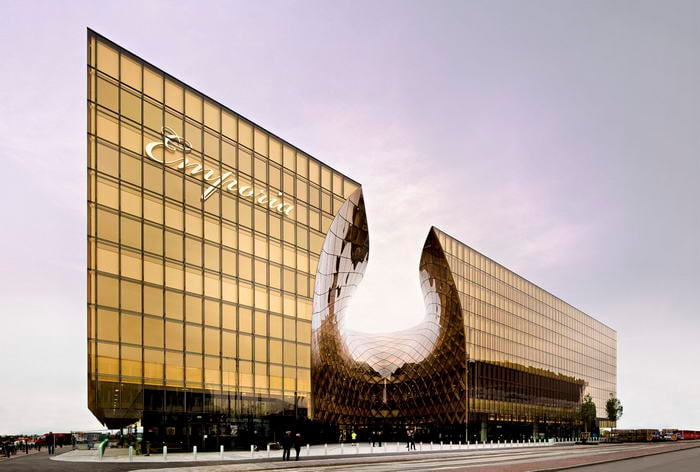 Photography by © Tord-Rikard Söderström
Designed by Wingårdhs Architects, Emporia is first and foremost an urban planning project in which offices, housing, and retail come together in a mixed-use development along Boulevarden and Stationsgatan in Hyllie, on the south side of Malmö.
03 – Hotel Parkroyal

Photography by © Erwin Soo
Designed by WOHA Architects, The PARKROYAL on Pickering is a very public and very Singaporean hotel. It is designed as a hotel-as-garden that would double the green-growing potential of its site.
02 – Aquarium Blue Planet

Photography by © Adam Mork
Designed by Copenhagen-based architect firm 3XN, it is one of the world's biggest aquariums in a swirling silver volume resembling a bird's eye whether the screw, or a huge whirlpool.The building is located just walking distance from Copenhagen Airport.
01 – Sliced Porosity Block

Image via by © Hufton + Crow
Designed by Steven Holl Architects, ''Sliced Porosity Block'' is a cluster of five towers around a public plaza in Chengdu, China. White concrete frameworks are expressed on the exterior of the towers and reveal diagonal braces that protect the structure during earthquakes.