Imagine stepping off a boat onto the sun-kissed shores of an enchanting Greek Island. With crystal-clear turquoise waters, breathtaking landscapes, and a rich, ancient history, it's no wonder that the Greek Islands have become a must-visit destination for travelers worldwide. These idyllic islands provide a perfect escape from the hustle and bustle of daily life, offering a slice of paradise for every type of traveler. So, whether you're a history buff, a beachcomber, or simply looking for an unforgettable getaway, the Greek Islands are guaranteed to deliver.
As you explore these magnificent islands, you'll be captivated by their unique charm and picturesque scenery. From the whitewashed villages of Santorini to the lush, green landscapes of Corfu, there's a Greek Island to suit every traveler's taste. Not only do these islands boast stunning natural beauty, but they are also steeped in fascinating history and vibrant culture, making them the ultimate destination for an unforgettable vacation. And let's not forget the delectable Greek cuisine, which will leave your taste buds tingling for days on end!
10 – Kos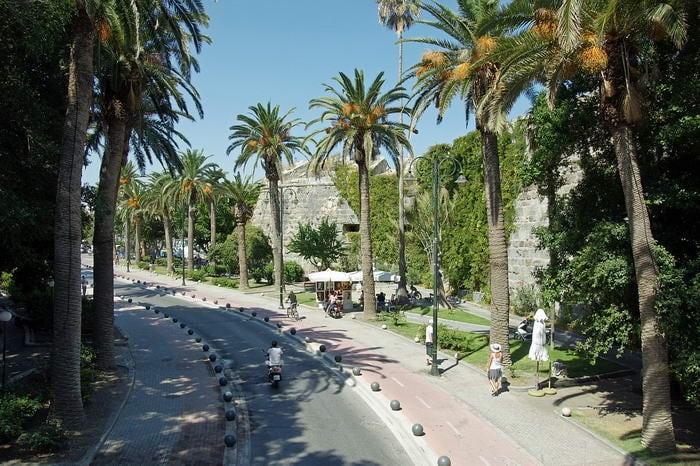 Kos is the first name on our list and a truly lovely place to travel too. Famous for its long strips of sandy, white beaches it offers a great place to enjoy the sea and fully relax on a sun lounger. If you prefer to check out the local culture, Kos has that in spades also. The backdrop of fig and olive groves makes for great exploring when the heat drops. In addition, the stunning attractions like the ancient marketplace or the ruins of the 14th Century Fortress built by the Knights of Saint John of Rhodes will leave you speechless.
As well as all these things to keep you busy in the day, Kos also has plenty of lively bars and restaurants at night for when they sun goes down. This is definitely one place you won't want to leave!
09 – Paros
Paros is one of the most lovely islands to visit in Greece, not only for its vista of rolling bougainvillea's and whitewashed buildings but also its location. With its many handy ferry crossings, this is a great base for island hopping around the other Greek Islands if you want to check them out also. There is a selection of beaches from busy to quiet and all with soft sand so you can pick the right one for you.
Water sports are very popular here particularly wind-surfing so if that's your thing then beautiful Paros may be the choice for you. With its old school charm and bustling nightlife, this island has a bit of everything.
08 – Mykonos
One of the most cosmopolitan of the Greek Islands, stunning Mykonos will make you fall in love with its white washed buildings and maze of tiny streets. Mykonos Town (or Chora as some call it) has a unique charm all of its own and its many bars and boutique shops are fantastic.
If you like clubbing then the famous Cavo Paradiso nightclub is located here also. If you're going to Mykonos this is well worth checking out with its dance music and all-night parties. A superb place to holiday, Mykonos will have you coming back for more year after year.
07 – Chios
Wonderful Chios is part of the Northeastern Aegean Islands and is a great place for culture vultures to stay. Separated from Turkey by a narrow stretch of water, it offers some great sightseeing opportunities. Chief amongst these is Nea Moni, an 11th century monastery found in the centre of the island that you can visit.
The south of the island contains the islands old medieval villages and these are definitely worth a look with their historical walls and towers. Interestingly enough, there are also colourful tulips grown on Chios at certain times of the year which only adds to the charm.
06 – Corfu
Corfu is probably one of the most well-known islands on this list and with good reason. The island as a whole offers something for everyone whether it's partying or staying in the quieter bits to relax. The stunning landscape will delight you and Corfu has as rich a history as any of the Cyclades.
Steeped in Byzantine and Greek Mythology, there is a real mix of architecture and cultures that add up to an intoxicating potion. With some of the best beaches in Greece also, Corfu can offer the perfect place to chill out and relax with a cocktail if that is the holiday you like.
05 – Skiathos
A truly enchanting place, Skiathos offers visitors great views with its rolling hills and lush pines. As you would expect from one of the Greek Islands, it has great weather especially in the summer so you will be able to relax in the suns healing rays. Part of the Sporades, it is one of the most Northerly of the islands in Greece and a great place to visit.
As well as the lively bars and sandy beaches, it also has a wildlife reserve and so gives nature lovers something to do. The many different animals and birds will leave you astounded and give this lovely island an extra dimension. If you include the ancient monasteries and churches also, you can see why Skiathos is so popular.
04 – Crete
Sunny Crete is one of the biggest and most populated of the Greek Islands. As such it makes a great choice if you like lots of different things to do and amenities close by like shops and bars. There is lots of types of accommodation on the island to so you can stay somewhere you will have the time of your life.
One of the top attractions here is the many gorges and hillside walks people can indulge in. Hiking, walking, horse riding and gorge walking are all popular past times on Crete to take full advantage of the surrounding area. There are also plenty of lovely beaches to relax on also for when you are tired from all that activity!
03 – Rhodes
Rhodes is a great place for history lovers as it has so much to see and hear about! Located close to Turkey and one of the northerly islands, it has many old treasures to check out. The best-known ones are the Acropolis of Lindos, the Temple of Apollo and the Governor's Palace. Walking around these amazing buildings will transport you right back to the time of Plato and Socrates!
The locals on Rhodes are particularly friendly and you will feel at home in no time as you wander around the charming villages and towns on the island. With its rich history and exotic Turkish influences, Rhodes is one island you will not regret visiting.
02 – Samos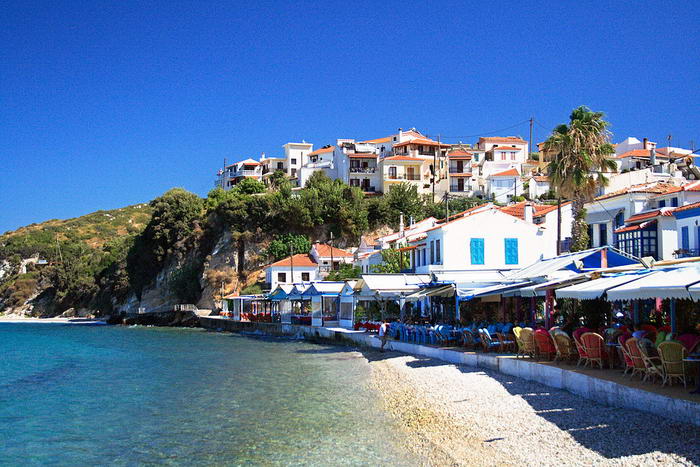 Just missing out on the top spot is gorgeous Samos. Famous for its crystal clear blue waters and pebble beaches, this attracts many visitors each year. As you would expect for a Greek Island it has lots of baking sun so you are sure to go home with a good tan! Due to the clarity of the water, activities like snorkelling and scuba diving are very popular here if you like that type of thing.
There are lots of ancient sights to see also especially the fabulous Temple of Hera. The Eupalinian Aqueduct is also found on Samos and this is considered one of the engineering marvels of the ancient world. This is just a beautiful place and one that will never leave you bored or wanting to leave.
01 – Santorini
Famous for the amazing blue domed churches, Santorini is a deserving number one on our list. Other attractions include the clear blue water, dramatic views and gorgeous weather. It also has an active volcano on the island but don't worry, there's nothing to fear! The capital of this island is Fira and if you're feeling energetic you can climb all 588 steps up to the top of the town. There is a cable car If you're too tired though!
The beautiful architecture and charming tavernas on the island make this a special place to see and you will love chilling out and watching the world go by on the cobbles streets. If there is just one Greek Island you ever visit then make it this one!
So, there you have it – ten of the most beautiful Greek Islands you can visit for your next holiday. Each island offers its own unique blend of stunning landscapes, fascinating history, and mouthwatering cuisine, ensuring an unforgettable experience for all who visit. With so many incredible islands to choose from, it's no surprise that the best Greek Islands are regarded as some of the most sought-after vacation spots in the world. As you plan your next getaway, consider embarking on an adventure to these captivating destinations. Trust us, once you've experienced the magic of the Greek Islands, you'll be longing to return time and time again.
FAQs
Q: What is the best time of year to visit the Greek Islands?
A: The best time to visit the Greek Islands is from late April to early October, with peak season being from June to September. During this time, the weather is warm, and most tourist facilities are open.
Q: How can I travel between the Greek Islands?
A: The most common way to travel between the Greek Islands is by ferry. There are also flights available between some of the larger islands.
Q: Do I need a visa to visit the Greek Islands?
A: Greece is part of the Schengen Area, so visitors from other Schengen countries can enter without a visa. Visitors from other countries may require a visa. Please check the requirements for your specific country.
Q: What are the most popular Greek Islands to visit?
A: Some of the most popular Greek Islands include Santorini, Mykonos, Crete, and Rhodes. Each island has its unique charm and attractions.
Q: Is it expensive to travel to the Greek Islands?
A: The cost of traveling to the Greek Islands can vary depending on your travel style and the time of year. Generally, the islands can be affordable for travelers on a budget, especially during the off-peak season.
Q: What language is spoken in the Greek Islands?
A: Greek is the official language in the Greek Islands, but many locals also speak English, particularly in tourist areas.