As temperatures are dropping below zero in much of the northern hemisphere, most of you are dreaming about lying on a warm sand beach with a tropical drink in-hand while listening to the sound of waves lap at the shore. I have collected 10 best beaches in the world to visit before you die in this list. From South America to the South Pacific and everywhere in between, here are the world's 10 best beaches in the world. This list is in no particular order. Also you can use comments section to add your favourite one.
Check out 10 Most Beautiful Beaches In The World…
10 – Bora Bora, French Polynesia
Just the name Polynesia evokes Crusoesian images of exotic paradise, of endless sunshine, baby soft sand and impossibly turquoise waters. Bora Bora is one of the group of dots in the Pacific Ocean that is French Polynesia.
09 – Miami Beach, Florida
Miami Beach, Florida, wins for its wide swaths of sand filled with glamorous and beautiful people and its bumping nightlife. Come here to see and be seen.
08 – Fethiye, Turkey
Fethiye attracts its fair share of holidaymakers, and no wonder, with its selection of beaches: Oludeniz with its blue lagoon, Kelebekler Vadisi with its butterflies, pine-fringed Kıdrak and sunset spot Calis among other gems.
07 – Tulum Beach, Mexico
Mexico is hardly short of beautiful cities, with gorgeous beaches. What sets Tulum apart is the proximity to some of the most stunning Mayan ruins in all of Mexico. Tulum lies about 80 miles from Cancun, making it close enough to explore Cancun if you choose, yet far enough away to escape the crowds and over abundance of hotels.
06 – Byron Bay, Australia
Byron Bay has a magnetic appeal for travelers. Pubs, cafés, bookshops and buskers line the streets. Musicians, artists and drift-ins walk the streets barefoot and bleary-eyed.
05 – Phi Phi Islands, Thailand
The beaches of Phi Phi Islands were the perfect location for the story about a seaside utopia. The Islands are situated between Phuket and Western Andaman Sea Coast, and are idyllic clichés of pristine, white sand and crystal clear waters displaying the sea critters and coral underneath.
04 – Pink Sands Beach, Harbour Island, Bahamas
The aptly named Pink Sands Beach acquires its color from the tiny-shelled creatures, Foraminifera, which cover the ocean floor, cave rocks and reefs, and whose broken shells mingle with the sand.
03 – Ipanema Beach, Rio de Janero, Brazil
Ipanema became famous in the 1970s when women first started wearing tangas on its shores. That atmosphere of freedom is still alive and well in Rio de Janero. It is a city full of life and is more than tolerant of self expression – on the beach or off.
02 – Navagio, Zakynthos, Greece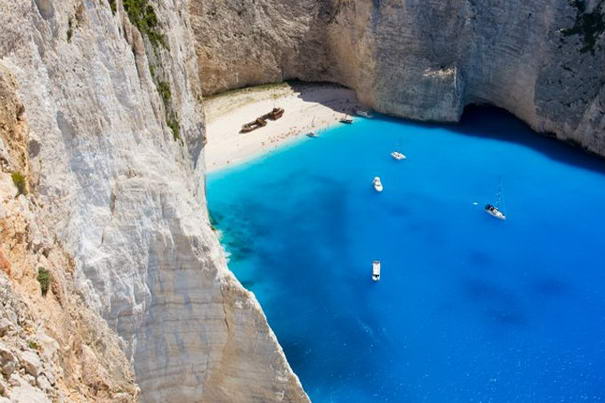 At the base of steep white cliffs on a hidden side of the Greek island of Zakynthos, lapped by some of the bluest waters you'll ever see, Navagio holds a surprise – a shipwreck – left behind by smugglers fleeing the authorities.
01 – Las Salinas, Ibiza, Spain
Las Salinas, a 1,600-meter-long crescent of sand in the island's southernmost tip, is the most happening beach of them all. Music blasts from Las Salinas' beach bars from morning till night, attracting some of the world's most famous bodies, including celebrities like Kate Moss.