When you hear people mention South American country Colombia, the chances are that you think of drugs, violence and murder. What might surprise you is that this is now an outdated view of this fine country which is no longer true in most places there. The negative times of the 1980's and 1990's have now passed and left instead a great place to visit on holiday. As with all South American countries, it has an intoxicating mixture of passion, intensity and hospitality to welcome you.
But which places should you be putting on your itinerary when flying into Colombia? Here are the ten most amazing spots which will blow you away.
10 – Popayan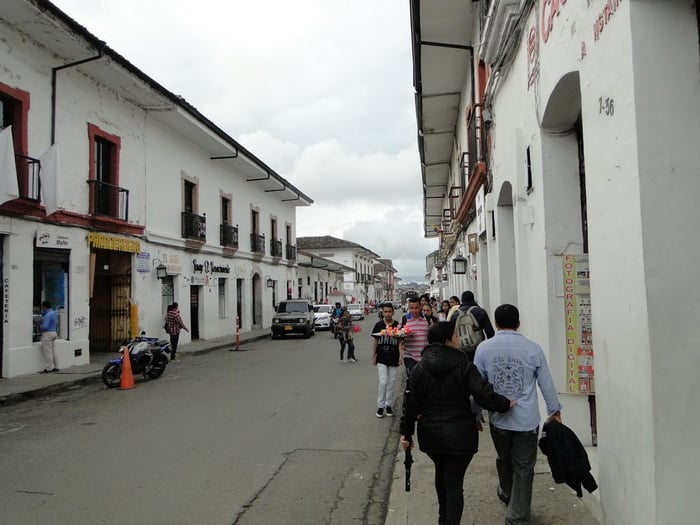 First on our list is the wonderful city of Popayan. As with a lot of the towns and cities in the county it has a long past, dating back to the 16th century! It is found in the South West of Colombia and is known by locals as the White City. This nickname comes from the cities white-washed buildings which look stunning. First settled in 1537, it has a mild climate which is perfect for many travelers and those looking to escape the intense heat of other Colombian cities. It is also attractive for tourists due to its laidback atmosphere and lively nightlife. When here, the Iglesia de Ermita and Iglesia de San Francisco churches are also worth discovering
09 – San Andrea and Providencia
These are actually a group of two island archipelagos found in the Caribbean Sea off the coat of Colombia. They are actually physically closer to Nicaragua but belong to Colombia and are a great place to relax when on holiday here. As they are in the Caribbean, you can look forward to stunning beaches and crystal clear water to enjoy. The clear water makes both islands ideal for snorkeling and diving as they play host to a diverse mix of marine life. Getting around both islands is also good fun as it is done on old school buses!
08 – San Agustin
This is not the biggest place to head to in Colombia but it is one of the best. San Agustin is most famous for the stunning landscape that surrounds it and also the historic remains of a lost civilization it is close to. This makes a visit here ideal for getting some culture and taking back some awesome memories when you go home. The ruins contain over 500 monoliths and statues and are estimated to be from around the 100 A.D. period. No-one knows exactly who built it is as it predates the Incans! San Agustin itself is a charming place to spend time with friendly locals and comfy hotels to call home.
07 – San Gil
Located in the North-East of the country, this is an old colonial town from when Spanish raiders originally settled in Colombia. First set-up in 1689, it is now the tourism capital of this region in Colombia. The main draw for travelers here is the many activities on offer from kayaking to mountain biking and rafting. When the sun goes down, the Parque La Libertad is the place to head for a drink and to socialise. If you fancy a wander during the day, the Plaza de Mercado is a covered market where you can pick up lots of delicious food.
06 – Zona Cafetera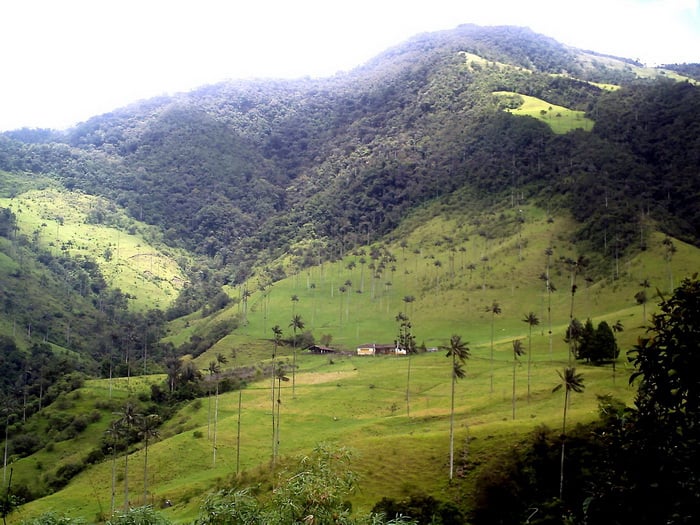 If you like your coffee, then this is a must see when you go to Colombia. This zone is where around half of the coffee in Colombia is grown and is a stunning sight to behold. Found on the slope of the Andes, the sprawling landscape will take your breath away. When here you can take a tour and learn more about how coffee is actually made. There is an on-site museum also which goes more into the history of coffee while the Catedral de Manizales gives great view over the surrounding area. When you need to recharge your batteries, a dip in the thermal springs at Santa Rosa are just the ticket. Many people will also visit this region to simply hike through the Andes and discover the many fabulous sights this can bring.
05 – Villa de Leyva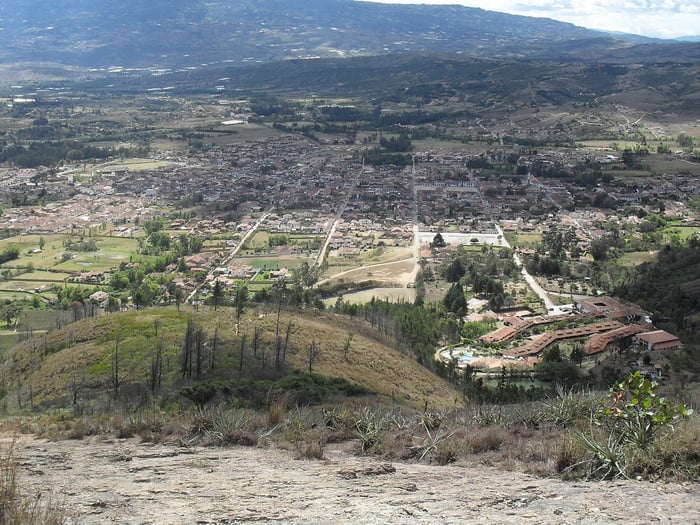 Located close to Bogota, this small town is the ideal getaway from busy city life. It is home to the Plaza Mayor which is the largest town square in all of Colombia. It has a rather grisly past though – in ancient times, it was used to execute people on! Now though, it plays host to festivals and acts as a focal point for the town's social life. This pretty town also has stunning architecture to gaze at as you wander around due to the Moorish influence it has seen. Culture vultures will also find a visit to the local museum wortwhile which honours those who fought for Colombian independence. One thing is for sure – you will definitely enjoy your time in Villa de Leyva.
04 – Tayrona National Park
One of the real essential when visiting this part of South America is Tayrona National Park. It is a vast area which is perfect for spotting amazing wildlife and getting close to nature. There are also some fabulous old ruins here which are awe inspiring to explore. From swamp to cloud forest, the various climates found here are certainly worth visiting. However, many people come here for the excellent beaches which give a relaxing place to chill out on. Flanked by palm trees and boasting crystal clear waters, they are among the best in the whole country. Originally home to the Tayrona people who gave the park its name, it is one place that will provide some great memories to take home.
03 – Cartagena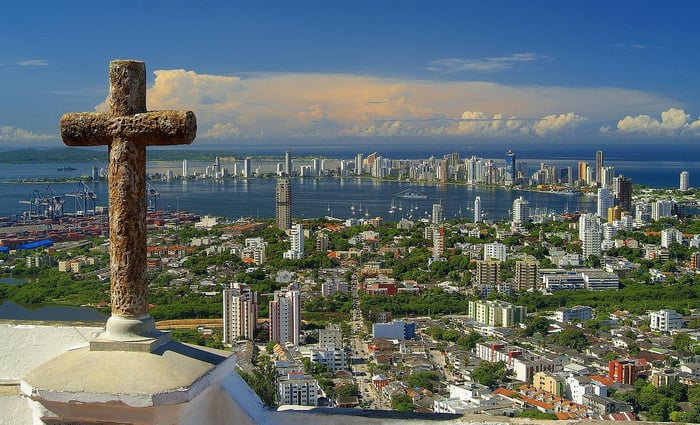 Perhaps the prettiest city in Colombia is Cartagena. It has certainly been one of the most important over time due its coastal location. This saw it rise to prominence as the key port in Colombia during the 16th, 17th and 18th centuries for traders. Indeed, you can still see the ancient fortifications that were erected to keep this important city safe from pirates! The old town is a great place to start here as the architecture on offer is simply amazing. The Bocogrande district is a great place to stay as it is home to many hotels and also close to some awesome beaches. With a lively nightlife and truly welcoming feel, this is one of the best places in Colombia to visit.
02 – Medellin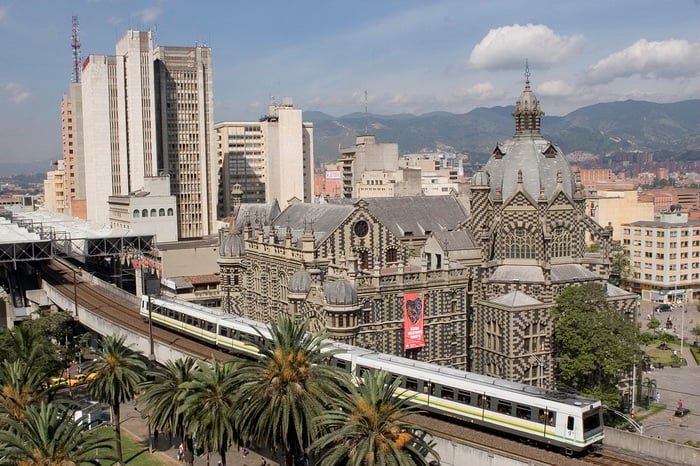 This may sound a weird choice as Medellin was once the most dangerous city on the planet. Many still associate it with drug crime and violence but this is no longer the case. Since Pablo Escobar died in the 1990's, the city has undergone a huge transformation. This means it is now safe for people to travel too and enjoy. A modern city with a lively feel, it has many cafes and bars to relax in when you need a break. The climate here is also a real draw with average temperatures year round of 72F. There are some great hotels to stay in too and the August flower festival is always worth a look. If you are prepared to trust your own judgement and not be put off by what is now history, this is a city with lots to offer.
01 – Bogota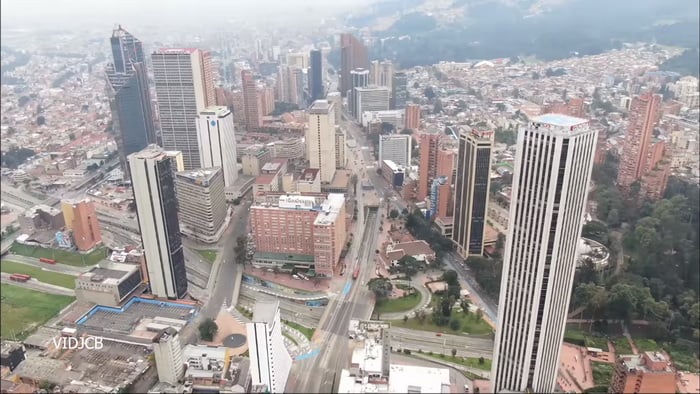 Known by many as the 'Athens of South America', Bogota has suffered from a bad reputation in the past too. Like Medellin though, it is now a safe place to visit with lots to recommend it. It has a long and ancient history which stretches right back to 1538. Found 2640 feet above the Andes, it is one of the biggest cities in all of South America. But why should you call in here? In simple terms, there is just so much to see and do. From awesome restaurants to fabulous shopping and bars, you will not be bored when on holiday in Bogota. During the day, the La Candeleria quarter is home to charming cafes and interesting museums. When you add in the city's botanical gardens too, then it is clear why Bogota is a great place to call into.
Once considered too dangerous to visit, Colombia has worked hard to clean up its act in recent years. While you should still exercise caution when on holiday there, it is seeing more tourism now which is making it safer to travel too for others. If you are prepared to give it a chance, it is a county with many outstanding places to visit as the above shows.