Venice, the enchanting city of water, has been captivating visitors for centuries with its unique charm and beauty. This floating jewel of Italy is a treasure trove of tourist attractions, boasting inspiring architecture, romantic canals, and a rich history. If you're planning a visit to Venice, you're in for a treat. You'r about to discover the 10 most amazing things to see in this magical city.
As you embark on your Venice tours, you'll quickly understand why this city has captured the hearts of so many. From the iconic St. Mark's Square to the hidden alleys of the city, Venice touristic places offer an unforgettable experience for travelers of all ages. Whether you're a history buff, an art lover, or just seeking a romantic getaway, there's something for everyone to enjoy when they visit in Venice.
Navigating the labyrinth of canals, bridges, and narrow streets might seem overwhelming at first, but don't worry – we've got you covered. In this guide, we'll provide you with a curated list of must-see attractions that will help you make the most of your visit to Venice. So, grab your camera and put on your walking shoes. Get ready to be swept off your feet by the enchanting allure of this timeless city.
10 – Torcello Island
Found to the far East of Venice as a whole, Torcello Island is situated close to the island of Burano. Torcello has its own relaxed vibe and peaceful atmosphere which is a nice change from the bustle of Venice itself. Although you do get visitors here, the crowds are much less than at other more popular attractions. You will need to take a ferry to get there which will take about 45 minutes. Once there, there are shops and restaurants to enjoy while a museum tells you about the history of the whole of Venice. You should also check out the outstanding beauty of the Church of Santa Maria Assunta while on Torcello.
09 – Basilica di Santa Maria della Salute
There is one very famous church in Venice which we will look at later on. Once you have seen that one though, why not look at this hidden secret? An outstanding structure in its own right, this fabulous church will take your breath away. Found close to the Grand Canal in Venice itself, the baroque design and opulent decoration is fantastic. Completed in 1687, this is an official minor basilica as noted by the Roman Catholic Church. Four exterior statues of the Apostle's tower in the Venice skyline while the main dome towers really make an impact. Inside is just as impressive with lots of space, light and religious imagery.
08 – Murano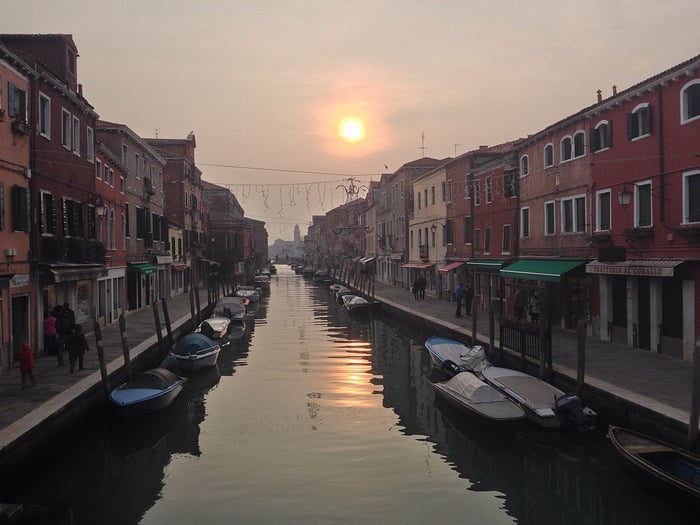 As note above, Venice as a whole is a collection of islands. One very popular one to see while here is Murano. Much like main area of Venice itself, Murano is connected together by a number of bridges. Offering a much more laid-back feel to Venice, Murano has lots of charm and Mediterranean chic to recommend it. There is lots to see here from the Basilica dei Santa Maria to the Palazzo du Mula. Murano is also famous for glassblowing here and the many fantastic glass ornaments you can take home as a souvenir.
07 – San Giorgio Maggiore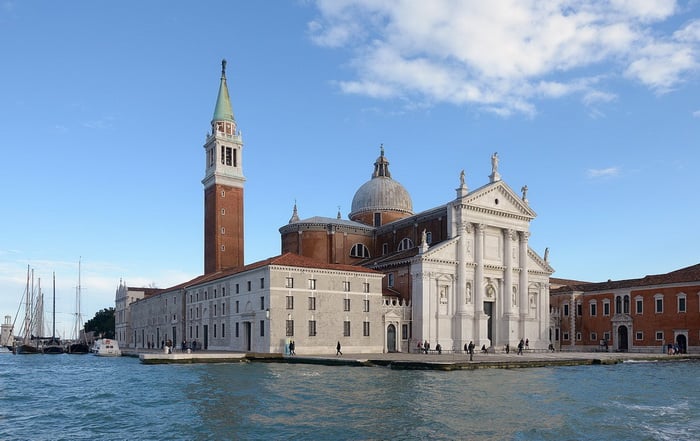 San Giorgio Maggiore is one of the smaller islands to visit when in Venice. It is not connected to the main canal network so you would need a water taxi to get there. Close to the Venice basin and Grand Canal, the main thing to see here is the awesome San Giorgio monastery. This is a beautiful building and really gives you a sense of history and culture. There is also a large Campanile that is similar to the one found in bustling St Mark's Square. A walk around the harbor here is also worthwhile with its charming sea views and chance to see the quaint fleet of local fishing boats. If you fancy climbing up the Campanile itself, you will be rewarded with stunning views of Venice's main city.
06 – Vaporetto Ride Down The Grand Canal
You can have a great time walking around the main city of Venice but seeing it from the water is something else. This makes taking a vaporetto ride down the main Grand Canal a must. Vaporetto's are public waterbuses that let you get from one part of Venice to another. Taking a ride on one down the whole of the Grand Canal is the perfect way to take in all the amazing buildings from a different perspective. A great tip is buying an extended pass. So you don't have to get a separate ticket every time you want to use it. Not only will you see much more of the amazing palazzos from the water, but you will also experience much more of the local culture this way too.
05 – Bridge of Sighs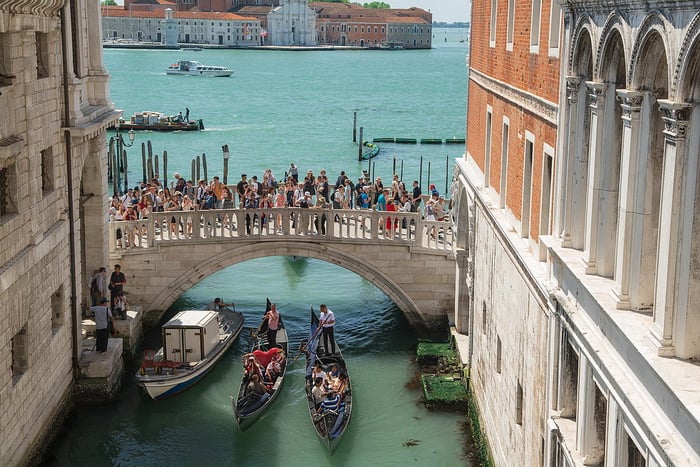 This is one of the most popular things to see in Venice which is amazing considering it is only a small bridge. An important landmark in Venice itself, it is also a key part of the island's history. The bridge goes over the Rio di Palazzo and connects the Doge's Palace to the Prigioni Nuove. But why is this small bridge so fascinating? Legends has it that criminals were taken over it from the palace on their way to being imprisoned for their crimes. As such, the people who went over it sighed as they took one last look at freedom to give the bridge its name. This is a must see when in Venice.
04 – Doge's Palace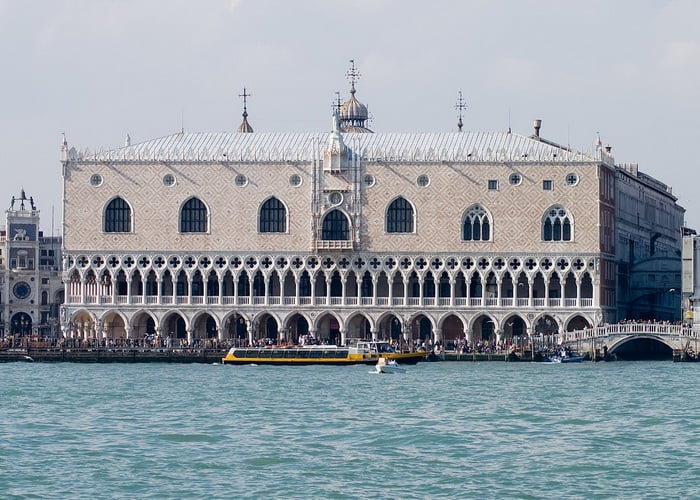 The Doge' Palace itself is not just famous for being at one end of the Bridge of Sighs – it is an iconic building in its own right as well. Indeed, it is perhaps the most recognised structure in Venice besides St Mark's Basilica. Simply stunning in its scope and design, the ornate decoration and amazing architecture are second to none. The curved arches of the front façade with their diamond patterned walls are also worth taking in. Once inside, the palace has many beautifully decorated rooms with fabulous artwork and furniture. A true piece of Venice's history, this is well worth seeing.
03 – Gallerie dell'Accademia
Found across from the Ponte dell'Accademia on the wonderful Grand Canal, this is a fascinating museum to visit in the main part of Venice. It is most famous for housing original works from masters such as Canaletto and Titian. Formally a convent, the building was converted to a museum in the late 1700's. It is an ideal stop-off for art lovers an those who love the Renaissance period. For a truly special experience, make sure to take in the originally Vitruvian Man piece by Da Vinci which hangs here. This building is a great example of the culture and history Venice has.
02 – Ponte di Rialto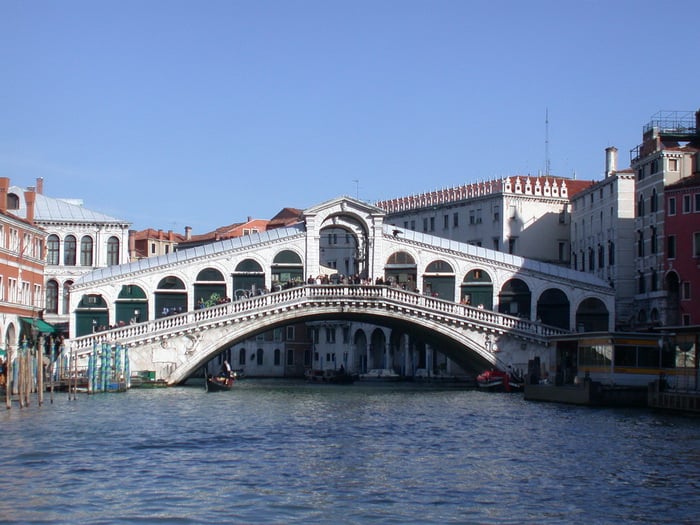 Larger and more impressive than the Bridge of Sighs, this stunning bridge connects the San Marco district to the San Marco one in Venice. Spanning the awesome Grand Canal, it is not only a key thoroughfare but also a must see for tourists. Originally it was a wooden bridge which collapsed in 1524. It was rebuilt to a much more ornate design in stone which has stood in place ever since. Full of gorgeous design touches, it is really beautiful and contains perfect symmetry. If you fancy shopping, there are also lots of outlets on the bridge that sell all kinds of souvenirs.
01 – St Mark's Basilica
Combining culture, history and stunning beauty in one building, this is the number one thing to see in Venice. It will mean battling through the crowd's on St Mark's Square, but it is well worth it. First built in 1092, it has stood firm ever since as a key religious building in Italy. Both inside and outside, this church is top notch. The façade has striking sculptures and an impressive sense of scale while the inside has many outstanding frescos and a stunning domed ceiling. Easy to get too from the Grand Canal, it is a superb example of Byzantine architecture.
Conclusion
We hope this list has inspired you to visit in Venice and make the most of your time in this mesmerizing city. Whether you're wandering the narrow streets, admiring the intricate architecture, or taking a romantic gondola ride through the canals, there's no denying that Venice is a city like no other. So, pack your bags! And embark on a journey that will leave you longing to return to this captivating city on the water.
As you continue your travels, be sure to keep an open mind. Embrace the unexpected, and cherish every moment of your visit to Venice. After all, it's often the unexpected surprises and spontaneous adventures that make our travels truly unforgettable. So, let the magic of Venice captivate you and create memories that will stay with you for a lifetime. Buon viaggio!