There's nothing quite as magical as fully immersing yourself in the festive spirit at this time of year, and sometimes the best way of doing so is to visit a city that goes all-out. It's not too late to book a last-minute trip to one of these fabulously Christmassy cities for this year, or just put it on your to-do list for next year! Either way, a trip to one of these cities will get you in the mood for Christmas like nothing else.
10 – Quebec, Canada

'Quiet night in Québec city' by Paul Falardeau
The Canadian city of Quebec will present you with a Christmas like no other. There's a wonderful nostalgic atmosphere with many vintage activities such as storytelling and roast chestnut eating, but it all has a thoroughly modern twist. This is thanks to the environmentally friendly conscience of Quebec, where outdoors has way much more to offer than indoors!
09 – Strasbourg, France

'Christmas market, Strasbourg' by francois schnell
As if the French language itself wasn't magical enough, the city of Strasbourg comes with festive charm in bucketloads. The decorations that adorn the buildings are absolutely beautiful, making this a romantic trip as well as a Christmassy one!
08 – Santa Claus, Indiana, USA

'Santa Claus, Indiana' by Doug Kerr
Yep, that's right, there is actually a town named after Father Christmas himself! As a result, Santa Claus in Indiana, USA, is a brilliant place to spend the big day, as they know how to throw a themed party. With Christmas buffets and Christmas lights galore, this is the next best thing apart from spending the day with Jolly Old Saint Nick himself!
07 – Taos, New Mexico, USA

'Unlit Reindeer and Christmas Lights, Taos, New Mexico' by Alexander C. Kafka
The Catholic Spanish influences are ever-present in Taos, New Mexico, especially around the holidays. There are many Christmassy elements that you'd expect, such as Santa Claus and plenty of decorations, but the influence from the wide mix of cultures makes this festive city truly unique.
06 – Barcelona, Spain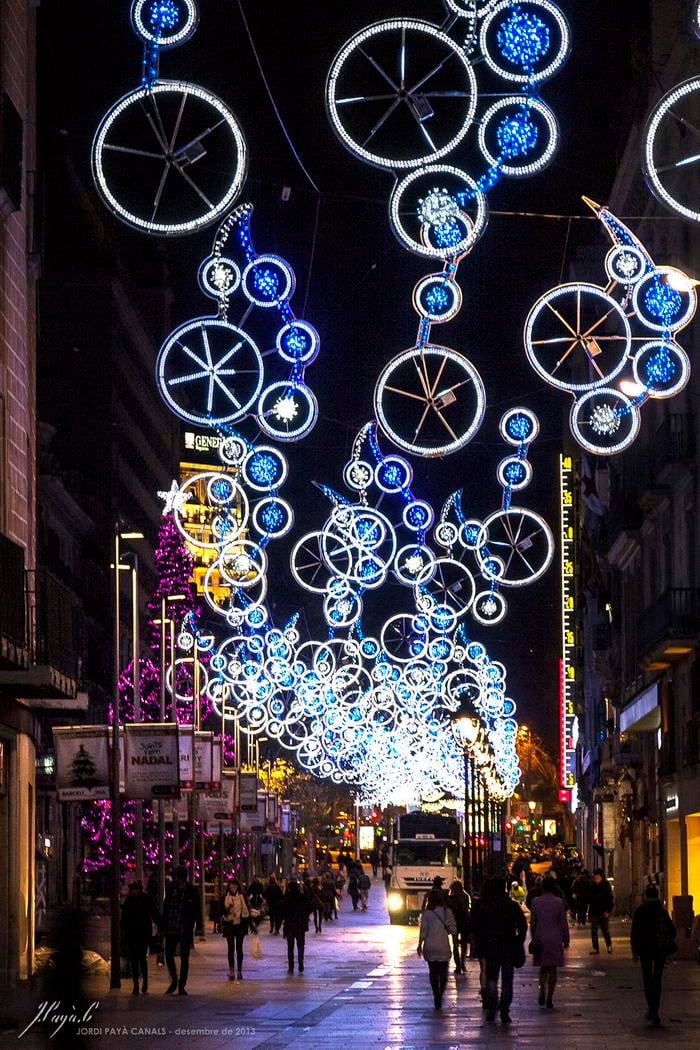 'Christmas lights at Portal de l'Àngel' by Jdeliordi Payà
The best part of the Spanish Christmas celebrations takes place in early January, when a fantastic festive parade winds through the streets of Barcelona. This is the city to visit if you want to party your way through the holidays!
05 – Reykjavic, Iceland

By Andreas Tille [GFDL or CC BY-SA 3.0], via Wikimedia Commons
Christmas is best served cold, so the Icelandic capital of Reykjavic is the perfect festive destination. There, you can have the proper, traditional experience of your dreams, complete with local delicacies, handmade gifts, dazzling decorations, and plenty of snow!
04 – Nuremberg, Germany

'Christmas Decorations' by Ian Wilson
Over 2 million people visit the Christmas market in Nuremberg each year, where there are 200 vendors selling some amazing items. For kids there are fun activities such as a Ferris wheel, but for adults there is plenty of Glühwein available! This is a huge, high quality, traditional Christmas market, making it an ideal destination shopping trip in the run-up to Christmas.
03 – Salzburg, Austria

By Jiuguang Wang (Own work) [CC BY-SA 3.0 or GFDL], via Wikimedia Commons
Another one of Europe's biggest and most popular Christmas markets is held in Salzburg, Austria. Nothing beats wrapping up warm and walking through the market, admiring the hand crafted goods and sampling the local food and drink. The atmosphere at Salzburg Christmas market is magical, romantic and festive, all rolled into one!
02 – Rovaniemi, Lapland, Finland

'Santa Claus Village' by Timo Newton-Syms
There's few better places to spend Christmas than in the home of Santa Claus himself – Lapland! Rovaniemi is a city which is great for both kids and adults alike to soak up the festive cheer. Visit Santa's elves, feed the reindeer, and bake festive cookies with Mrs Claus – what more could you want?
01 – New York City, USA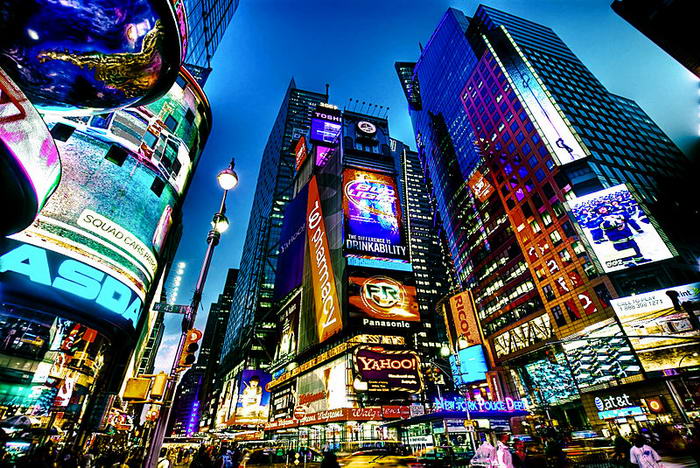 By Francisco Diez from New Jersey, USA (Times Square, NYC) [CC BY 2.0], via Wikimedia Commons
You've seen it in all your favourite Christmas films, so why not experience some of New York City's Christmas magic for yourself? This is one busy city at the best of times, so expect heavy crowds around the holiday season – but if you're willing to put up with all the people, then the decorations and the Christmassy atmosphere is the stuff that dreams are made of.