Beer, the oldest known alcoholic beverage, dates back to 3000 BC. It has always been there to comfort us in our times of need. It has brought friends together and it has torn friends apart. Its deliciousness is unparalleled and its effects on the brain are magical. Because of its price range and easy to find, it is the most popular alcoholic drink all over the world. If you are a ''social'' drinker and beer lover or you have a friend who loves beer and you want to make him/her happy, here are 10 unique and creative products for you.
Check out 10 Most Coolest Gifts For Beer Lovers. You can even buy them from the link below each image.
10 – Grill Sergeant Apron With Built In Beer Belt 6 Pack Holster
Get your grill on Our unique camouflage grilling apron holds everything a real man could want or need for an afternoon of fun. Holds 6 beverage cans or bottles, comes with a built in can opener, and more pockets then he could ever need. Made from 100-Percent cotton, one size fits all, fully adjustable length.
09 – Authentic Gargoyle Bottle Opener in Antique Brass
A decorative bottle opener for beer lovers!
08 – Personalized Beer Flight Gift
Accompanied by four mini pilsner glasses, each wooden paddle may be intricately burned with up to two lines of custom text… making this one of a kind flight a one of a kind gift for all the beer lovers on your list.
07 – Susquehanna Glass Moustaches Pub Beer Mugs
The moustache is back with this clever assortment of pub beer mugs. Each 16-ounce mug features a different moustache design, making quirky gifts and great conversation starters.
06 – Hopside Down Beer Glass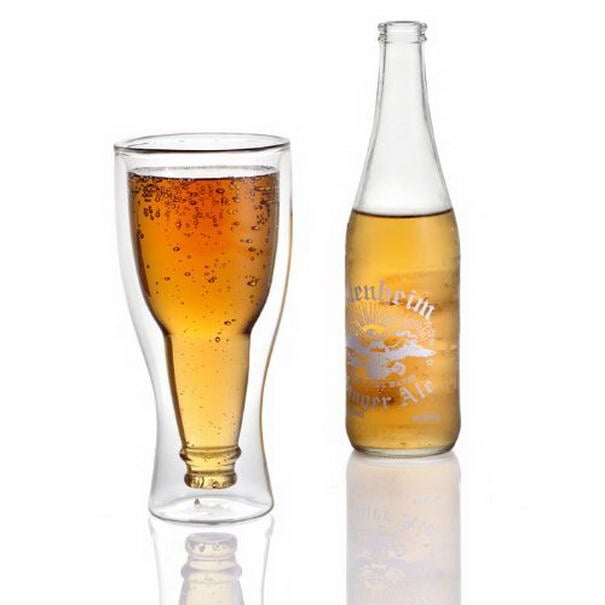 This Hopside down glass-in-a-glass keeps beer colder longer on the inside with no condensation on the outside. Enjoy your next tall, cold one in this fun, lightweight double-walled glass. It keeps up to 12 ounces of your favorite brew or beverage icy cold longer without breaking a sweat… literally! No more warming your beer with your hands. The Double-wall helps insulate your drink. Set of 2, each measure 7 1/2 inch tall and 3 1/4 inch diameter at the top.
05 – Instant Beer Stein Can Grip Handle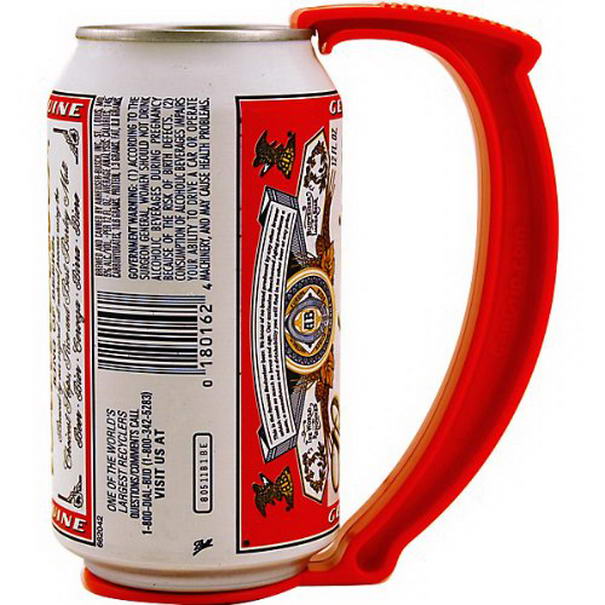 There are lots of unique beer gifts in the world, but only one Instant Beer Stein Can Grip Handle! This red plastic handle snaps securely onto your beer or soda can to create an instant stein that keeps your hot little hands from warming up your drink. And really, who feels like holding an ice-cold, dripping wet can anyway? It's simple, it's genius, and it just goes to show that great beer gifts for men (and select awesome women) don't have to be expensive!
04 – Beer Savers – Silicone Rubber Bottle Caps
Beer Savers are durable, stretchy molded beer bottle cap charms designed to help keep beer fresh after opening. They make a great gift for any beer lover. Home brewers can keep their beer bottles clean and sterile before bottling with these caps.
03 – Big Mouth Toys Beer Belt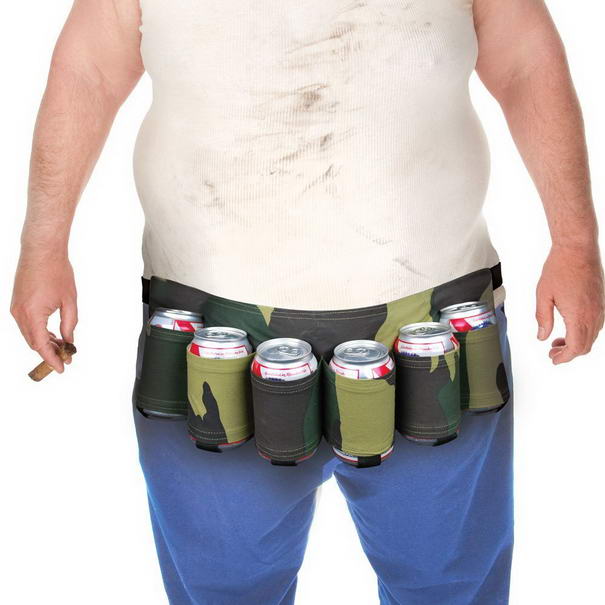 You'll be the hit of the tailgater party or fishing trip with this belt! Or give it as a gift to your husband so he can wear it while he is doing yard work. Wraps around the waist, secures with an adjustable size straps, and conveniently holds 6 cans of beer or any other beverage can.
02 – Craft Beer Brewing Starter Kit
This premium brewing kits use only 100% malt extract, world-class specialty grains, fresh hops, and high quality yeast: everything you need to create great tasting beer. And if you're new to homebrewing don't worry – our Guide to Craft Brewing will lead you through the experience one step at a time while teaching you the art of beer. Isn't it time you made the leap from beer drinker to beer brewer? Get off the sidelines and get into the game with Craft a Brew.
01 – The BeerBelly
The Beerbelly brings Freedom to the Beverage. Now you can drink what you want, when you want, where you want, with no hassles and for less money. what more could you ask for? Now you can drink your favorite beverage at the movies, the ballgame, anywhere, you decide. Features:The Beerbelly consists of 2 parts; the sling, and the bladder. The sling is designed to fit up users up to 6-feet 8-inch and up to a 40-inch waist. Made of neoprene, the sling insulates and feels like skin to the touch under your clothes.