After owning a car, it is crucial to equip it with the essential devices to enhance its use. Fleet owners require some of these devices because they make management easier and enhance the driving experience. Even though EyeRide AVL is a more sophisticated device that helps fleet managers to locate their vehicles, this technology is a must-have. Additional devices that any vehicle owner should consider this year include but are not limited to the following:
10 – Phone Holder

BUY HERE: Universal Car Mount Holder
It is hard to tell drivers to switch off their phones while on the road. They will definitely peek at the incoming notification or a call. A phone holder gives vehicle users an opportunity to mount the phone where they can easily see the screen without losing focus on the road. Buy a phone mount that is adjustable so that it can hold different sizes of phones.
09 – USB Charger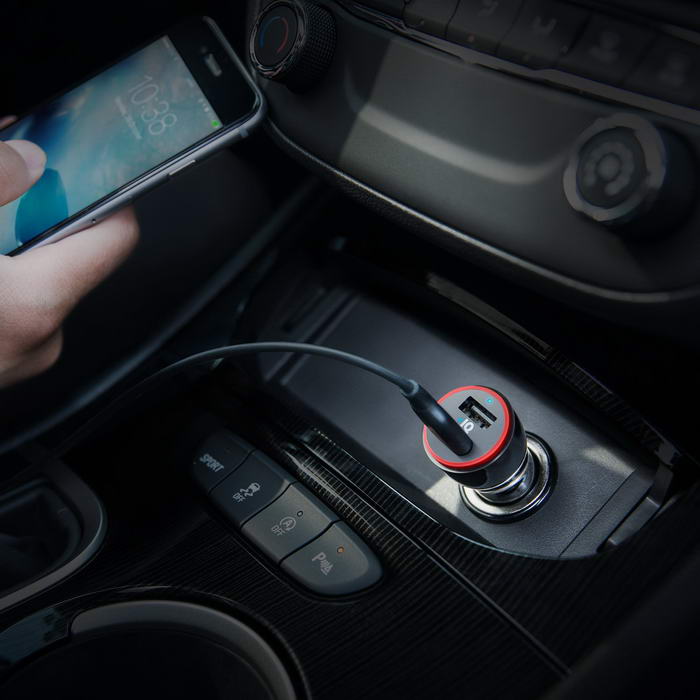 BUY HERE: Anker 24W Dual USB Car Charger
Now that you have a phone or a tablet in the car, you also need to keep them fully charged. It is now popular to tap charge from a cigarette power adaptor. If more than one person wants to use the charging point at the same time, you can buy a multi USB charging adaptor. It will have more than one outlet to plug the USB cable into your devices. Buying a reputable device will not only provide durability but will also protect the devices.
08 – Car Organizer

BUY HERE: High Road DriverPockets Car Vent Cell Phone Holder
Organizers are becoming popular to enhance the passengers' experience. They are better used by back seat passengers, who can place their phones and devices in them. The more sophisticated car organizers have cup holders and a surface to place food. When buying car organizers, make sure that you select those with the appropriate compartments for your passengers' needs. The colors also matter because they should be harmonious with the interior color theme of the car.
07 – Multifunctional Touch Screen

BUY HERE: Eonon GA2170 Car Radio Stereo
Things are now becoming easy for drivers. When you see a touchscreen on the dashboard, then you should know that it has more functions than you think. Some of these devices can play music, connect to the backup camera and provide cruise control settings among many other things. Before buying the aftermarket multifunctional device, make sure that it has all the functions that you need. Also, consider any compatibility issues with your car. Sometimes, these devices will come as a set and include passenger screens also.
06 – Dashboard Camera

BUY HERE:WheelWitness HD PRO Dash Cam
It is popularly known as a dash cam and is becoming popular among drivers. Most people have realized that they come in handy in case of an accident. A good dash cam should have enough memory to cover many hours until the user can retrieve the information. The dash cam should also have the capability to override the recording in case it is not retrieved within the limited time. Further, a dash cam with a wide-angle view will cover the entire front of the vehicle with ease.
05 – Radar Detector

BUY HERE: Whistler CR90 High Performance Laser Radar Detector
As much as it is good to comply with the recommended speed limit per location, it is good to have more protection if you need the extra speed. A radar detector uses sophisticated software and hardware to read the highway patrol speed radar detectors from a safe distance and alert you to slow down. The professional drivers in fleets use it when they are behind the schedule and they must deliver packages fast in slow speed zones. Buy one today and have it fitted in your car and enjoy escaping the police speed radars.
04 – Power Inverter With 12V

BUY HERE: Enkey 150W Car Power Inverter
Sometimes, the vehicle users need to run some electronics in the car. This is common with fleet vehicles where clients would like to use laptops and charge other devices. You will need to install a power inverter in the vehicle. They come with different watts but a 4,000W inverter is the most recommended. It will comfortably hold many small devices and still protect your car battery from damage. Usually, they are powered through the 12V port in your car. For bigger vehicles with many users, the inverter is networked well through a direct connection to the battery
03 – OBD II Bluetooth Diagnostic Tool

BUY HERE: OBD2 Scanner
The latest model cars are fixed with computerized censors all over. These send coded signals whenever there is a problem and one must use a code reader to understand this language. OBD II diagnostic tool is the most popular one. Today, we have one that can be connected to a Smartphone via the Bluetooth and perform various functions using a provided app. Just plug it in and get all the information that you need about the car right on your phone's screen. Sometimes, you will be surprised how much you did not know about your vehicle.
02 – Rechargeable Flashlight

BUY HERE: Anker Bolder LC40 Flashlight
If your car shuts off at night in the middle of nowhere, then you will appreciate a powerful flashlight in your car. In fact, most driving schools and driving refresher instructors will tell you to always have one. The best is a rechargeable flashlight, which you should keep fully charged at all times. Apart from lighting it up to check what went wrong with the car, it can also be used to signal for help when one is stranded in the middle of nowhere. The good thing is that manufacturers have those that are recommended for use by drivers and they come with a charging unit.
01 – Mountable Cupholder

BUY HERE: Kustom Plastic Cup Plus Car Cup Holder
As much as most cars will come with cup holders, most will only cater for the driver and the front passenger. Furthermore, the cup holder is positioned near the gear shaft, which can be difficult to use. So, why not mount one on the dashboard where you are comfortable using your drink? These holders come in different colors and designs to suit different needs. You can easily mount them at any part of the vehicle including the rear.
Conclusion
Vehicles are helpful, and people use them daily for mobility. It is important to make sure that people, whether clients, family or friends, enjoy their ride from the beginning to the end. The above devices will enable this with ease.