Attention, coffee aficionados! Are you on the hunt for the ultimate gifts for coffee lovers? Look no further. We've compiled a list of the 10 most unusual coffee mug designs that will make sipping your favorite brew even more delightful. Not only do these mugs boast creative designs, but they also serve as excellent conversation starters. So, let's dive into the fascinating world of quirky coffee mugs!
10 – Ember Temperature Control Smart Mug
BUY HERE: Ember Temperature Control Smart Mug
Whether self-gifted or given to another, there's no better way to share warmth than a favorite drink at just the right temperature every time.Ember intelligently wakes up when hot liquid is poured in and enters sleep mode when not in use.
09 – The Cookie Pocket Mug
BUY HERE: Zodensot 3D Creative Coffee Mug
Next on our list is the brilliant Cookie Pocket Mug. This ingenious design features a convenient pocket to store your favorite cookies, making it the perfect companion for those who love to dunk their treats in their coffee.
08 – The Self-Stirring Mug
BUY HERE: IAMPDD Self Stirring Mug
Bid farewell to the tedious task of stirring your coffee. The Self-Stirring Mug does the work for you with the press of a button. Coffee lovers can now enjoy a perfectly blended cup without any hassle.
07 – The Chalkboard Mug
BUY HERE: Personalized Chalkboard Ceramic Coffee Mug
Unleash your inner artist with the Chalkboard Mug. This innovative design lets you write, draw, or scribble messages on its surface, making it a fun and personalized gift for coffee enthusiasts. Plus, it's easy to erase and start anew, giving you endless opportunities for creativity.
06 – The Heat-Sensitive Constellation Mug
BUY HERE: 16 ounce Large Ceramic Morphing Mugs Heat Sensitive Clue Mug
Gaze at the stars while you sip your coffee with the Heat-Sensitive Constellation Mug. As you pour hot liquid into this magical mug, constellations gradually appear, transforming your cup into a mesmerizing celestial map.
05 – The Knuckle Duster Mug
BUY HERE: Fairly Odd Novelties Black Knuckle Duster Ceramic Coffee Mug
Add some edge to your morning routine with the Knuckle Duster Mug. This rebellious design features a brass knuckle-inspired handle, making it the perfect choice for those who like their coffee with a punch.
04 – The Sip and Snack Mug
BUY HERE: Soup and Cracker Mug
The Sip and Snack Mug is perfect for busy coffee lovers on the go. This multitasking design features a built-in compartment for snacks, allowing you to enjoy your coffee and a light bite simultaneously.
03 – The Caffeine Molecule Mug
BUY HERE: Caffeine Beaker Mug
Celebrate the chemistry behind your favorite brew with the Caffeine Molecule Mug. This quirky design displays the molecular structure of caffeine, making it an ideal gift for science enthusiasts and coffee addicts alike.
02 – The Prescription Coffee Mug
BUY HERE: BigMouth Inc. Coffee Mug
Feeling a little sluggish in the morning? The Prescription Coffee Mug playfully suggests that coffee is just what the doctor ordered. This humorous design resembles a prescription pill bottle, adding a touch of whimsy to your daily dose of caffeine.
01 – Skull Coffee Mug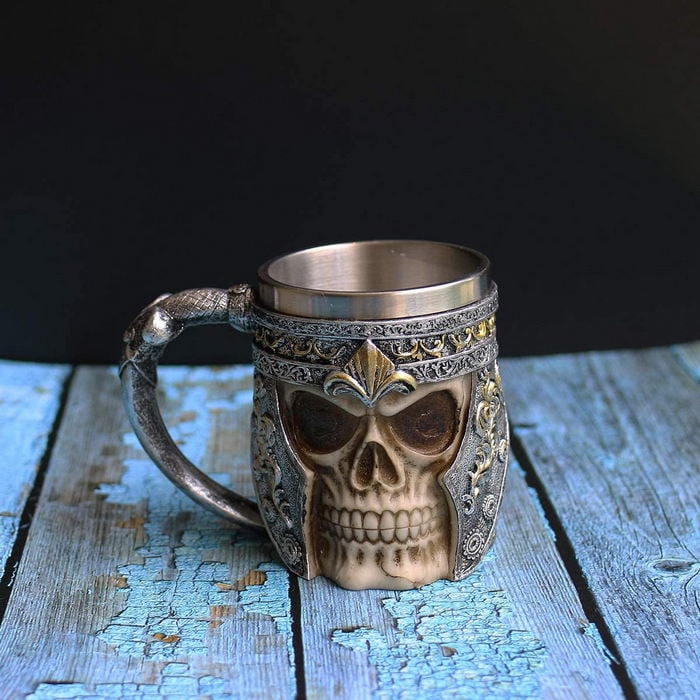 BUY HERE: OTARTU 13oz Skull Coffee Mug Viking Skull
Last but not least, viking warrior skull mug not only a drinking ware,but also a collections for a medieval lover. You can use it for coffee,beer,juice,milk,even wine.
Health Benefits of Coffee
As you admire these incredible coffee mug designs, let's not forget the health benefits of coffee. Studies have shown that coffee consumption is linked to a reduced risk of several diseases, such as Parkinson's, Alzheimer's, and Type 2 Diabetes. Moreover, coffee lovers can enjoy the antioxidant-rich brew, which helps protect the body against inflammation and boosts cognitive function.
These 10 unusual coffee mug designs make perfect gifts for coffee lovers, adding a touch of creativity and fun to their daily routine. Not only do these mugs provide a more enjoyable coffee-drinking experience, but they also remind us of the numerous health benefits associated with our favorite brew. So, go ahead and surprise the coffee lovers in your life with one of these unique mugs – they'll be sure to cherish it, cup after cup!
Happy gifting, and may your coffee be as exceptional as the mugs you serve it in!