May be you didn't recognize this detail but you probably have a few pencils on your office desk that you always move from one place to another and always stumble upon. It would be much easier if you would just use a pencil holder to store them in and get them out of the way. That will make your desk much more organized and you would also always know where to go when you need a pen or pencil. I have selected 10 of the most interesting pencil holder design ideas you could find or do it yourself. Hope you would find the most suitable one for your taste.
Check out 10 Most Creative and Unusual Pencil Holders…
10 – Dead Fred Pen Holder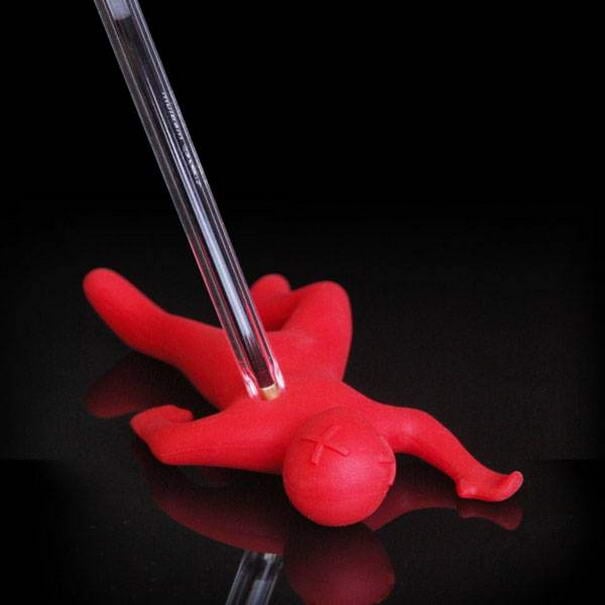 Feeling stressed and frustrated? Need someone to take your aggression out on? And somewhere to keep that pesky pen you keep losing under the edge of your computer keyboard? Well Dead Fred is the man for you!
BUY HERE: Dead Fred Pen Holder
09 – Cork Pencil Cup

If you like wine at least save the corks. They can be used for lots of projects, one of which is a pencil holder. It's easy to make but it requires a lot of corks so you need to collect them first.
08 – The Butt Station Desk Accessory Holder

A fun art deco desk accessory that includes a pen holder, tape dispenser, memo/card holder, paperclip holder and a great conversation piece all in one! Sits about 5″ high and comes in a variety of colors including: neon green, neon orange and bright blue. When you need to keep yours in the desk, get a butt station to keep you company! A perfect gag gift idea for the co-worker who is sometimes one of these.
BUY HERE
07 – Rustic Pencil Holder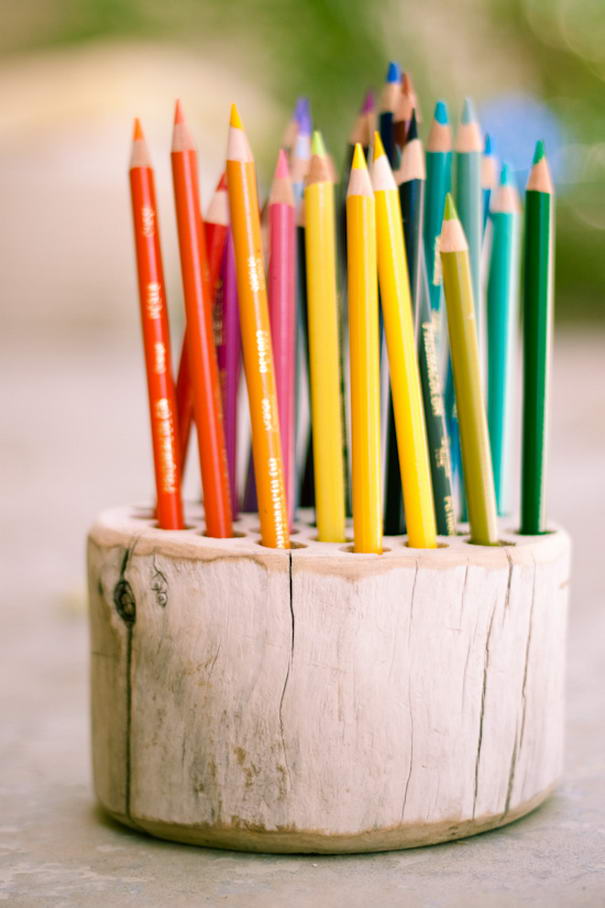 This one is a rustic pencil holder that's been made from a piece of wood. It's not difficult at all to make a similar one. All you need to do is find a piece that has the right shape and size and simply add a few holes to it.
06 – Pencil Holder From 6 Cork Trivets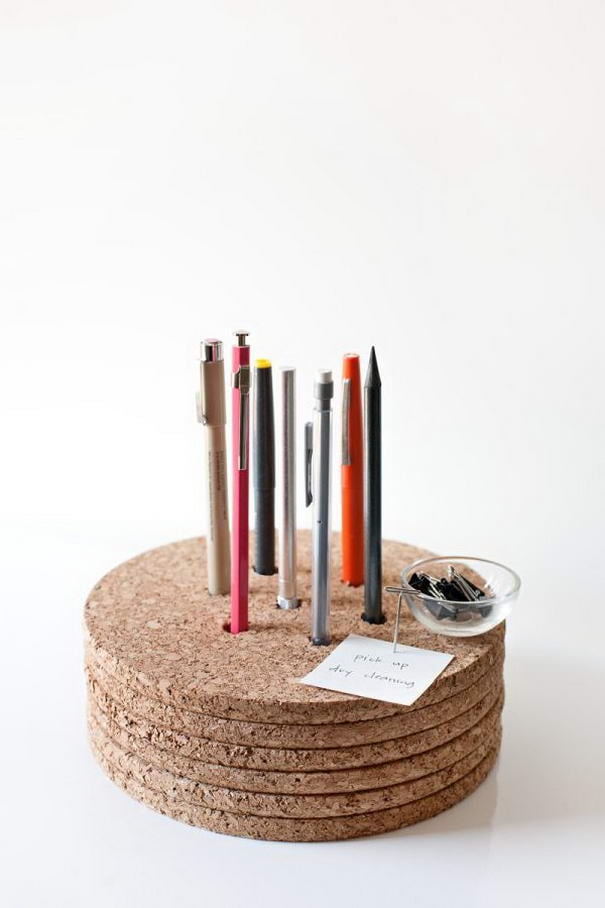 To make this one you need 6 cork trivets, a power drill and glue. The first step is to glue the trivets by stacking them one on top of the other. Allow them to dry overnight and then mark the spots where you want the holes for the pencils to go. Drill the holes and it's all done.
05 – Sharpener Desk Tidy

If you have too much stationery to fit in one giant pencil sharpener then we recommend our Deluxe Double Sharpener instead! – Oversized to the same scale but with an extra space for paperclips and smaller accessories. It's the perfect desk tidy for larger desks or people with more to store!
BUY HERE: Suck UK Sharpener Desk Tidy (SK PENCILPOT1)
04 – Hand Pen Holder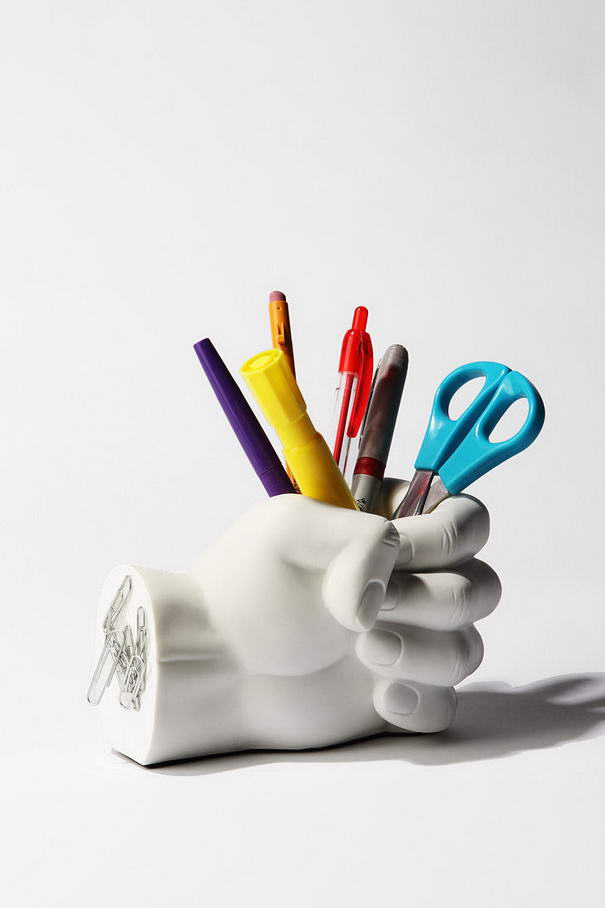 Created from a durable plastic and cement combo, this heavyweight hand shaped pen holder is perfect for holding all your desk items.
BUY HERE: Tech Tools Desktop Madness Series Hand Pen Holder with Magnetic Back (HS-8040)
03 – Recycling Bins

This fun set of pencil holders, or storage bins, are shaped like trash and recycling bins, complete with closeable lids and scrolling wheels.
BUY HERE:
Trash and Recycling Mini Storage Bin Pen Holder
02 – Floppy Disk Pen Holder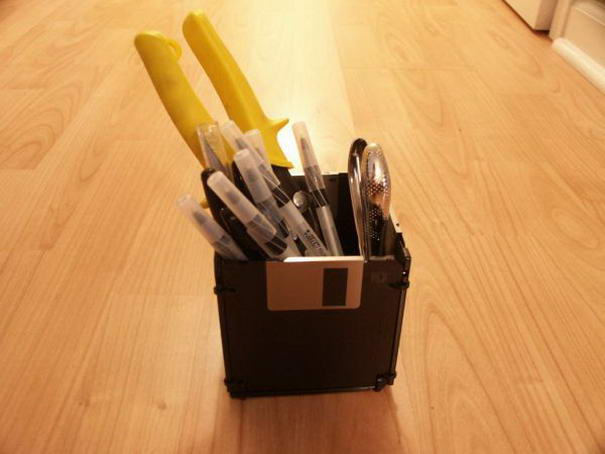 It's a pencil holder made from floppy disks. Since they are no longer used they've become nothing but memories. But you can bring them back to life with projects like this one. To make this pencil holder you'll need 5 floppy disks, a drill, scissors and zip ties.
01 – Phone Book Pencil Holder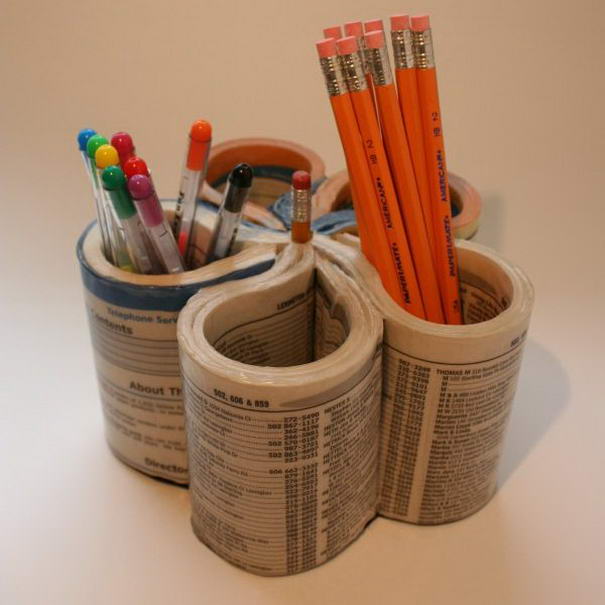 Phone Book Pencil Holder is made out of the phone book that's been cut down to size. You have to separate the pages of the book evenly into 5 sections. Then roll the spine up tightly in the middle and glue a pencil to the spine. Curve the sections, form loops and use binder clips to keep them in place.