There is no chance of hip-hop being boring when Kanye West is around! Of course, many will know of his latest controversy with support for President Donald Trump and remarks about slavery. This is not the only time the famously outspoken rapper has upset people though!
In truth, he has always been ready to have his say and be on all the front pages. Although a recent absence due to apparent mental issues had seen him quiet, he appears to be back with a vengeance. Time will tell what controversy he causes next!
Here are ten of the most awesome Kanye moments to date,
10 – Twitter Rants

If there is one thing that Kanye is famous for mostly it is his amazing Twitter rants. It seems that the micro-blogging platform is his favourite place to let off some steam! Twitter gives him the ideal way to air his views to lots of followers in a succinct and hard-hitting way. And he certainly takes advantage of it! There have been too many Twitter rants to list but his use of capital letters and swear words has seen his Twitter account be one to keep an eye on.
09 – Hurricane Katrina Rant

The terrible effects of Hurricane Katrina on New Orleans and the surrounding area are well-known. In a bid to raise money to help victims at the time, NBC put on a star-studded live TV telethon to assist. West was one of the stars on show but decided to depart from the auto-cue! Forgoing what he was meant to say, he embarked on a rant against then US President George Bush, which led to his famous 'George Bush doesn't care about black people' remark.
08 – Shocking Rolling Stone Cover

In a 2006 front cover for Rolling Stone, West shocked many fans with his look. West didn't just liken himself or allude to Jesus in the cover shot but actually dressed as him. This include a crown of thorns and fake blood trickling down to his face. To be fair, the story ran not long after his Grammy win for song 'Jesus Walks' so there was a point to it. It still caused quite a stir though and led to the rapper having to defend himself from criticism.
07 – Name Change Antics

In early 2009, West worked with famed fashion house The French-based outfit was a perfect working partner for the rapper due to his interest in fashion. The product he helped design were $800 sneakers that boasted bright colours to help them stand out. It was not the sneakers that prompted many headlines though! It was instead his decision to tell the world he was changing his name to Martin Louis the King Jr, in an apparent homage to Martin Luther King. The name didn't stick however, and he is still known as Kanye West.
06 – Tour Review Stress

The rapper is not someone who takes feedback or criticism well. His reaction to a review of his Glow in the Dark tour by an Entertainment Weekly journalist showed that to the world. Writer Chris Wilson didn't even say he hated it either! He merely said it was quite good and gave it a mark of B+. For most people this would be fine but not for West. Upon reading the review he took to his blog to publicly berate the writer and call the mark meaningless as he was a Pass or Fail kind of guy.
05 – AIDS Controversy

Even being part of a charitable event like the Live 8 concert tour in 2005 could not stop Kanye getting into bother. The tour drew 3 billion people in terms of crowds and raised awareness of global poverty and AIDS. On the Philadelphia stop of the tour, West could not help sharing his rather out there view on AIDS. He told the shocked audience that he thought AIDS was a man-made disease that had been place in Africa on purpose to kill black people. He then went on to say he thought the people behind it were the same who put crack cocaine into the US black communities to break up the burgeoning Black Panther movement at the time. Needless to say, it raised a few eyebrows.
04 – Chat Show High-Jinks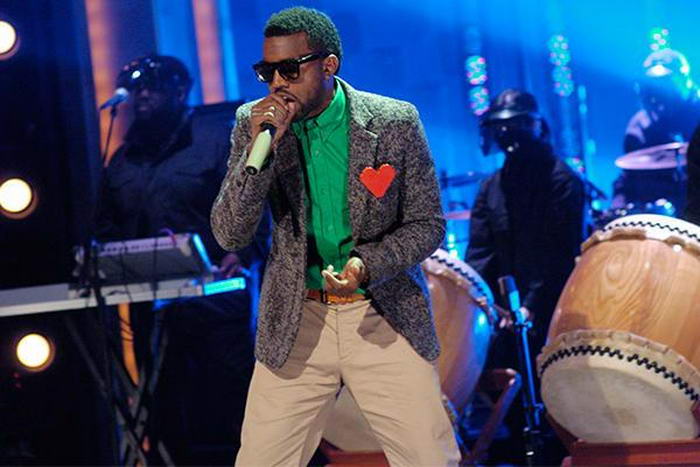 For many shows, having West on as a guest can be a tricky proposition. The chances are that he will say or do something that is unexpected and may well be very controversial. When on the Conan O'Brien show in America, he did just this but in a way no-one predicted. In the middle of the show, he stopped the interview to go to the bathroom. O'Brien handled the situation well but there is no doubt it was a curveball he wouldn't have seen coming.
03 – Slavery Remarks

The most recent controversy the rapper has found himself embroiled in was due to his remarks over slavery in America. In an interview with huge show TMZ, the rapper made comments relating to the 400 years of slavery that African-Americans had endured in the USA. His comments about 400 years seeming like a choice went down very badly with other black people in America. It does seem that West's point was missed though as he was talking about the mental choice that has been made to constantly hark back to this part of history, rather than trying to move forward in the present day.
02 – Support For Trump

Probably the main issue many people have with West at the moment is his support for President Donald Trump. The rapper has been unafraid to voice his support for the US leader and speak his mind, despite many attacking him for doing so. West has been quick to respond to these attacks by pointing out the poor record of Trump's predecessor Barack Obama in helping out black people in real terms and the fact that President Trump is actually working for all real people on the street, whatever their colour.
01 – Taylor Swift Speech

This is the one that really made big news! At the 2009 MTV Music Video Awards, he was so incensed at Beyoncé losing out to Taylor Swift, he couldn't hold back. Storming onto the stage when Swift was making her acceptance speech, West took over the mic to voice his disapproval. It did backfire on him as Swift was popular with the public and seen as a sweet, innocent girl. It did however show that West was not afraid to say his piece when he felt it essential.
Kanye West is a true musical pioneer and also a true personality. Never afraid to share his thoughts, even though he knows the uproar they may cause, he is certainly to be admired for his bravery. While everyone may not agree with him all the time, it is refreshing to see a star who has their own mind and is not afraid to say what they truly feel.