Known as the beautiful game, football is the most popular sport on the planet. From Africa to South America and Japan to Spain, it is a universal obsession that brings everyone together. With the major European leagues about to kick-off again after their summer break, fans across the globe are getting excited about how their team will progress during the coming season. Whatever happens, it is sure to be full of all the usual drama and excitement.
As befits such a popular game, there is always much debate about the best players to have ever stepped onto a pitch. We take a look at the ten best football players to have ever played the game:
10 – Ruud Gullit
A simply amazing attacking midfielder or forward, Dutch-born Gullit was supremely talented. Noticeable for his distinctive dreadlock hair style in his prime, he formed part of the three Dutch players at Italian club AC Mila in the 1980's with Marco Van Basten and Frank Rijkaard. They helped Milan to three Serie A titles in their time there as well as two European Cups.
For his country, Gullit was a vital player and helped them to a brilliant 1988 European Cup win when they were dominant. Not only a great creative player who could score goals, Gullit was also a hard-worker who would track back to help his team mates out when defending.
09 – George Best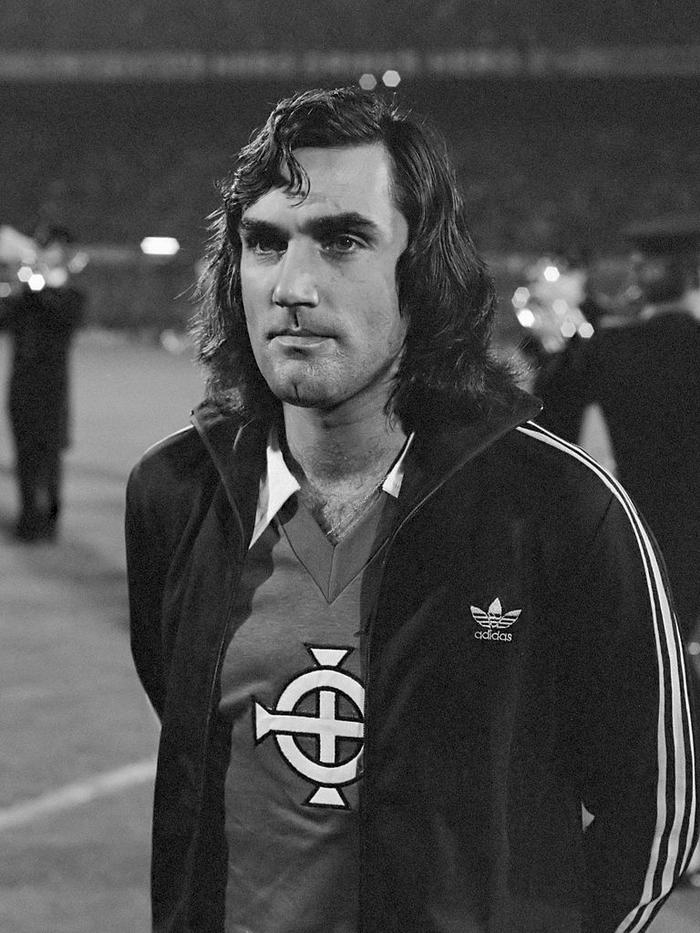 Arguably the most naturally gifted British player ever, George Best was a tricky, skilful winger. With immense agility, perfect balance and two good feet, he was a handful for any defender he faced. If you add his lightning pace to this mix, you can see why he is considered one of the greatest ever.
Although he never won anything at international level, he did play for Northern Ireland so this can be excused. Most famously playing for Manchester United at club level, he won the European Cup and was named European Player of the Year in 1968. Most people know his off-pitch problems with drink and gambling but in his prime he was a tremendous player.
08 – Zinedine Zidane
There have been some great modern players to challenge the old guard and Zinedine Zidane is one of them. Some may say he is France's best player rather than Platini but I'm not sure. What I do know is that Zidane was one hell of a player. He had unreal close control, lots of tricks, superb passing and also chipped in with important goals. He was the main man in the French team that won the World Cup in 1998 and the European Championship in 2000.
Equally successful at club level, he first tasted silverware with Juventus in Italy. A key member of their team, during his time there he won Serie A twice and the UEFA Super Cup amongst others. Moving onto Real Madrid, who he now manages, he won a La Liga title and the Champions League before retiring.
07 – Franz Beckenbauer
Affectionately known be German fans as 'Der Kaiser', Franz Beckenbauer was a dynamic player who invented the role of sweeper in football. His tough tackling, excellent passing range and positional sense made him one of the best players of the 1970's. The Bayern Munich team he played in stormed to three European Cups in the mid 1970's, helped in no small part by his efforts.
Internationally, he was equally successful and captained his country to a World Cup win in 1974 on home soil. An elegant and clever player, he was a player ahead of his time in some ways and a front runner to the N'Golo Kante's of this world.
06 – Michel Platini
A three-time European Footballer of the Year winner, Platini is probably France's best player ever. His crowning glory for his country was the 1984 European Championship win he led them too as well as the two World Cup Semi-Finals. A superb passer of the ball, his vision and creative genius made many chances for team mates. He was also a free kick specialist who spent hours perfecting his art on the training ground.
Playing his most successful club football for Juventus in Italy, he won the European Cup and Intercontinental Cup with them in 1985. Surprisingly for a midfield player, he scored a lot of goals and ended up with 68 in 147 games for Juve. This shows what a great all-round player he was and someone that opponents feared.
05 – Alfredo Di Stefano
De Stefano was a two-time European Footballer of the Year winner and had everything in his game to be included on our list. Not only was he physical and blessed with great stamina but he could score at will and had tremendous vision. Playing as a forward, he led the line brilliantly wherever he played and at international level. The one great regret with him though is that he never played at a World Cup.
After almost signing for Barcelona, he played most successfully for Real Madrid where he helped them to an amazing five consecutive European Cup victories. He finally hung his boots up in 1964 after moving to Espanyol.
04 – Ferenc Puskas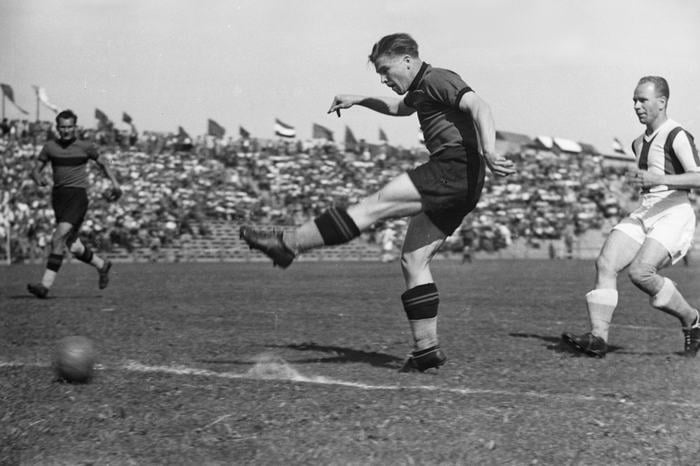 You only have to look at his record of 84 goals in 85 matches for the Hungarian national team to see this guys talent! Not content with this, he was a vital cog in this Hungarian team that enjoyed a four-year unbeaten run in the 1950's. Bagging an Olympic gold in 1952, he would probably have helped Hungary to a World Cup win in 1954 if he hadn't picked up an injury. Unfortunately, he did and Hungary lost out to West Germany!
Puskas was a star for Real Madrid at club level and won many trophies with them – starting off the whole Galactico and Real Madrid dynasty along the way. Playing for Los Blancos well into his 30's, Puskas was a superb player with lethal finishing and great skill.
03 – Johann Cruyff
Dutch-born Johann Cruyff is most famous for the piece of skill he invented called the 'Cruyff Turn'. Used to dump unsuspecting defenders on their bums in bewilderment, this showed how inventive and creative his mind was. A superb player with great pace, trickery and technique he was probably the finest European player of his time.
At club level, he experienced great success with Ajax and won a staggering three European cups with them in the 1970's. A star of the amazing 'Total Football' Dutch national team of the 1970's also, he was a player who fans loved to watch entertain them.
02 – Diego Maradona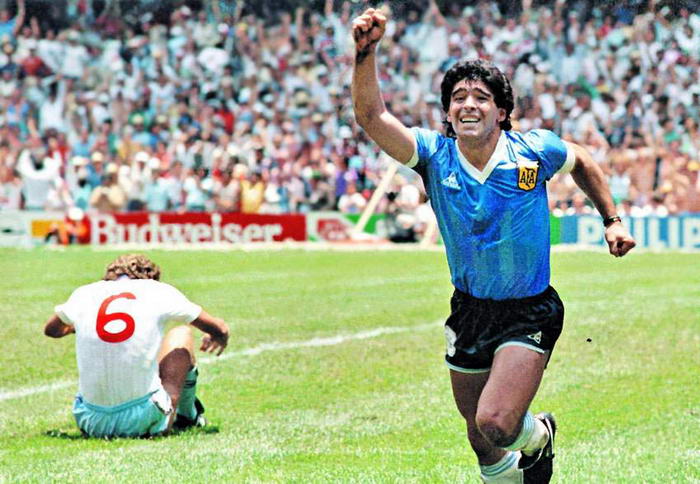 Crazy Diego crashes in at number two but for him, you need to forget the personal stuff and just focus on the football. When you do his skill, ball-control and pin-point passing make him stand out as one of the greatest ever. Born in Argentina, he practically won the 1986 World Cup single-handedly for his country including one brilliant dribble against England to score.
At club level, he took a Napoli team that never really did much in Serie A to two Scudetto's when he played for them. His influence and audacious skill was such that he is still a hero to Napoli fans even now. In one recent poll, he was actually voted the Best Player Ever by fans but I think this is just a bit too far of a stretch. Maradona was one hell of a player in his prime though!
01 – Pele
Ok, I know this is about as original as another cover of 'Unchained Melody' but the facts speak for themselves. However, you look at it Pele simply is the best footballer ever to date so has to be our number 1.
He was a lethal and potent goal scorer as his tally of more than one thousand shows and also a creative genius. His dribbling ability, deft touch and vision made him stand out as someone blessed with a rare ability from a young age. Do you know what the best thing about Pele was though? He was a winner! That's right – he took all that skill and actually did something useful with it. If you look at Brazil's World Cup wins when he was playing, they're mainly down to him. His role in the 1970 Brazil team in particular was immense.
At club level, he played the majority of his career in Brazil for Santos and helped them win the Intercontinental Cup and Copa Libertadores twice. After joining the National Soccer League in America, his work in helping spread the word of football opened up that country to the game's appeal. All in all, a truly deserving pick at number 1!
While there may be players that weren't included or discussions about the order, it must be recognised that the players on our list were total legends. The contribution they made to their teams was immense and very often they could win games single-handedly with their skill. Whether at club or international level, these are the players whose names will live on forever.