The 2020 European Championships was a fine tournament and every football fan around the planet enjoyed seeing a superb Italian team take it on penalties from England eventually. The latest edition of the Euros was full of drama, goals and action as usual to keep any sports fan entertained. Another major reason why big international tournaments like Euro 2020 are so popular is the array of talent they have on display. This latest edition was no different with top-names like Harry Kane, Kylian Mbappe, Cristiano Ronaldo and Kai Havertz on show.
This is not a modern phenomenon though! The European Championships have always seen some top teams arrive to compete for the main prize. But who are the ten most amazing teams in this tournament's history?
​
10 – Soviet Union – 1960
The European Championship only started in 1960 and its first winners, the Soviet Union, are worth a place on our list. Although this early version of the tournament was a lot shorter than it is today, they still had a great side and beat some decent teams to claim victory. This included battering the Hungarian team 4-1 and the Czech's 3-0.
The final saw them take on a confident Yugoslavia team and beat them 2-1. This final game saw them fight back from 1-0 down and pinch victory in extra time with a Ponedelnik header. Key men for this side were clever winger Valentin Ivanov and athletic goalkeeper Lev Yashin. Igor Netto also had a good tournament and was a tough, hard-working central midfielder.
​
09 – Greece – 2004
Greece get a mention on our list not only because they were a very effective team who played brilliantly in 2004 but also because they were the classic underdog story. It really was nice to see a team outside of the usual suspects win it for once! It gets even better when you remember that, pre-Euro 2004, Greece had never won a game at a major tournament. They more than made up for this by winning the whole thing that year.
Key to this was captain and all-action midfielder Theo Zagarakis, who ended up being named player of the tournament. Their team also had some very talented and effective players like defensive stalwart Dabizas and creative talisman Karagounis. Finishing above Spain in their group, they went on to knock out France in the later rounds. This set up a final showdown with Portugal. Despite Portugal having players like Ronaldo, Deco, Figo and Rui Costa in their side, Greece were not overawed and went on to beat them.
​
08 – Portugal – 2016
2016 was the last time the Euro's happened and saw Portugal lift the cup. This was not a surprise though, as they had a team full of special players – even if they did not always quite show it in each match. Cristiano Ronaldo was naturally the main man for them and showed all his skill, free-kick prowess, vision and leadership to guide his team to the final.
Ably helped by defensive titans Pepe and Jose Fonte, there was also the emergence of young talent Renato Sanches to enjoy. Going into the final against France as underdogs, the game looked up when CR7 went off injured after just 25 minutes. Portugal though won it with a wonder strike from Eder and sealed their place in the history books.
​
07 – England – 1996
While this team did not win the tournament in 1996, it is still ranked highly as one of the best sides to grace this competition. As with the other great sides we have listed, it is all about the top-level talent in the squad. Their 4-1 demolition of Holland stands out in particular! Alan Shearer burst into life at this tournament and netted some crucial goals, while his strike partner Teddy Sheringham proved an intelligent counterpoint. Tricky winger Steve McManaman dazzled with his dribbling while David Seaman was immense in goal (penalty saves against Scotland and Spain spring to mind).
The pick of the bunch though was iconic midfield general Paul 'Gazza' Gascoigne. His flick and volley goal against Scotland was the greatest goal ever seen at the Euros to date and he had a fine tournament. Ably managed by experienced coach Terry Venables only a heart-breaking semi-final loss in the penalty shoot-out to Germany stopped them from going on to compete for the final prize.
​
06 – Czechoslovakia – 1976
Most people know this superb side purely because of the goal they scored to win the final. Antonin Parenka's cool chipped penalty not only amazed viewers and gave the Czech's a famous win but also saw the style of penalty taken named after him! This Czech team though deserve much more than to be remembered for this one moment of individual magic.
Coming into the tournament, no-one gave them a hope and they really succeeded against all odds. They showed their promise in a 4-2 quarterfinal win over the USSR, with 3 goals over the two-legged tie from Jozef Moder. Perhaps the biggest shock came in the semi-finals though, when they beat the hotly tipped Dutch side containing Cruyff, Neeskens and Rep.
This did not go as expected and a bad-tempered affair saw the Czech's run out 3-1 winners. Facing West Germany in the final, they were also underdogs but rose to the occasion with Parenka's winning penalty in the shoot-out. Key man for this team was tough-tackling captain Anton Ondrus.
​
05 – West Germany – 1980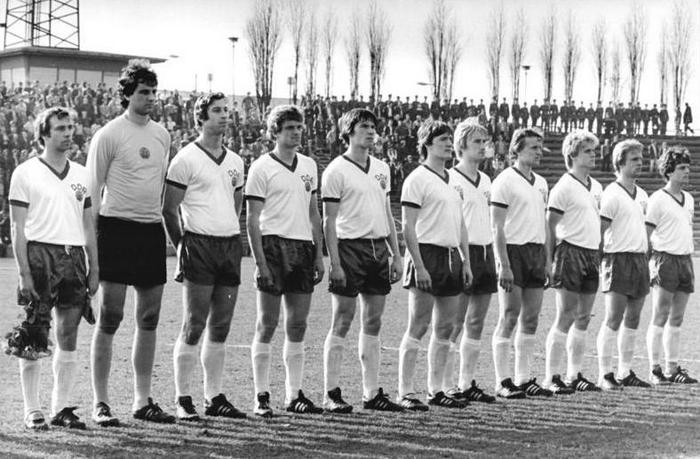 1980 was something of a big step for the Euro's, as it saw 8 teams play across 2 groups for the first time. This naturally paved the way for the much bigger competition we see today. 1980's edition also saw a very good West German side play. This team had a great tournament and counted wins against the Netherlands and Czechoslovakia in the group stages.
Going into the final against a decent Belgium side, they emerged 2-0 winners, thanks to 2 goals from striker Horst Hrubesch. But what made this German side so special? They were basically like every good German team – powerful, athletic, strong, quick and with a never say die attitude. Players like striker Karl-Heinz Rummenigge and agile Bernd Schuster also helped to make it a tough team to meet.
​
04 – France – 1984
Les Bleus certainly have a great history in this competition (as the 2000 French side listed later show) and the 1984 team are no exception. The main man here was talented midfield dynamo Michel Platini. In just 5 games, Platini netted 9 goals and was the driving force behind their championship win.
Even more amazingly, when striker Brun Bellone scored France's 2nd goal against Spain in the final, it was the first time a French striker had scored in the whole of Euro 1984! This side was not all about Platini though. Alongside him in midfield, he has the tough tackling of Giresse, the silky skills of Tigana and the clever play of Fernandez. This allowed France to take a stranglehold on games in the middle of the pitch and stop other teams from playing.
​
03 – Netherlands – 1988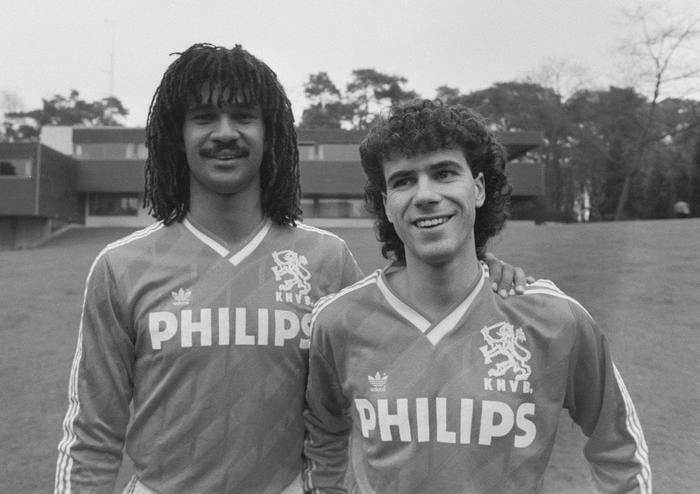 The European Championships is always an exciting affair because it brings together all the best talent in European football in one place. Sometimes though, most of it shows up in one side! The 1988 edition certainly showed this as it had the all-conquering Dutch side. This was a team with household names such as Ruud Gullit, Marco Van Basten and Ronald Koeman.
Van Basten in particular had a great competition and scored a wonder goal in the final against the USSR. The whole team was full of pace, vision, creativity and a tough streak which made them hard to play against. Although they actually lost 1-0 to the USSR in their first game, they bounced back to notch impressive victories over England (3-1) and West Germany in the semi-final. 2-0 in the final game saw them emerge as popular winners.
​
02 – France – 2000
Coming a very close second, we have the French team from 2000. They arrived into this tournament full of confidence – not only for having a stellar squad but also for winning the World Cup in 1998. The 2000 side was even better than the squad who won the 1998 World Cup though. Thierry Henry had burst onto the scene to give a real goal threat, while players like Viera, Blanc, Petit and Desailly were still involved to add their quality to the mix.
Of course, the main man in this French team was midfield maestro Zinedine Zidane. Full of creativity, skill and vision, he was the one who made it all happen for them. Although they lost 3-2 to the Netherlands in the group stage, 2 later wins took them through anyway. After a penalty shoot-out victory against Portugal in the semi-final, they managed a last-gasp equaliser against Italy in the final before taking home the cup in extra time thanks to a David Trezeguet strike.
​
01 – Spain – 2012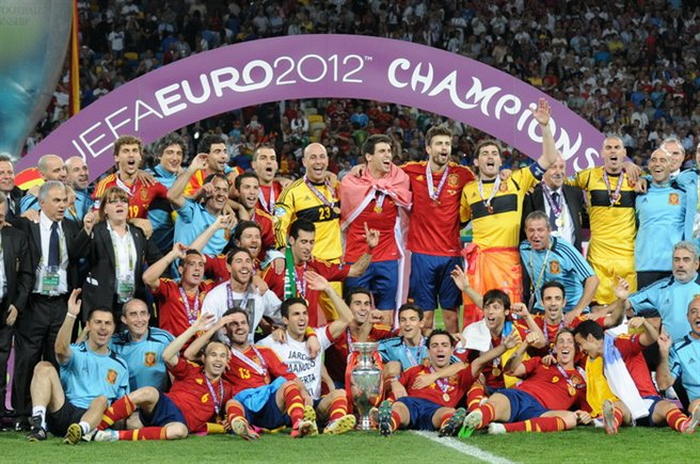 So, who ranks at top spot for the best team in the history of football's UEFA European Championship? Although the competition has been stiff, there is only really one choice – the Spanish team for 2012's tournament. This was a simply magical team and had some of the best players in European football at the peak of their powers.
Names like Iker Casillas, Sergio Ramos, Andreas Iniesta, Xavi and Fabregas roll off the tongue still with ease. Not only could this Spanish side play but they had vision, pace, goals and a fierce will to win. Coming into the tournament in 2012, they were the reigning World and European champions. They breezed through qualifying with a goal difference of +20 and more than lived up to the hype when Euro 2012 began. Conceding only 1 goal in 6 matches, they won every game to lift the trophy again after beating Italy in the final.
There is no doubt that the above sides are some of the best to have played in the UEFA European Championships over time. If any of the sides in the Euro's future history can do as well and be remembered so fondly, they will be more than happy.