While much of the NBA has moved on to using metrics to "predict" if a player is going to make it big or not, there's still no sure way to tell. More so when you're talking about draft prospects. But, this hasn't stopped NBA teams from putting their money, time and even careers at stake just to find a diamond in the rough and the next-superstar.
And, with the 2015 NBA draft just having wrapped up a few days ago, let's take a look at the NBA draft lottery picks over the past decade or so who just didn't live up to the hype they generated.
10 – Greg Oden (Center – 1st pick – Portland Trail Blazers – 2007 NBA Draft)
It was almost a decade ago when analysts debated between two high-profile college players who happened to be the top prospects of the 2007 NBA draft.
Many analysts back then predicted that Center, Greg Oden, would be the second coming of Shaquille O'neal, while many also salivated on the scoring potential of the forward, Kevin Durant.
Fast forward today and Greg Oden is fighting for a chance to get signed to a contract and at least be a rotational player. While the other has become, arguably, the best basketball player in the world.
09 – Jonny Flynn (Point Guard – 6th pick – Minnesota Timberwolves – 2009 NBA Draft)
The 2009 NBA draft was full of talent and potential in the point guard position. The first round alone saw 12 point guards being drafted and it surely was not without its fair share of busts.
Tyreke Evans, picked 4th, is a strong candidate, but he's been an important role player for his teams over the past few years. Plus, he is a former Rookie of the year, even if he hasn't been as productive since then.
Meanwhile, someone picked just two numbers below him is the perfect candidate.
Chosen by the Minnesota Timberwolves, Jonny Flynn showed promise for one season as the Wolves' starting point guard. But, after being moved to the bench in favor of Rubio, he just hasn't produced much. He's now out of the NBA and is now bouncing from one league to another.
08 – Rafael Araujo (Center – 8th pick – Toronto Raptors – 2004 NBA Draft)
The Raptors, save for a few picks, hasn't really been lucky in the draft and the drafting of Rafael Araujo is a perfect example of that.
Taken one pick above 2015 Finals MVP Andre Iguodala and one pick below versatile wingman Luol Deng, Rafael Araujo would leave the NBA in 2007.
He has bounced around European, Chinese and Brazilian leagues since then.
07 – Anthony Bennett (Power Forward – 1st pick – Cleveland Cavaliers – 2013 NBA Draft)
It's only been two years since Anthony Bennett was the top pick of the draft, but you just can't avoid labelling him a bust.
He has averaged 4.7 points a game so far, was traded to Minnesota and often looks lost when on the court. He's played so poorly over his short-career that he could soon be the worst first-overall pick in recent memory.
06 – Joe Alexander (Power Forward – 8th Pick – Milwaukee Bucks – 2008 NBA Draft)
2008 was a good year for lottery-bound teams, but it seems that Milwaukee couldn't catch a break.
After using their 8th pick on Joe Alexander, who showed promise with his athletic abilities, height, speed and strength, little has come off their investment. He now plays for the Maccabi Tel Aviv of the Israeli League.
05 – Hasheem Thabeet (Center – 2nd Pick – Memphis Grizzlies – 2009 NBA Draft)
The Grizzlies never expected Thabeet to contribute immediately, but for him to NOT contribute at all is just absurd.
For someone who's 7 feet, 4 inches tall and with a build that's basically built for basketball, Hasheem Thabeet has spent much of his time in the NBA D-League or in the bench.
Thabeet currently has career averages of 2.2 points and 2.7 rebounds a game, which is ridiculous for someone chosen ahead of last year's leading MVP candidates James Harden and Stephen Curry.
04 – Kwame Brown (Center – 1st Pick – Washington Wizards – 2001 NBA Draft)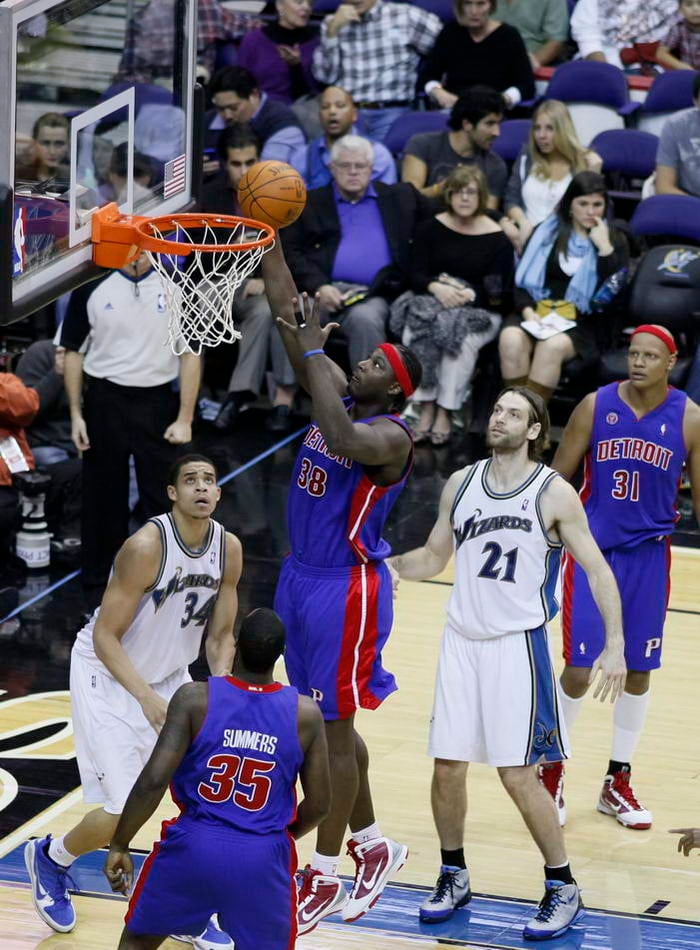 Choosing between Tyson Chandler and Kwame Brown, the Washington Wizards could've chosen the former. But, Brown's workout impressed them so much that they ended up selecting him overall, ahead of Chandler and Pau Gasol.
Career averages of 5.5 PPG and 6.6 RPG may seem respectable, even for a 1st pick. But, considering that the Wizards took Kwame over two centers who've each won championships, as well as Kwame's career never really taking off, it's hard to deny him being a bust.
03 – Yi Jianlian (Center – 6th Pick – Milwaukee Bucks – 2007 NBA Draft)
Hyped as "the next Yao Ming", the Milwaukee Bucks invested their lottery pick on the Chinese center in hopes of him being as good as his brethren.
Unfortunately, the pick didn't pan out. Yi was a good player, without a doubt, but he just couldn't replicate his success from the Chinese Basketball League to the NBA.
It also doesn't help that the Bucks picked Yi over Joakim Noah, a two-time all-star and former defensive player of the year.
02 – Nikoloz Tskitishvili (Center – 5th pick – Denver Nuggets – 2002 NBA Draft)
The Denver Nuggets thought that the Republic of Georgia's first and only NBA player was good enough that they passed on successful big men Nene Hilario, Chris Wilcox and Amare Stoudemire.
Tskitishvili averaged 3.9 points and 2.2 rebounds a game his rookie season despite playing all but one game and his playing time just fell off later on.
He now plays in the Lebanese Basketball League.
01 – Darko Milicic (Center – 2nd pick – Detroit Piston – 2003 NBA Draft)
In a draft with now household names Lebron James, Chris Bosh, Dwayne Wade and Carmelo Anthony, you'd expect all five to be chosen first. Even before their NBA careers, all of them had the high school and college resumes to go into the Top Five.
While all of them did become lottery picks, one player was chosen ahead all but one and this was Darko Milicic.
Having carved out a respectable career after playing professionally since he was 16, mainly because of his heigh (7 feet), investing the 2nd pick on Milicic seemed like a logical choice.
It didn't result in much, though, and Darko bounced from one NBA team to another, as well as to several European teams before calling it quits to take up professional kickboxing.