Football is the most popular sport on the planet right now with 4 billion fans in all corners of the world. From South America to Africa, China and beyond, it is a game that has truly captured the world's hearts. When you look at the fabulous teams to watch in the planet's best leagues, it is easy to see why. With plenty of goals, action and drama assured, you will always have fun watching football. Unless your team loses that is!
One of the most popular and highly rated major global leagues is Serie A in Italy. This is Italy's top division of football and has all the big teams in like Juventus and Napoli. Known for its passion, tactics and superior technical approach, it also is home to some great players. While the modern Serie A stars are great talents in their own right, there are some names from the past that are simply amazing.
Here are the ten most skillful and talented players ever to play in Serie A.
10 – Giacinto Facchetti
Starting off our list, we have probably the best left-back that Italy has ever seen. Facchetti played his whole career for Inter Milan which also shows what great loyalty he had as a man. As a player, he really had it all which is why he is still regarded so highly. Great in defence, his positioning and physique along with a tough tackle made him hard to get past. Just as potent in attack, he had superb pace and stamina to raid down the wing all game long. Facchetti was also a natural leader which saw him become Inter and Italy's captain over his career.
09 – Silvio Piola
Piloa is still widely regarded as the best striker that Italy's top league has ever seen. In 537 games, he netted 274 goals which is a pretty special return by any standards. This leaves him as the record Serie A goalscorer overall to this day. Piola began playing for Pro Vercelli in 1929 before moving into Serie A with Lazio in 1934. It was his spell with Lazio that saw perhaps his best spell with 143 goals in 227 matches. A well-rounded player, Piola had a strong shot along with being great in the air and having a penchant for spectacular finishes. He was also very versatile and could play on the wing or as an attacking midfielder if needed.
08 – Dino Zoff
If ever the word legend applied to a Serie A player, then Zoff is it. So good was Zoff, that he is still ranked as the 3rd best goalkeeper ever, just behind Gordon Banks and Lev Yashin. In Serie A, he played for a number of clubs including Juventus and Napoli. Wherever he was, his outstanding natural ability and reflexes made him a valuable player. It was at Juventus were he really flourished as he helped them to 6 league titles. His Serie A form carried over to the Italian national team who he won the 1982 World Cup with. When it comes to sheer talent and skill in Serie A, Zoff is simply amazing.
07 – Andrea Pirlo
Proving that there is just as much skill in modern Italian football is the midfield maestro Andrea Pirlo. Known for his sublime range of passing, ability to keep the ball under pressure and clever positional play, he was always the heartbeat of any team he played for. Starting out at Brescia in 1994, he soon caught the attention of top clubs such as Inter and Juventus. Many will perhaps remember him most for the role he played in an outstanding AC Milan side, with old mate Gennaro Gattuso. In his career, he has won 2 UEFA Champions Leagues, 2 Super Cups, 6 Serie A titles, a Copa Italia and a Supercopa Italia. This just shows what a talented and influential player he was with the ball at his feet. Pirlo was also well-known for taking stunning free-kicks and being able to put pin-point crosses in the box.
06 – Francesco Totti
It is safe to say that Italy has been blessed with some great midfield players over the years – Totti shows just why this is the case. Spending his entire career at Roma, he is a well-loved figure there to this day. In his time, he helped the club to a Serie A title, 2 Copa Italia's and 2 Supercopa Italia's. When describing his abilities as a player, it is simpler to say what he could not do! Possessing amazing vision and control, his range of passing was just stunning. His creativity was second to none and he got many assists in his career due to this. Usually deployed in central midfield, he could also play as an attacker or winger if required. By the time he finished, he had clocked up over 600 games for Roma.
05 – Paolo Maldini
You know this is a strong list when a player like Maldini is not at number 1! Another one-club man, he spent over two decades at AC Milan as one of their star players. Although his talent and technique meant he could play any position in defence, he usually started in the left-back slot. Regarded as one of the best defenders ever, he had it all. Electric pace allied with superb stamina, tough tackling and a desire to win that made him formidable. He was also very useful in attack where his accurate crosses led to many goals for club and country. By the end, he had won a staggering 23 trophies in his career, from Serie A titles to Champions Leagues.
04 – Valentino Mazzola
Mazzola is best remembered as the great symbol of the Torino side he captained during the 1940's. Tragically dying at just 30 in an air disaster, he is widely seen as one of the best number 10's ever to play in Italy or the world. Starting out at Venezia, Mazzola's performances soon caught the eye of bigger clubs in Serie A. This saw Torino pay a huge 1.2 million Lire in 1942 to bring him to their team. What a signing this was! Mazzola soon showed what him special with his agility, creativity, pace and passing. A complete player in the truest sense, he is still Torino's greatest ever player. He won an impressive 5 Serie A championships with them in the end which shows what an effect he had on the team.
03 – Roberto Baggio
Known forever as the 'Divine Ponytail', Baggio will always be one of the big stars to have graced Serie A. An attacking midfielder, he had such perfect feet and close control that he would simply go past people like they weren't there. When you factor in his excellent vision, passing and finishing, then you have a real top player on your hands. In all he spent almost 20 years in Serie A and played for a number of clubs, including AC Milan, Fiorentina and Juventus. What is strange for such an obviously talented player is the amount of criticism he got when playing! This did not deter him though and he simply carried on winning trophies wherever he played to answer the doubters.
02 – Zinedine Zidane
Although he might not have spent as many years in Serie A as others here, the sheer brilliance of Zidane sees him mentioned. Moving to Juventus in 1996 from Bordeaux, he had an immediate impact and gelled perfectly with Juve forward Alessandro Del Piero. In only his first season, Zidane helped his team to a Serie A title and an Intercontinental Cup victory. This set him up for a great few years with Juve where he showcased his extraordinary talents to the full. Known for his imagination on the ball, quick feet, superb passing and game intelligence, he was quite a player. He was also known for his temper which got him into trouble on a few occasions!
01 – Franco Baresi
Amazingly, we have another one-club man at number 2. Baresi was just a top, top player and a defender no-one wanted to face. Before retiring in 1997, he had played for around 20 years for Milan. At the heart of their tough, mean defence, Baresi guided Milan to 6 Serie A titles, 3 European Cups and 4 Copa Italia's. He was also in the 1982 Italian World Cup winning team for good measure! Baresi was best known for being a rough, tough character who was superb at man-marking and stopping people from playing. He was also just an outstanding player with great stamina, superb tackling ability, great heading ability and good positional sense.
Bonus – Diego Maradona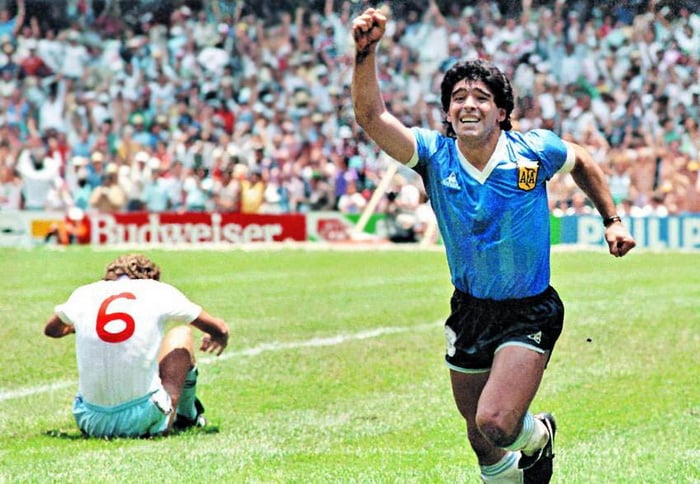 Now known for being a bit crazy, there was a time Maradona was known for his unreal footballing ability. A sublime attacking midfielder, he is easily one of the best players ever and certainly within Serie A. He played for Napoli for most of the 10 years he was in Europe and it was is impact there that made him a hero. Mind you, after paying a world record fee of £6.9 million for him at the time, they would have expected something special.
Special is just what they got as he took the Napoli team almost single handedly to great heights. Moving there in 1984, he galvanisd the Napoli team to 2 Serie A titles and other honours such as a Copa Italia and UEFA Cup title. But what made him so good? Many believe it was his height which gave him a low centre of gravity. This allowed him to dribble past people with ease and have amazing agility. When allied to his vision, ball control and will to win, it was a powerful blend.
Serie A is easily one of the best leagues on the planet – both now and stretching right back into footballs rich history. The above players are not only the best to have played in Italy's top league but also the best to have played full-stop. If you were ever lucky enough to see them in person, you will now why!