With the 2017 Tour De France currently underway, it seems a great time to take a look at the famous race. Making up the Grand Tour series along with the Giro D'Italia and Vuelta a Espana, the Tour De France is widely considered the most prestigious of the three. Starting in 1903, the race quickly caught the public's attention for its excitement and drama.
Over the years there have been some quality riders to test themselves against the course and we look at the ten greatest ever:
10 – Joop Zoetemelk
First up on our list is Dutch born Joop Zoetemelk. A popular rider amongst fans and team-mates, he was a great rider to have on your team and possessed all the attributes needed to be successful. Although he only won the Tour De France once in 1980, he holds the record for most Tours completed with a huge 16! Although some have started more than 16 since, none have finished them all to leave Zoetemelk's record intact.
His 1980 win was after a move to the TI-Raleigh team who saw his potential based on previous Tour de France stage wins and appearances. The masterstroke the team pulled was to use the other riders to attack his main rival Bernard Hinault and allow Zootemalk to push on to win. One criticism of him was that he was not ruthless enough to lead a team or give orders when racing which stopped him claiming more victories.
09 – Alberto Contador
Spaniard Alberto Contedor is one of the modern riders on our list who is still racing currently. Grabbing an impressive three Tour De France wins in 2007, 2009 and 2010, Contedor is a name still popular with many fans of cycling. He is also only one of six riders to have won all three Grand Tours having scooped the Giro D'Italia in 2008 and 2015 along with Vuelta a Espana in 2008, 2012 and 2014.
With a reputation as a great all-round cyclist, his excellence in time-trials as well as normal road racing explains why he does so well in Tours. Always in there with a shout to win, you write off Contador at your peril!
08 – Jacques Anquetil
Holding the distinction of being the first French rider to wear the leader's yellow jersey from start to finish, Anquetil is strangely not as popular with the public as he should be. His rather brash character and lack of style when riding just didn't connect with people for some reason. It's a shame as his record of five wins in this competition is amazing.
Known for his motivation of racing for money rather than the love of cycling, he was a superb rider against the clock in particular. He would always do just enough to win and never use more energy than was necessary to do so.
07 – Chris Froome
British rider Chris Froome currently rides for Team Sky who he has experience great success with in recent years. With three Tour wins to his name in 2013, 2015 and 2016, his grit and determination are what drives him to victory. Froome first came to note in riding as a super-domestique for team-mate Bradley Wiggins in the 2012 Tour but has since gone on to make a name for himself.
Froome became the first rider since Miguel Indurain in 1995 to defend his Tour title when winning in 2016. While his sudden rise from relative obscurity to Grand Tour star raised a few eyebrows, his talent and skill in the saddle explain his recent success.
06 – Greg Lemond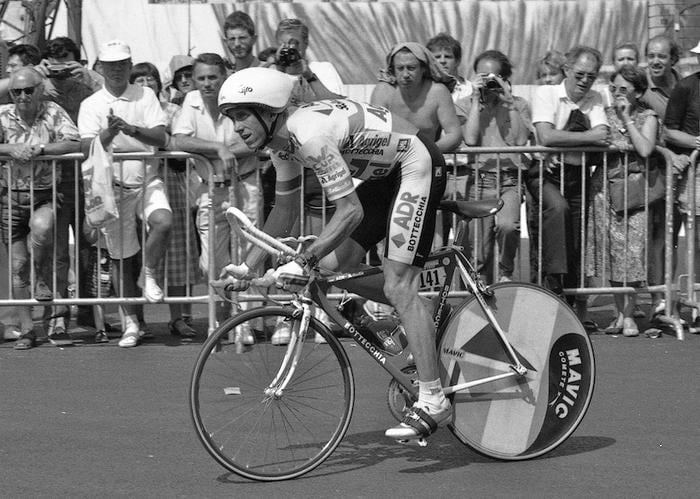 American rider Greg Lemond enjoyed great success in the later 1980's and clocked up three Tour wins in 1986, 1989 and 1990. He is the only American rider to have won the Tour which is testament to how good he was. His 1989 victory was particularly thrilling as victory was only claimed on the final stage of the race!
An affable, popular rider Lemond probably would have won more titles but for an unfortunate hunting injury that led him to miss the 1987 and 1988 Tours. Since retiring, he has been a vocal advocate of anti-doping measures in the sport along with at one point designing and selling bikes.
05 – Phillipe Thys
Hailing from Anderlecht, this Belgium rider was a three-time winner of the Tour. Nicknamed the 'Basset Hound' his victories were in 1913, 1914 and 1920. Incredible he only turned professional in 1913 so he could compete in the race. This first race proved eventful as he broke his bike-forks when out on the road and had to stop at a local garage to repair it. Despite this he still managed to hold on for the overall win!
A tough, competitive rider, Thys had plenty of stamina and endurance to enable him to win stages and the Tour overall. Sadly, his career was disrupted by the First World War but history still shows what a fantastic career he had.
04 – Fausto Coppi
Called by the nickname of 'Champion of Champions'. Coppi was the dominant rider either side of the Second World War. Another rider on our list who had it all, he was a great sprinter as well as being at home climbing in the mountains. Winning the Tour De France in 1949 and 1952, he also won five Giro D'Italia titles too.
The modern-day Tour still remembers this true champion by naming one of the mountain stages Cima Coppi. A legend of the sport, he is most remembered for his famous quote of "Just ride. Just ride. Just Ride" when asked how to be successful.
03 – Miguel Indurain
A huge name in the 1990's world of cycling, Indurain won the Tour De France five times in all. This included retaining the crown in 1995 after winning it in 1994. On top of this, the five titles he won were in consecutive years from 1991 to 1995! A superb rider, his performances in those years make him a firm fans favourite.
Many believe that it was Indurain's physical size and power that allowed him to be so victorious. He could simply go past people like they weren't there and have the extra stamina to keep going to the end of a stage. Great in time trials as well as normal racing, he was a legend in every sense of the word.
02 – Bernard Hinault
It was almost worth putting Hinault in higher due his hilarious nickname of 'The Badger'. I assume that's not because he lived in a hole and had stripes! Hinault was a superb cyclist and one of the greatest to have ridden on the Tour De France. With a simply stunning 28 stage wins to his name, he won five tours also.
An aggressive rider, Hinault would wait for the best moment to exploit his opponent's weakness and then launch his attack. This power and tactical brilliance made him a rider that others had to take seriously. He would probably have won more but for knee injuries that kept him out of the Tour or forced his retirement as in 1980. Hinault is the last Frenchman to win the Tour De France and as such is well loved by the French public.
01 – Eddy Merckx
Known as 'The Cannibal' for reasons not entirely clear, our number one is Eddie Merckx. So incredible was this guy, that there is a genuine case to be made he was the best rider ever. Certainly when we look at the Tour De France he is ahead of his rivals. Winning five tours as well as a huge 34 stages, he was so dominant in his time that organisers asked him not to race in the 1973 race to give other people a chance!
Another notable achievement of Merckx's is that he held the yellow, green and polka dot jerseys in the same Tour De France in 1969. This meant he was the best rider overall (yellow jersey), best rider for points (green jersey) and best rider in the mountains (polka dot jersey). This shows just what a great all-round rider he was and just why he was so successful.
The Tour De France is the ultimate test of endurance and skill and the riders we have looked at have both these in abundance. With numerous Tour wins between them, these were the people who the public loved to watch flying past with the yellow jersey on. As the Tour continues, no doubt there will be many more names to add to this roster over the years.