Although they were only founded in 1970, French side Paris St Germain (PSG for short) have quickly built up an enviable history. Since their humble beginnings, they have not only emerged as a big presence in French football but also on the world stage. This has seen the club attract a fiercely loyal band of supporters who know their football inside and out. Over time, these fans have been lucky to see some truly iconic players pull on the PSG shirt to entertain them.
If you need a quick reminder of which players this might be, here are the ten most amazing to turn out for PSG ever.
10 – Bernard Lama
To kick us off, we have a real PSG goalkeeping legend in Bernard Lama. Joining in 1992, Lama was stepping into big boots because he was replacing fan-favourite Joel Bats. He soon won PSG fans over with his quick reflexes, agility and athleticism. This saw him nicknamed 'The Cat' and pick up a Ligue Un title in just his second season. Even more remarkably, he only conceded 22 goals in this Championship winning campaign. Lama eventually made 318 appearances for the side, won 5 league titles, 2 Coupe de France trophies and a UEFA Cup Winners Cup medal.
09 – Gabriel Heinze
When you think that Argentinian tough-guy Heinze only cost 4 million Euros, it seems a real steal. Signing for the French club in 2001, he may have only played 3 seasons before heading to Manchester United but made a real impression. Able to play at either left-back or in central defence, he was known for hard-tackling, a fierce will to win, decent enough pace and good positional sense. Heinze made over 100 appearances for the side and left a real hero to Parisians.
08 – Jean-Marc Pilorget
Although recent years have seen a flood of world-class talent rock up in Paris, some of its earliest stars still shine bright. This is definitely true for defender Jean-Marc Pilorget who signed his first PSG contract in 1975. Pilorget was very graceful to watch and had a real sense of style to his play. He also possessed great timing and superb anticipation. The pinnacle of Pilorget's 14 year stint with PSG was the 1986 Ligue Un winning season. This saw him play every game as the Paris-based club topped the table.
07 – Thiago Silva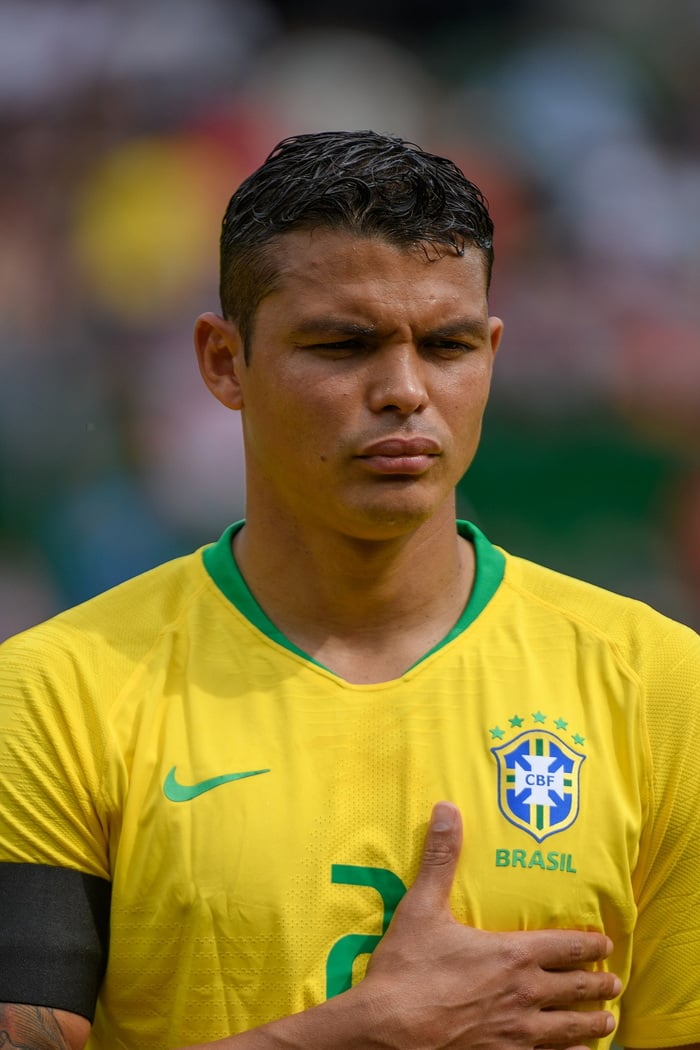 Brazilian players are not always known for their defensive attributes but Thiago Silva breaks this mould. Signed in 2012, he was described by PSG's President as the best defender in the world when first arriving in Paris. This turned out to be true! Silva is a complete player who cannot only tackle and head the ball but also pass it around and dribble with it. Combined with his leadership skills, it makes him a fine player. Now at Chelsea, he clocked up over 200 games before leaving in 2020. In his time, his steady Captaincy saw PSG enjoy a golden run of 20 trophies!
06 – Safet Susic
Susic joined PSG in 1982 and soon showed everyone in Paris what he was about. Anyone who saw him play before he left in 1991 instantly admired this attacking midfielders silky skills, superb passing, amazing trickery and great technical ability. In his very first campaign, Susic emerged as a key player and won the Coupe de France with PSG. He was also named Ligue Un Foreign Player of the Year! This then saw him take PSG to their first ever Ligue Un win in 1985.
05 – George Weah
Starting out at Monaco under Arsene Wenger's patronage, prolific forward Weah soon caught the eye of PSG. This turned out to be an inspired move when he went on to net 14 goals in his first season in Paris. Building on this success, the Liberian forward finished top scorer in the 1994-1995 Champions League and helped PSG reach the semi-finals. Weah's goalscoring prowess also saw him win 3 Coupe de France medals in his time in Paris and 1 Ligue Un title. Known for his lethal finishing, tricky dribbling and sharp turn of pace, he was also a hard-working player.
04 – Kylian Mbappe
Although Neymar might have been the biggest thing in world football previously, French wonderkid Kylian Mbappe has almost overtaken him. Starting out at Monaco, Mbappe showed all his talents at a young age to secure a move to PSG in 2017. Since then, Mbappe has won 3 Ligue Un medals, 2 Coupe de France titles and finished as the league's top scorer twice. With all his career in front of him still, it really is frightening to think of how many goals and medals he will have when finished. Naturally, PSG fans hope he spends most of his career with them but his exploits to date have already secured him a place in the clubs history books. Although Mbappe has a powerful shot and eye for goal, he also has great vision and pace too. This means he can be used as either a striker or a winger.
03 – Neymar
One of the biggest names in world football for modern times is Brazilian magician Neymar. After bursting onto the scene with Santos and then impressing with Barcelona, he signed for PSG in 2017 for a stunning fee of 222 million Euros. This made him the most expensive player ever at the time. The money has turned out to be well spent though as Neymar has shown all his skills so far in PSG colours. This has seen him net 87 goals in only 115 games to date. Known for his dribbling, technical skill, creativity, pace and shooting, Neymar is a real handful for any team to contain. Although no-one knows how long he will remain in Paris, PSG fans already see him as a club legend.
02 – Zlatan Ibrahimović
The modern dominance of PSG in French football is largely down to signing big-name, hugely talented world stars like this man. Arriving with Thiago Silva in 2012, he made a similarly massive impact in Paris. An outspoken, controversial figure, Ibrahimović was just as noticeable on the pitch. Able to score with either foot, he was as capable of putting it in the top corner from 30 yards as he was netting simple tap-in's. Zlatan is also superb in the air, physically strong and possesses a real will to win. This makes him a truly complete forward and a real PSG legend. Although netting 50 times in his last season was impressive, it is the 12 league titles and 4 cup trophies which any fans will remember him for before leaving.
01 – Edison Cavani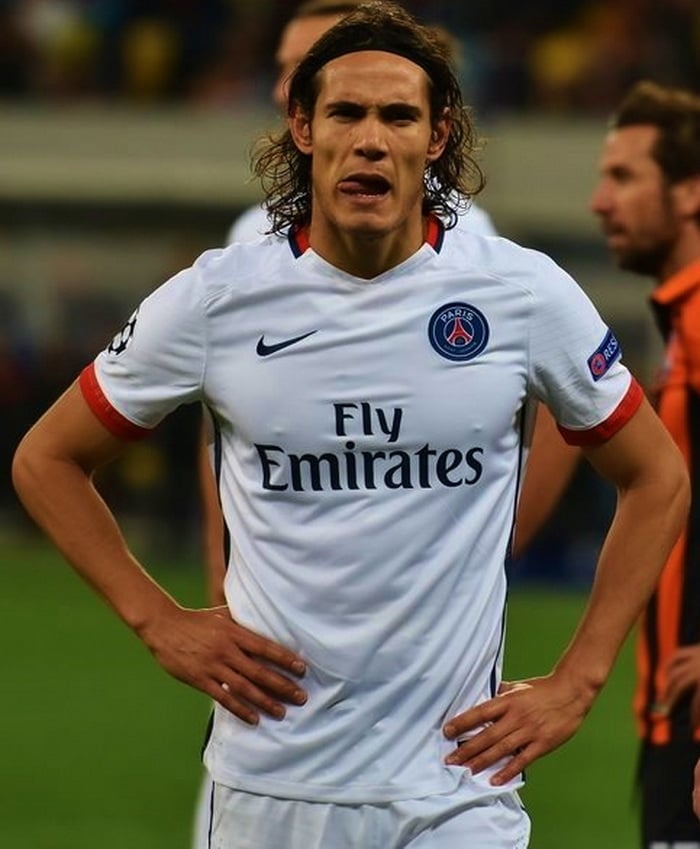 Another big-name striker who lit up the Parc de Princes in the 2010's was Uruguayan Edison Cavani. Along with Zlatan Ibrahimović, he formed one of the best forward line's ever seen in PSG colours. Arriving from Italian club Napoli in 2013 for a huge fee of 64 million Euros, he quickly went on to establish his name in the annals of club history. This eventually saw him become the sides record all-time goal scorer with 200 goals in just 301 appearances. Known as 'El Matador' in his stint in Paris, Cavani is known for his eye for goal, powerful shooting and hard-working style of play. Before leaving for Manchester United in 2020, he bagged 18 trophies, including 5 Ligue Un medals.
Football is loved as a game for the skill and talent players show on the pitch. There is no doubt that PSG have had their fair share of amazing players over the years, as our list above shows. This is even truer when you think players like Rai or Luis Fernandez did not even make the cut! All this helps to make them one of the biggest clubs in world football and a giant of the French game.