South America's biggest soccer event is almost here. 2015's Copa America will see national teams come to Chile to play, and since South America has some of the world's best soccer players, the Copa America will be a must-see event. Brazil is strong but Argentina is widely favored to win. While some notable players like Luis Suarez, Diego Alves, and Javier Hernandez won't be in the 2015 Copa America, here are the 10 best players who will.
10 – Radamel Falcao
By Amarhgil (Собственное фото) [CC BY-SA 3.0], via Wikimedia Commons
This year's Colombia squad is solid. While Radamel Falcao has been the center of many Chelsea and Manchester United transfer rumors, he first has to win a continental championship. Colombia is going to need his goal scoring abilities, since they're in the identical group as Brazil.
09 – Sergio Agüero
By Дмитрий Голубович (soccer.ru) [CC BY-SA 3.0, CC BY-SA 3.0 or GFDL], via Wikimedia Commons
He might only be 27, yet Sergio Agüero has plenty of extremely valuable international experience. Agüero's represented Argentina in two FIFA World Cups in addition to a Copa America. he's an extremely smart player — he can make plays for Argentina — and he ought to fit in perfectly with Tevez and Messi at his side. The Messi-Agüero-Tevez trio might well lead the Argentinians to victory in the tournament.
08 – David Ospina
Without Alves in the tournament, David Ospina is without a doubt one of this Copa America's top two goalkeepers, and he's underrated as well! In the World Cup last year, Ospina's playing was superb. He allowed just two goals total during the knockout games against Uruguay and Brazil, combined. He also recently won the FA Cup playing the English Premier League with Arsenal.
07 – Alexis Sanchez
By Ronnie Macdonald from Chelmsford and Largs, United Kingdom (Celebrating Alexis Sánchez's first Arsenal goal 6) [CC BY 2.0], via Wikimedia Commons
He might be this year's most underrated player, and he might well lead his team to glory. Sanchez has represented Chile in many past World Cups, and he's easily Chile's best forward. With the team having a good defense, balanced middle field, and strong keeper, there is a lot of pressure on Sanchez to do his part and score goals.
06 – Diego Godin
By Ailura (Own work) [CC BY-SA 3.0 at or CC BY-SA 3.0 at], via Wikimedia Commons
Many soccer fans are already well aware Suarez won't be playing for Uruguay due to his biting incidents. That means Uruguay is counting on Diego Godin. Godin is one of La Liga's best defenders; he's led Atletico Madrid to the Spanish League Champions in the last season. Uruguay also has the largest number of Copa America Champions in history at 15, but this time it will be a tough task — Uruguay is paired with Argentina in Group B. Fireworks are all but guaranteed, making tickets for this tournament particularly sought after.
05 – Claudio Bravo
By Fanny Schertzer (Own work) [CC BY-SA 3.0], via Wikimedia Commons
Chile may not have sharpshooters on their team but they easily have the competition's best goalkeeper in Claudio Bravo, and they're going to need him if they want to finally win the Copa America. Bravo recently picked up a Ricardo Zamora Trophy for best goalie, he's the first Chilean player who's done so. Chile never won a Copa America before, though they've lost in the finals four different times — yet this time they are the host.
04 – James Rodriguez
By Copa2014.gov.br [CC BY 3.0 br], via Wikimedia Commons
The young Columbian saw an incredible World Cup last year. Despite being just 23, he was last year's World Cup's leading scorer, leading Columbia all the way to the knockout stage. With Real Madrid he has been a great passer, and in the Copa America he will be Columbia's go-to guy. Colombia lat won a Copa America back in 2001, when they hosted the tournament.
03 – Carlos Tevez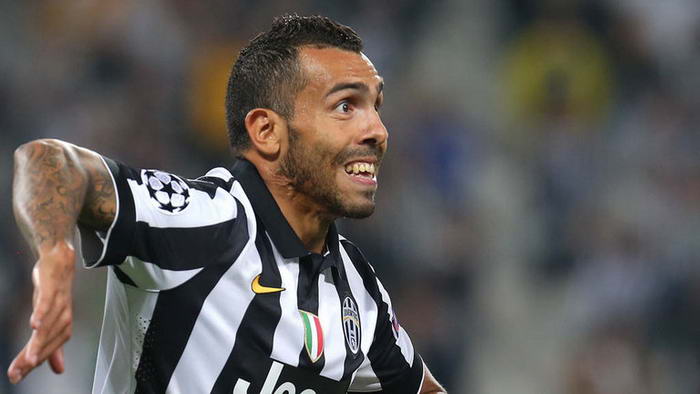 Thanks to Carlos Tevez, Juventus picked up the Italian Serie A during this season. The 31 year old from Buenos Aires was three-time Player of the Year in South America. Tevez has a physical playing style and he can take care of multiple positions on behalf of Argentina. If he can lead the Argentinians to a title in the Copa America, it would be the 15th time for them — the most ever.
02 – Neymar
By Ailura (Own work) [CC BY-SA 3.0 at], via Wikimedia Commons
Brazil has plenty of work to do, and not just because they're a major power in world soccer and their starting goalkeeper Alves won't be in the game. Their 7-1 beat-down versus Germany during the World Cup left something of a bad taste in the mouths of Brazilian fans, and this is a chance for them to redeem themselves. Will Neymar be able to thrive without having Messi next to him, or is Neymar another Robin?
01 – Lionel Messi
By Lluís from Sabadell (Barcelona), España (LFS_14039) [CC BY 2.0], via Wikimedia Commons
Nobody will be surprised at Messi as our top choice. He's on top of the world: he's led Barcelona to the championships of the Spanish League as well as a Copa del Rey just this year. While he's never won a Copa America, he and Argentina are favorites to pick it up this year.