Since being formed in 1993, the Ultimate Fighting Championship has gone on to be very popular. A mixed-martial arts competition, it allows fighters from all disciplines to battle it out in the famous Octagon shaped cage. The other attraction for fans is the realism it has to offer. With a pared down set of rules and much lighter gloves worn by contestants, it is like watching a real fight happen on the street!
As it formed in the early 1990's, the UFC has been going for a long time now. This means that there have been lots of great fights and plenty of bone-crunching action to date. For many fans, it is seeing someone get knocked out with a tough blow which is most exciting. But which are the ten most awesome knockouts in UFC history?
10 – Edson Barboza on Terry Etim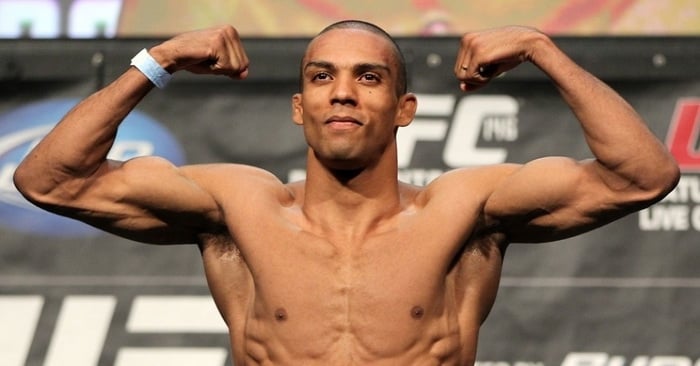 This awesome finish happened at UFC 142 in 2012 – in truth, 2012 was a vintage year for amazing knockouts but this was the pick of the bunch for many. When you read that Barboza finished Etim with a spinning wheel kick, then you know just how good it was. Etim was caught totally off guard by this unorthodox move and the power and accuracy it had knocked him out instantly. What is even more amazing is that Barboza claimed not to have practiced the move that much and did it as on off the cuff thing!
09 – Francis Ngannou on Alistair Oversteem
Known as 'The Predator', Francis Ngannou is one of the top Heavyweight fighters in the UFC and known for his destructive punching power. This certainly was showcase to great effect in his 2017 bout against Oversteem at UFC 218. Even more impressively, this was done in the first round which shows just what a fierce competitor Ngannou is. The knockout blow as a killer left uppercut which came out of nowhere to put Oversteem flat on his back in true style.
08 – Chris Weidman on Anderson Silva I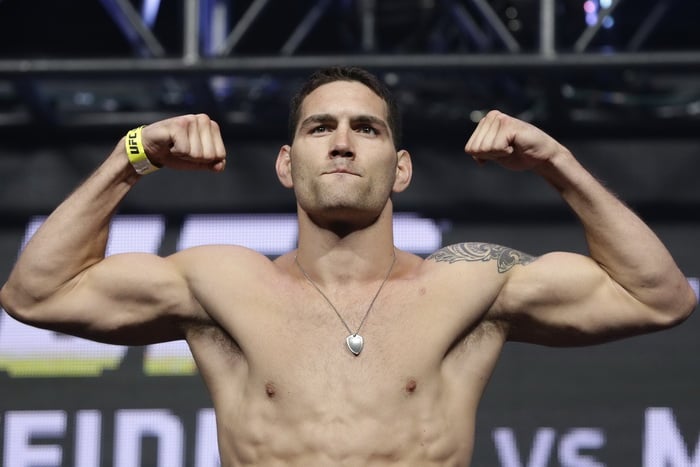 Although Silva is a true legend of UFC, this does not mean he is unbeatable. When you are in the famous Octagon, one punch or kick on the button can finish anyone off! This was summed up in Silva's first bout against Weidman which saw him hitting the deck. This was the first time Silva had lost and makes this finish even more special from Weidman. It was a brutal left hook which did the damage and punished Silva for showboating perhaps a little too much. Although Weidman followed up with a flurry of punches, it was this killer left hook which proved a knockout blow.
07 – Chuck Liddell on Randy Couture
This rematch from the early days of UFC is one that is still talked about today. Couture had beaten Liddell to snatch his light-heavyweight title a few years earlier so this was a grudge rematch that had everyone excited. Both are fighters which have gone down in UFC history for their sheer talent so any bout between them was always a good one. This contained a beautiful knockout by Liddell on Couture and saw him take back the crown. After just two minutes of the match, Liddell unloaded with a trademark right hand which connected with fearsome power on Couture's chin. This was an instant knockout and gave him the victory.
06 – Dan Henderson on Michael Bisping
This was not only one of the best knockouts seen in the UFC to date but also a match which had a genuine edge. Bisping had spent much of the build-up trash talking Henderson – although the English fighter did not respond, you could tell he was itching to take revenge in the cage. Henderson started well and defended Bisping's attempted takedowns. Growing more confident as the fight wore on, Henderson connected with a fearsome right hand in the second round to put his opponent to sleep. This left him with the final word on events!
05 – Gabriel Gonzaga on Mirko Cro Cop
Gonzaga was a kickboxer by trade and this knockout showed just how many skills from this martial art he brought into UFC with him. What was interesting though was that the killer blow was a downward head kick onto Cro Cop with savage power, rather than a traditional roundhouse kick to the head. This unusual move really took Cro Cop by surprised and switched his lights off. This saw the rank outsider Gonzaga be the talk of UFC 70 and spoiled the anticipated Cro Cop /Couture match up many were waiting to see.
04 – Lyoto Machida on Rashad Evans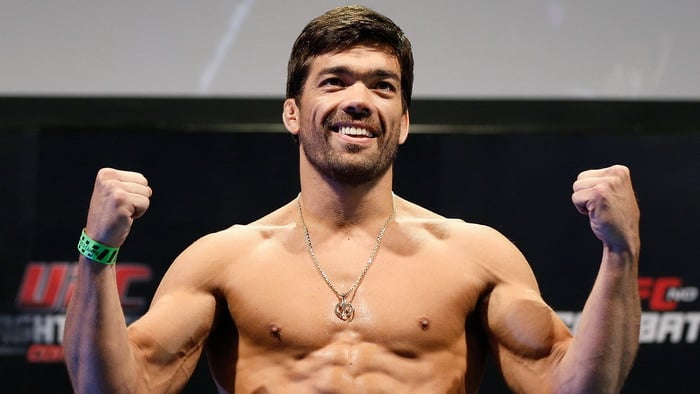 This light-heavyweight bout was a top-class fight as both contenders were unbeaten going into it. Machida was 14-0 and Evans was 13-0-1 – this summed up just how close it would be and what dramatic action promised to be on show. The real key to Machida's victory was an unusual fighting style on the night which Evans could not work out. Although Evans had been dropped in the first round, it was the second-round knockout blow which finished things. The knockout blows were a real combination of accurate sticking and power to leave Machida victorious.
03 – Yves Edwards on Josh Thompson
UFC 49 was a classic night and filled with some decent bouts. The pick of them all though was this match-up between Edwards and Thompson – mainly due to the stunning knockout Edwards pulled off. Thompson was no slouch and many expected this lightweight fight to be a close affair. Edwards though showed all his 35 fight experience by using a spinning back kick to evade his opponents clinch and knock him out. This was a great knockout for the sheer ferocity of it but also the unusual move which Edwards used.
02 – Conor McGregor on Jose Aldo
Poor old Jose Aldo – he had hardly got going in this fight before getting sparked out! This is no surprise when you consider he was fighting one of the best known and most successful UFC competitors ever in Conor McGregor. This contest happened back in 2005 and made McGregor the undisputed featherweight champion in UFC. It also set him off on his meteoric career in the championship. The decisive blow was a powerful left hook to the head which landed with pinpoint accuracy. This happened after just 13 seconds to make it a quick night's work for McGregor!
01 – Anderson Silva on Vitor Belfort
Silva is widely seen as the greatest UFC fighter ever so it is fitting that his knockout of former training partner Belfort tops our list. So good is Silva that he still holds the UFC record for the longest title reign in its history – this was for the 2457days he held the Middleweight title for! Part of this reign was a stunning take down of Belfort at UFC 126 in 2011. After a few minutes of relative calm in the Octagon, Silva unleashed a brutal front kick to the face which sparked Belfort out and ended the contest. Even better, Silva claimed that his friend and movie star Steven Seagal taught him this move!
The UFC has been popular for a long time now and looks likely to remain so for many years to come. Filled with action, excitement and drama, the events which unfold in the famed cage are always worth watching. Of course, brutal knockouts are a big part of why people watch and the above are some of the best around.