The English Premier League is one of the top football leagues in the world and popular for its fast-paced, goal filled matches. Throughout the years however, it has also been famous for players who have helped their team to victory through pure aggression and intimidation. While these players had skill too, it was their sheer toughness that made them special to fans.
We take a look at the ten most fearsome players to have ever graced the Premier League stage:
10 – Jaap Stam
A key player in the successful Manchester United team of Sir Alex Ferguson, Stam looked as hard as he played! His powerful physique and build meant that it was rare for any attackers to get the better of him. In addition, his aggression and brutal physicality meant that he never shied away from a tackle. Before he moved to Manchester United, it was said that when he played in Holland any trouble from opponents stopped as soon as they saw the big man coming towards them.
09 – Colin Hendry
One of the stars from the early days of the Premier League, Hendry was a superb player and led unfancied Blackburn to the league title in 1995. As a player, he was rough and tough, letting nothing get in the way if the ball was there to be won. His uncompromising approach shows in his explanation for elbowing another player once as merely 'shrugging him off'!
08 – Julian Dicks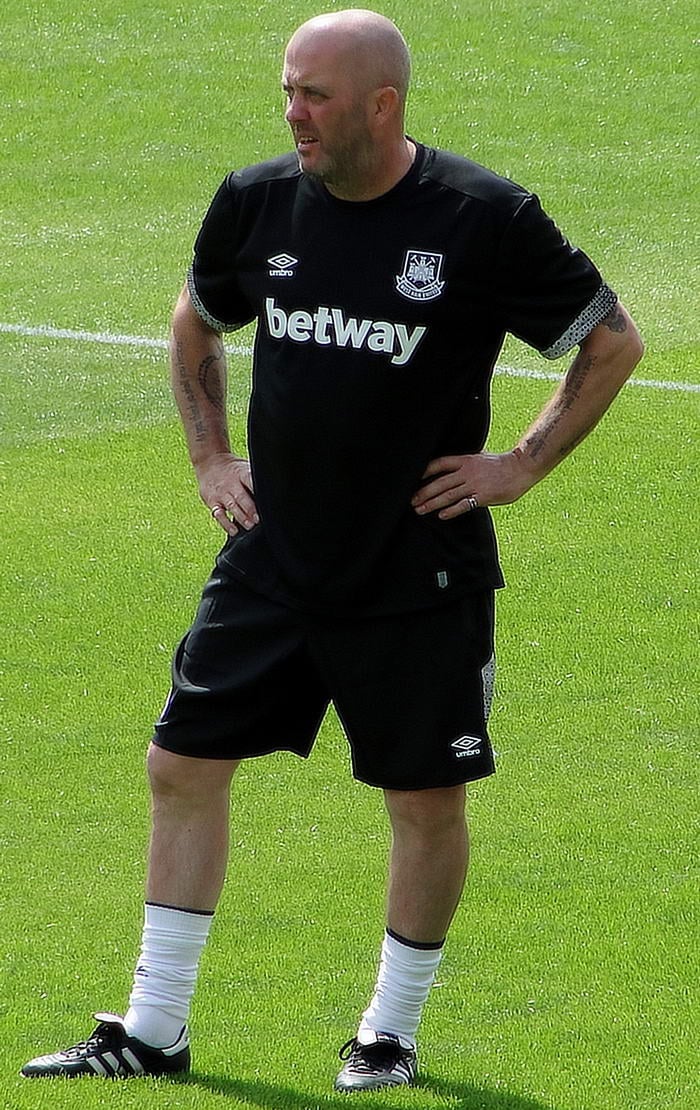 Yet another defender for our list – there must be something about playing at the back that brings out the warrior in people?! With a nickname of 'The Terminator', it's easy to see why he carved a fearsome reputation though. Playing for West Ham and then Liverpool, he actually had plenty of skill but it was his crunching tackles fans loved. His shaved head and wild stare only added to his air of menace for visiting attackers.
07 – Papa Bouba Diop
As nicknames go 'The Wardrobe' is pretty good! Diop didn't get it from teammates for his impeccable dress sense though – rather it was his sheer size and ability to withstand pain that earnt him the moniker. Not hard in a nasty way, he just had the unfortunate habit of flattening anything in his path due to his sheer size. Much like a wardrobe falling on you!
06 – Stig Tofting
It is perhaps strange that Stig Tofting makes it onto our list as he only played in the Premier League for half a season. What an eventful time at Bolton Wanderers that was for him though! As well as making his mark, mainly on opponent's shins, he was also sent to jail for assault practically as soon as he arrived in the country. His hell-raising days weren't behind him after leaving the Premier League either – a club Christmas party argument in Norway saw him knock-out four teammates by himself.
05 – Stuart Pearce
With the nickname of 'Psycho', it's no wonder that this player gets onto our list. Starting out with Nottingham Forest and then later onto West Ham, Pearce was an England international and fine player. It is perhaps his hard style of play he is best remembered for though – as a left-back, he would often fly straight into tackles on unsuspecting wingers, dumping them in the stands.
04 – Duncan Ferguson
'Big Dunc', as fans affectionately know him, is most closely associated with Everton. Alongside playing for them in two separate spells, he is also first-team coach there now. Ferguson was a giant of a man and not averse to taking matters into his own hands out on the pitch such as when he strangled Stefan Freund! He was equally fierce in private also as the two burglars who broke into his house and were hospitalised can testify.
03 – Vinnie Jones
If you mentally picture a midfield general who takes no prisoners, chances are you would be thinking of Vinnie Jones. This leader of men was a key member in the famous 'Crazy Gang' Wimbledon team and went on to play for a number of other Premier League club afterwards. His combative style and pure aggression led many to hope they sat on the subs bench rather than face him.
02 – Patrick Vieira
Along with Roy Keane, this guy is probably the best known enforcer in the Premier League's History. Playing for a very successful Arsenal team under Arsene Wenger, he wasn't a hardman in the same mould as others. He might not have run around screaming and snarling but he knew how to put his foot in as his 10 red cards collected how. His ongoing feud with the aforementioned Keane provided plenty of entertainment for fans also as their Highbury tunnel clash before a game showed.
01 – Roy Keane
Hailing from Cork in the Republic of Ireland, Roy Keane is the classic Premier League hardman. He combined an unquenchable desire to win with a quick temper and plenty of talent. Initially snapped up by Nottingham Forest from Cobh Ramblers, Keane soon made his mark and got a move to Manchester United. What followed was a brilliant link-up with manager Sir Alex Ferguson and lots of trophies!
There's so many Roy Keane stories that you couldn't fit them all in here but his hardman career highlights include his on pitch assault of Alf-Inge Haaland and his explosive behind the scenes bust up with manager Mick McCarthy on international duty. What a man, what a legend!
Football is undoubtedly a game of skill but these players show you also need some steel to go with that. Their blend of tough tackling and straight talking made them popular with fans and invaluable to their teams. One thing is for sure, the Premier League would have been a duller place without them!