When it comes to the most important figures to have ever lived, Gandhi is up there with the best. He was so famous that they even made a film about his life! Born in India, he is regarded by many Indians as the father of their nation. Although a slight figure physically, his immense courage against oppression was an inspiration to many across the globe.
Gandhi was fiercely proud of his heritage and was the man who put an end to English rule in India. Before Gandhi, India was controlled by Britain and was not an independent country in its own right. His stand against this eventually paid off and saw India given its independence in 1947. What is even more remarkable is that he did it all with a policy of non-violent protest.
Here are ten of the most amazing Gandhi facts.
10 – He Was Actually Quite Shy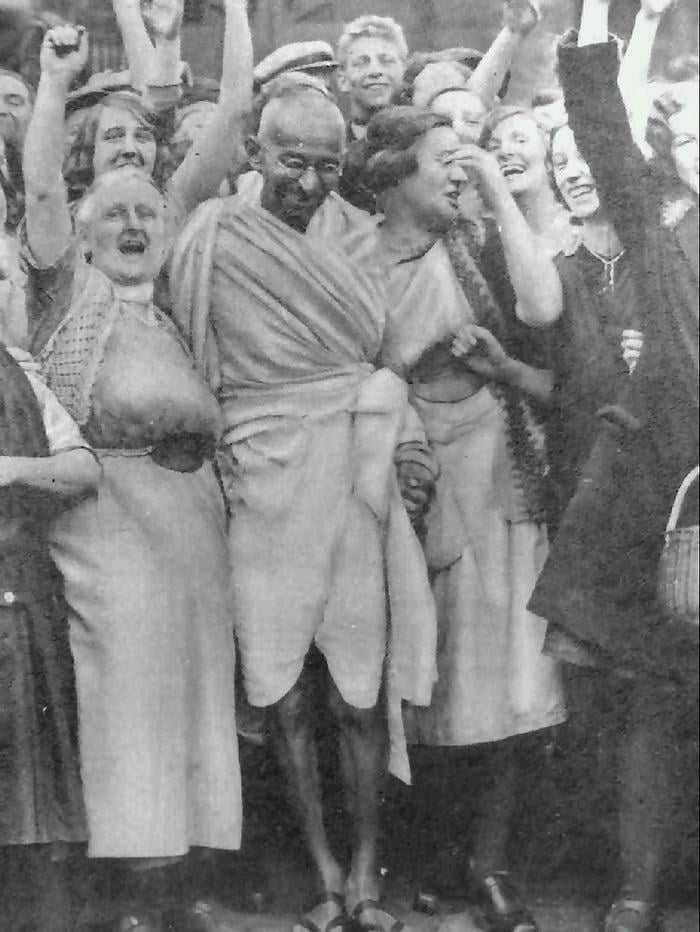 You would think that a world-famous figurehead of a huge country like India would be an extrovert. It actually seems that the opposite was true for Gandhi! People who knew him said he was very shy and actually disliked speaking in public. In addition, he did not like large crowds or being photographed. When you think that he was the most well-known person on the planet at one time, this seems almost unbelievable.
09 – He Married Young
As is the custom in that part of the world now, Gandhi married when a young man. He was only 13 when he tied the knot with 14-year old Kasturbai Makhanji. They had their first child when Gandhi was just 15 although it sadly did not survive. Despite this, they went on to have 4 more children which would have hopefully softened the blow a little.
08 – He Was In London When Jack The Ripper Was
In an interesting twist, Gandhi travelled to live in London for a while the same year of the Jack the Ripper murders, 1888. Luckily, he did not cross paths with the infamous serial killer! Instead Gandhi settled into English life and adopted many of the customs of the time in London society. He wore silk suits and took violin lessons to fit in. He also joined the London Vegetarian Society where he met famous authors like Leo Tolstoy.
07 – He Learned His Craft In South Africa
After leaving London, Gandhi got work in South Africa with an Indian company. Although only meant to be short term, he actually stayed there for 21 years! It was during this time that he started to promote the rights of Indians who did not have a good time in South Africa then. He became the leader of the Indian community in the country and developed his method of non-violent resistance there.
06 – Gandhi Loved To Walk
It seems that walking was his favourite hobby and form of exercise. Even before his many marches for freedom, he would walk around ten miles a day. It seems that this habit really took off while in London. Here Gandhi would walk the ten miles every day to see different parts of the capital. This came in handy for his later exploits where famous marches and walks were the attention-grabbing backbone of his plan.
05 – He Stopped Having Relations With His Wife
At the age of 37, Gandhi took a vow to abstain from sex with anyone which included his wife. The same vow also restricted his diet to bland and uncooked foods. He did this as he thought it would help him focus more on his mission as a freedom fighter and not get distracted. While it seems a little extreme, you can't argue that it seemed to have worked in the end.
04 – He Had False Teeth To Eat With
Not many people know this, but Gandhi actually carried a set of false teeth in his robes. He would only slip them in at meal times where they would help him to eat. His diet consisted of uncooked fruit or vegetables mainly which would have been hard to manage without the dentures. Once his meal was done, he would wash them and put them back in his robes. I guess that is what you call travelling light!
03 – He Was Never Given The Nobel Peace Prize
This is one fact that really surprised everyone! Considering he was one of the best examples of someone using peaceful methods for a good purpose, you would have thought he would have won it at least once. However, although nominated numerous times, he was never given the award for some reason. Organisers did think about giving it to him after his assignation but decided against it, as it was not allowed in the rules.
02 – Gandhi Spoke With An Irish Accent
Although it may seem crazy, this is 100% true! Gandhi's first English teacher has an Irish accent and this rubbed off on the young Gandhi when learning. The same teacher also introduced him to text showing 'The Sermon on The Mount' which he would read daily to improve his English. Gandhi ended up loving this so much he would read it every night when meditating all throughout his life.
01 – Gandhi Memorabilia Is Big Business
As befits such an important historical figure, Gandhi memorabilia can fetch massive sums. The spinning wheel he used when imprisoned in Pune was sold for £110,000 in 2013. This was in addition to the last will that he wrote which fetched £20,000 at the same auction. We can only guess at the amount that his robe would make if that were ever to come up in an auction!
Mahatma Gandhi was, and still is, one of the most inspirational figures to have ever lived. His way of bringing about change for the good without resorting to violence is an example many today could do with following. His legacy is such that he will always live forever in people's hearts as a truly special person. This is especially true for Indians who rightfully see him as the man who freed them from slavery.