In recent years, our world has been becoming more and more focused around technology, meaning that our lives revolve around the Internet. As such, CDs are fast becoming a thing of the past, with most people going online to download music. The Official Charts Company has just released the list of songs which have been downloaded more than any others in the UK. This list looks at downloads of all time – not just those over the last year. Perhaps unsurprisingly, Pharrell Williams has pinched the top spot; his name appears three times in the top ten alone. In reverse order, here's the run-down.
10 – Sex on Fire – Kings of Leon
'Kings Of Leon @ Scotiabank Place' by ceedub13
You may be surprised to learn that Tennessee band Kings of Leon have been around since 1999. However, it was on the release of their 2008 album Only by the Night that they shot to international fame. This album included instantly recognisable singles such as Use Somebody and Sex on Fire. It's this tune which brings up the rear of this list of most downloaded tracks of all time.
09 – We Found Love – Rihanna feat. Calvin Harris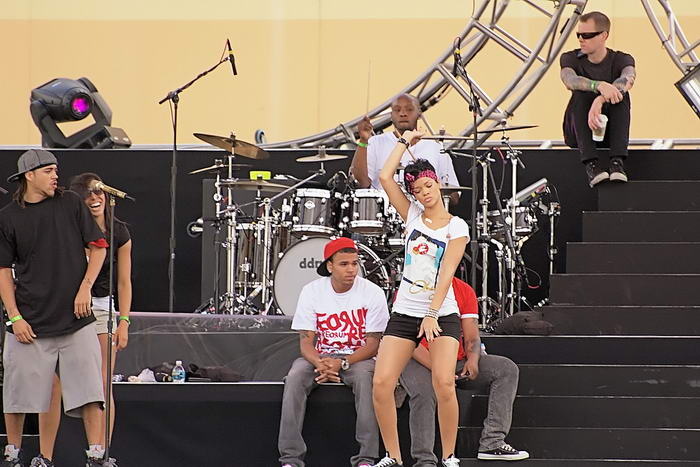 'Rihanna by Express Monorail
Since the release of Pon de Replay in 2005, Rihanna has cemented herself as a modern day pop princess. She has released 53 singles, no less than 19 of which entered the Top 10 in the UK charts alone – and this doesn't even take into account tracks which featured her as a supporting artist. As a result, it's no surprise that her name appears in the list of most downloaded tracks of all time. We Found Love, which features Calvin Harris, is the track which secures her spot at number nine.
08 – Wake Me Up – Avicii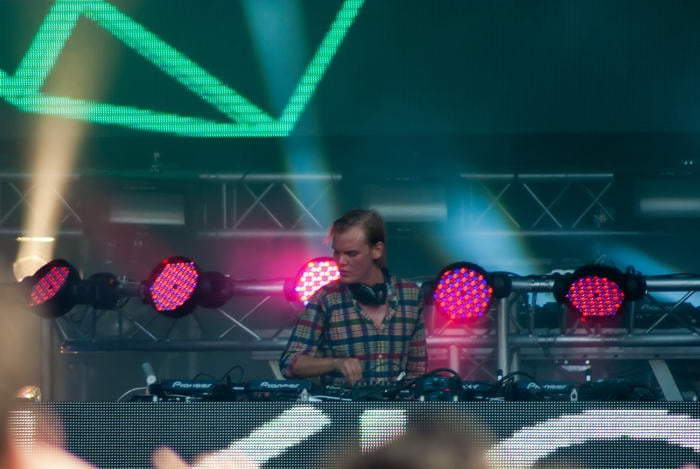 'Avicii @ Inox Park Paris Chatou 2011' by Jalil Arfaoui
Swedish DJ Avicii has dominated the charts over the last 18 months or so, most notably with the tracks Wake Me Up and Hey Brother. The former is the eighth most downloaded track of all time, which features vocals from singer Aloe Blacc. It reached the number one spot in 44 different weekly charts around the world, which is hugely impressive. It became the sound of the summer for many people, which is probably the reason for its position on this list.
07 – I Gotta Feeling – Black Eyed Peas
'The Black Eyed Peas Singing at Walmart Shareholders Meeting 2011' by Walmart
I Gotta Feeling by Black Eyed Peas comes in at number 7. This American band is made up of will.i.am, Fergie, apl.de.ap and Taboo – most of whom have also had indivudual chart successes. In fact, the band is so popular that whilst I Gotta Feeling was occupying the second spot on the Billboard Hot 100, another one of their songs (Boom Boom Pow) was sitting at number one. The Black Eyed Peas is one of only a few groups to have enjoyed this success; they entirely deserve their place on this list of most downloaded tracks of all time.
06 – Get Lucky – Daft Punk feat. Pharrell Williams
'Daft Punk' by Fabio Venni
French band Daft Punk have enjoyed an incredible career which has spanned over twenty years – so far. As well as being the sixth most downloaded song of all time, their track Get Lucky which features Pharrell Williams (from the album Random Access Memories) picked up two awards at the 56th Annual Grammy Awards. The duo, who are famous for keeping their identities hidden by masks, also took home three awards for the album itself at the same awards ceremony. With such continued success, it would be improper if Daft Punk didn't make an appearance on this list!
05 – Somebody That I Used to Know – Gotye feat. Kimbra
'gotye_7' by Rebekka
Gotye was pretty much unheard of prior to the release of his single Somebody That I Used to Know in 2011 – it was a viral video by American band Walk Off The Earth which made Gotye famous. Since then, Gotye (pronounced like the French 'Gauthier') has been on a world tour and won numerous prestigious awards, including ARIA and Grammy Awards. This song, which comes in at number five, has sold 1.45 million downloads.
04 – Moves Like Jagger – Maroon 5 feat. Christina Aguilera
'Maroon 5 by edwardconde
Maroon 5 is a band which was formed 20 years ago while the members were still in high school. In 2002 they released their first album, from which the songs This Love and She Will be Loved became very popular. Although they were still making music over the next decade, they did not enoy anywhere near the same amount of popularity as they had previously – until the release of this song, that is. Moves Like Jagger, which features Christina Aguilera, has been downloaded 1.47 million times, making it the fourth most downloaded song ever.
03 – Someone Like You – Adele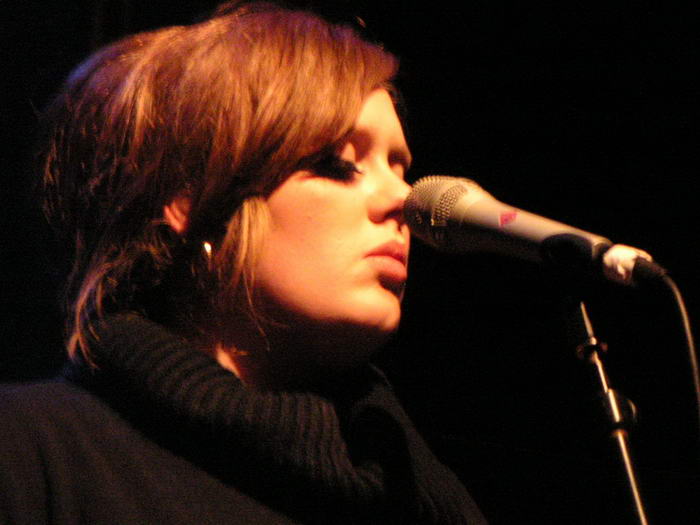 'Adele by Christopher Macsurak
British singer Adele was only 21 when she released the third most downloaded song of all time, Someone Like You, from the album 21. This song alone has had more than 1.5 million downloads, securing Adele's place in the history books. Both before and after the release of this single, Adele has had success after success, including equalling the record for the most Grammy Awards won by a female in one night. Her name even appears in the Guinness World Records, as in 2011 she became the first artist to sell more than 3 million copies of an album in a single year. In addition, she holds another world record for being the only living singer since the Beatles to have two simultaneous top five hits in both the UK Official Singles Chart and the Official Album Chart. Now if that's not impressive (and deserving of her number three position here), then I don't know what is.
02 – Blurred Lines – Robin Thicke feat. T.I. and Pharrell Williams
'Robin Thicke by cityyear
Pharrell Williams makes another appearance at number two, this time as a supporting artist on Robin Thicke's 2013 track Blurred Lines. His performance of this song alongside Miley Cyrus at the 2013 MTV Music Video Awards became the most tweeted about event in history, which inevitably led to even more downloads. With a whopping 1.59 million downloads so far, it stands to reason that this is the second most popular song to be downloaded of all time!
01 – Happy – Pharrell Williams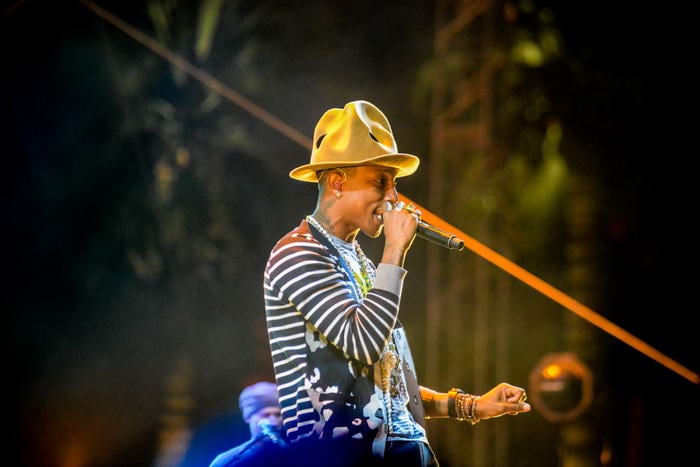 'Coachella Day 2 [2ndWeek]- Pharrell Williams' by Shawn Ahmed
Here he is: the man of the moment, Pharrell Williams. With 1.62 million downloads, Happy is the most downloaded track by far. Originally the soundtrack to the film Despicable Me 2, this song is instantly recognisable around the world. As well as topping the list of most downloaded tracks in the UK, the fact cannot be ignored that over 5.6 million copies have been sold in the US as well. Without doubt, this track – as well as the man behind it – will go down in history.