First formed in 1992 in the Los Angeles area of California, Weezer have since gone onto considerable success. This has seen them sell almost 10 million albums in the USA alone and almost 40 million globally. Fronted by geek-rock hero Rivers Cuomo, their infectious mix of heavy riffs, catchy choruses and clever lyrics has gained them many fans.
After signing to Geffen Records in 1993, their first album was a hit and they have never really looked back since. Here are the ten most rocking facts about this amazing band.
10 – Guitarist Asked To Leave Band
Many Weezer fans may not realise this but a guy called Jason Cropper used to play guitar in the band. This was from the time they first got together until the period that the first album was recorded. What is a bit mysterious is that Cropper was asked to leave Weezer while the 'Blue' album was being put down, but no-one will say why. The remaining members have always remained tight-lipped and Cropper signed a non-disclosure agreement in return for being paid his full dues for working on the album. Even more interestingly, all his guitar parts were wiped off the record after he left!
09 – Song-Writing Challenge
In December 1991, Cuomo set himself a brave challenge to progress his song-writing. Although Weezer were not formed then, he decided to write 50 songs as fast as he could. Although many have never seen the light of day since, a lot did go on to be Weezer tunes. Classics like 'My Name Is Jonas', 'Only in Dreams and 'The World Has Turned and Left Me Here' are reportedly products of this song-writing marathon.
08 – Sharp Files Law-Suit
It was not just Jason Cropper who proved a problematic ex-band member for the rest of Weezer! After leaving in 2002, Matt Sharp filed a lawsuit against the band in regard to song writing credits for a number of tracks he claimed were due to him. The most prominent was first hit single, 'Come Undone – the Sweater Song' which he claimed to have helped write. The band chose to settle with Sharp out of court, so it must have had some truth to it.
07 – Early Song About Two Devoted Fans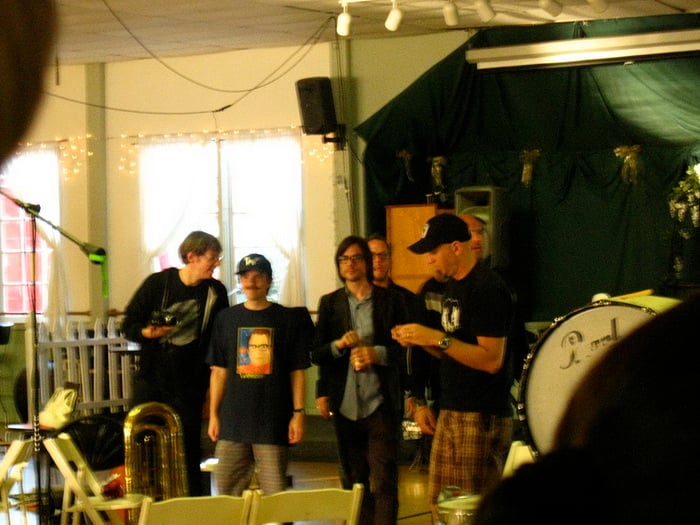 Big time Weezer fans will have heard the B-side track 'Mykel and Carli' at least a few times. What you might not know is that Cuomo wrote it about two real life women who were massive Weezer fans. In fact, both Mykel and Carli went on to run the bands fan club when they blew up! This story has a sad end though as both Mykel and Carli died in a car crash with their sister years later.
06 – 'My Name is Jonas' Inspired By Book
It is reported that the song 'My Name Is Jonas' from the 'Blue' album was inspired by the book 'The Giver'. The novel tells the story of a by called Jonas who lives in a future, dystopian society – it is this theme that Cuomo used for the song's lyrics. It was not only the book that sparked the song writer's imagination though – apparently, he first started to write it after meeting a fan who said to him that his name was 'pretty much Jonas' in a reference to the book.
05 – First Gig with Keanu Reeves
When they were ready to take their first steps as a live band, Weezer ended up opening for Hollywood actor Keanu Reeves. Reeves had his own band called Dogstar at the time and Weezer played their first gig as the support act for them. While Weezer have since gone on too much greater things, Reeves' band sadly did not. It would seem that he is better actor than rock star!
04 – Name Inspired By School Taunts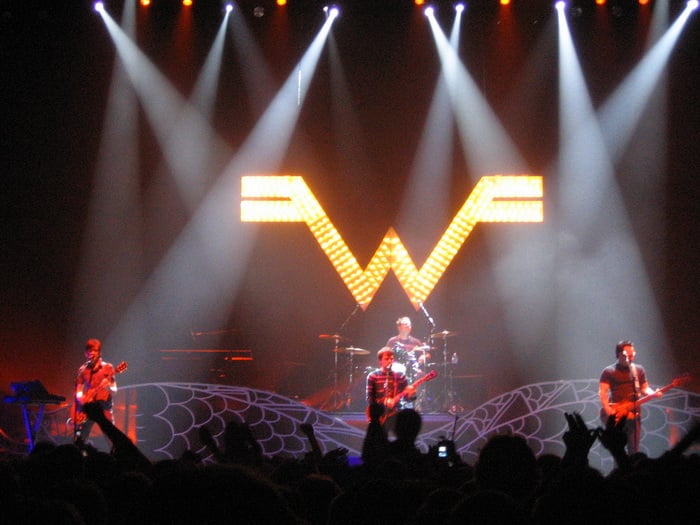 Many fans have wondered about the band name itself. After all, Weezer is a pretty unusual name for a rock band! The origins of it go back to the childhood of singer/guitarist Rivers Cuomo and his schooldays in particular. At school, the other kids taunted Cuomo about his asthma by calling him wheezer. When the first gig came around, they didn't actually have a name so used that when they needed to think of one quickly.
03 – Pinkerton Wasn't a Hit Originally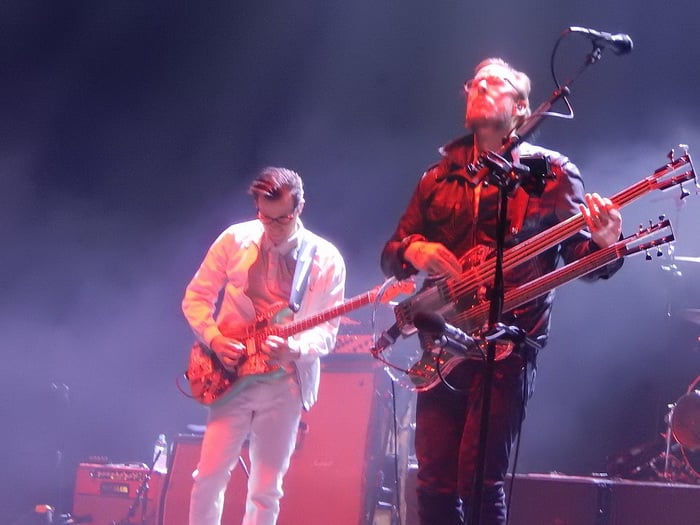 The group's second album titled 'Pinkerton' was not a hit at all when released. Both the public and press did not seem to like the darker, more abrasive style of the songs at the time. This culminated in Rolling Stone magazine calling it the worst album of 1996 when it was released. What is weirder is that the same album is now considered a cult classic and one of the best albums of the 1990's by many. It seems that it just came out at the wrong time!
02 – Cuomo Studied At Harvard
When Weezer played a gig at a nearby venue around 1995, Cuomo decided to walk around Harvard Campus. It was during this ad-hoc tour that he decided to apply on a whim. 1995 was actually something of a busy year for the front man as, before entering Harvard, he had surgery on a leg condition at the start of the year. Studying Classical Composition, Cuomo found it a strange experience and grew a beard to blend in. This caused many fellow students wandering around in Weezer t-shirts not to recognize him.
01 – Beverley Hills Inspired Their Best-Known Song
Although they maybe did not taste the same level of success that the first album brought in later years, perhaps their biggest hit single came with 'Beverley Hills' from the 'Make Believe' album. This was a beast of a track with all the Weezer traits of big chords, big riffs and catch hooks. The story behind it was that of the bank imaging how great it would be to marry a rock star and live the life of luxury in Beverley Hills themselves.
There is no doubt that Weezer remain one of the best and most well-loved bands to have emerged from the early/mid 1990's. While they might have had some ups and downs along the way, the quality of their song writing has never been in question. Still going strong in 2018, they have lots left to offer to their millions of dedicated fans.