Everyone's been backpacking around Europe. Everyone's been on safari in Africa. Everyone's been to experience the nightlife and beaches in Thailand. Have you ever wanted to go somewhere off the beaten track, where no-one else goes? Below I've listed some of the most unusual places to visit, which will still give you a holiday of your dreams. Take a look, then start packing for an experience that no-one you know can match!
10 – Tajikistan

'Pamir Highway – Tajikistan' by Lee Hughes
Hidden away somewhere in the middle of the globe where Europe and Asia meet is Tajikistan. It only receives a few thousand visitors every year – when you consider that it's not exactly near to other tourist hotspots and there's a complicated visa application process, it's hardly surprising that so few people visit.
However, if you're willing to go out of your way and jump through all their hoops, then Tajikistan has so much to offer. From astounding vistas to challenging hiking opportunities to a rich and varied culture, Tajikistan is full of hidden gems.
09 – Tonga

By Haanofonua (Own work) [GFDL, CC-BY-SA-3.0-2.5-2.0-1.0, CC-BY-SA-3.0 or GFDL], via Wikimedia Commons
You may know Tonga by its other name: 'The Place Where Time Begins'. This is because it is just on the Eastern side of the International Date Line, so it's one of the first places to see in the new days, the new years and the new millennia. Being in the middle of the Pacific and so far away from everywhere else, it isn't always the easiest to get to, which is probably a reason for only 45,000 tourists visiting it per year. That said, there are a surprisingly large number of airlines which fly directly to Tonga, including Air Pacific and Virgin Australia.
However, travelling to Tonga is so worth it! The diving opportunities are probably Tonga's biggest attraction, as stunning coral reefs abound. In addition, the islands have the most beautiful white sand beaches, making Tonga a small slice of paradise.
08 – Mauritania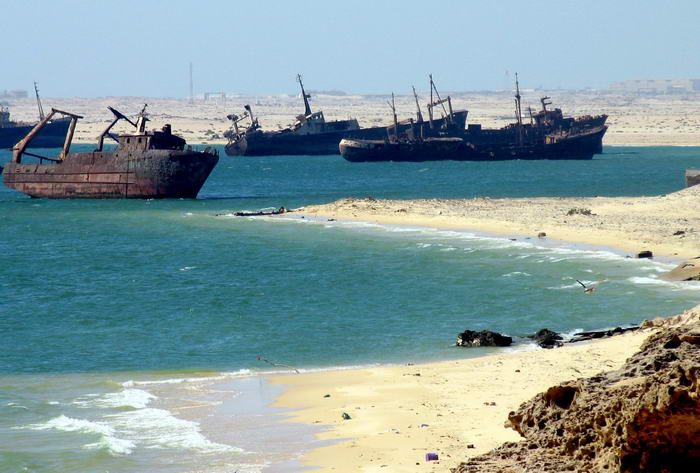 'Ships graveyard, Nouadhibou, Mauritania' by Sebastián Losada
Mauritania is located pretty close to both Senegal and Morocco, so it may surprise you to hear that it attracts only about 30,000 visitors every year. It's an area which is known for its sand dunes and nomadic people, which is why it is overlooked so often. The fact that there are no ATMs – meaning that tourists have to rely on cash alone – is yet another detracting factor.
Despite all that, the desert landscapes and sand dunes present some incredible photo opportunities. The same can be said for the infamous old ships' graveyard, which is both mesmerising and eerie. Without a doubt it's one of those places that should be added to your list of 'places to see before you die'!
07 – Kiribati

'Butaritari, Kiribati' by KevGuy4101
The main reason why Kiribati only attracts around 5,000 visitors every year is because it is so difficult to get to. Let's be honest, had you heard of it before today? If you're wondering where it is, stab a pin into the middle of a map of the Pacific Ocean and you'll be pretty close. Its closest neighbour (Hawaii) is almost 1,500 miles away, and there's only one flight to and from the islands per week.
If Kiribati was more accessible, it would be one of the most popular tourist destinations in the world. This is because of its stunning beauty, which is everything you imagine a tropical paradise should be. It is considered to be one of the best destinations for fishing, snorkelling and diving. This isn't even taking into consideration all the water sports which are on offer. As you can see, Kiribati is an ideal place to go if you want all the relaxation of an island holiday, but in a location where very few other people have been!
06 – Solomon Islands

'IMG_3198 Halavo villager' by Jenny Scott
Aside from the fact that the Solomon Islands have had a somewhat unstable past, they are pretty difficult to get to. Of course, once you get there, you may find it tricky to actually navigate the Solomon Islands, as they are peppered across the Pacific.
If you're willing to put these facts aside, they offer so much for tourists – both inland and offshore. For those who prefer to stay inland, there are magnificent waterfalls and volcanoes to explore. On the other hand, for those who prefer to explore the water, the diving and surfing opportunities are amongst the best in the world.
05 – Nicaragua

'Le volcan Momotombo (Nicaragua)' by Jean-Pierre Dalbéra
Nicaragua has a history of civil war, dictatorship and natural disasters, which may be off-putting for tourists. However, it is worth noting that the country has put these troubles behind it, and has become one of the safest countries in America.
This country is the largest of all of those found in Central America, and has a little something for everyone. There are beautiful beaches, coral reefs, a rainforest, a volcano, and even a lake which is home to the world's only freshwater sharks. There is so much to see, do and enjoy in Nicaragua that it's likely to become a popular tourist destination in the future – especially considering the fact that it's pretty inexpensive, too!
04 – Marshall Islands

By Christopher Michel from San Francisco, USA (from our g-5 on approach) [CC-BY-2.0], via Wikimedia Commons
The Marshall Islands, located in the Pacific, are made up of over 1,000 islands and coral atolls, so there is plenty to explore. However, it is particularly difficult to get to – and expensive, too. There are almost no flights directly to the islands, and those which do exist are extraordinarily expensive. If that wasn't enough, most people were put off by the fact that America used to do a lot of nuclear testing on the Marshall Islands, although thankfully that has been relegated to history books.
Nevertheless, if you do manage to make it to the islands, almost every utopian island cliché can be found on the Marshall Islands. Crystal clear seas, blue lagoons and endless coral reefs provide a tropical island paradise; numerous World War II shipwrecks give tourists countless chances to explore. With so much beauty, you'll never run out of things to do in the Marshall Islands!
03 – Slovakia

By Maros M r a z (:sk:user:Maros) (Own work) [GFDL or CC-BY-SA-3.0], via Wikimedia Commons
This list of unusual holiday destinations has included several island countries in the Pacific, so it may come as a shock to see a European country so high on the list. It may be nestled among other popular holiday destinations such as Austria and Poland, but it doesn't spring to mind as a good place to visit for many people.
As it's still one of the cheapest countries to visit in Europe, Slovakia makes sense as a great place to visit. Throw into the mix incredible mountain views, idyllic forests and quintessentially gothic towns, and Slovakia becomes all the more appealing. You can do everything from alpine skiing to relaxing in cafés, so there's something which will appeal to everyone. You can't ask for much more from a country which is so close and easy to get to!
02 – Bhutan

By Douglas J. McLaughlin (Own work) [GFDL, CC-BY-SA-3.0 or CC-BY-2.5], via Wikimedia Commons
There are many reasons why Bhutan has low visitor numbers. For starters, the government limits the number of people who can enter the country each year, and those that do must be part of a pre-arranged tour group. This means that travelling to Bhutan can work out very expensive, aside from the facts that applying for a visa is incredibly arduous and that you'll need to be chaperoned at all times whilst in the country. In addition, until around 50 years ago, it was impossible to enter Bhutan other than on foot via either Tibet or India, so it's only a relatively new country for people to explore.
To be honest, you've got to really want to go to Bhutan to make it worth it. However, once you see what the country holds, you'll see that all the effort is totally worth it. The country is landlocked, set high within the Himalayas, so the hiking opportunities are endless and the views from the mountains are spectacular. A predominantly Buddhist country, there are loads of striking temples to see. The most magnificent temple of all is the Tiger's Nest, which is perched on the edge of a very high, perilous, mountainous ledge!
01 – Sao Tome and Principe

By taken by Husond (en:Image:Equator_São_Tomé.JPG) [see page for license], via Wikimedia Commons
Sao Tome and Principe is an island country consisting of two small islands off the West coast of Africa, near Equatorial Guinea. Many people are put off by the conflicts which have been present in other parts of Africa, although it is much easier to get to than several of the other locations on this list! Being a former Portuguese colony and close to the African mainland, connections are relatively easy to come by.
This is one holiday destination which really is remote, so you're guaranteed proper peace and relaxation. Other benefits include the mountains, jungles and beaches, so whether it's hiking, trekking or sunbathing, there's something for you. Book your holiday now before the rest of the world does, as this looks like it'll be one of the top tourist hotspots in the future!