If you are a professional pc gamer, you would take your choice of gaming keyboard seriously.In this list, I have rounded up the 10 best gaming keyboards that you can buy online. Your keyboard is more than just a tool for typing if you use it as your game controller frequently. The keyboard becomes a weapon, an extension of yourself, your hands, your legs, your interface with the digital world.
So check out 10 Most Innovative Gaming Keyboards that you can buy online. Feel free to share your experiences with any of these keyboards or any different gaming keyboard with us.
10 – Logitech G19s Gaming Keyboard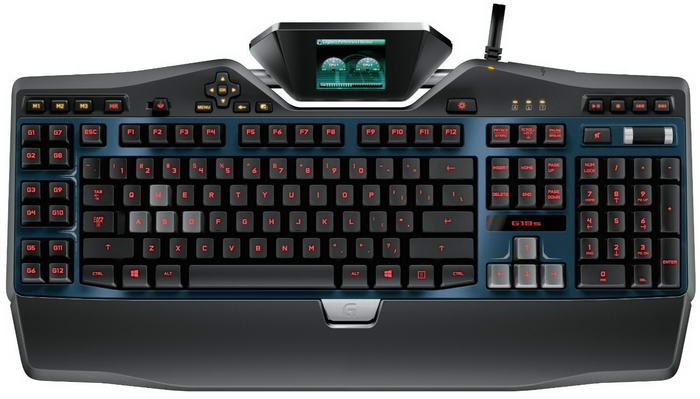 BUY HERE Logitech G19s Gaming Keyboard

It has tilt able screen for instant access to in-game stats, VoIP communication and system data, video playback and more without interrupting game play. You can Assign a unique color to each profile, profile mode and mode style to easily locate any key in the dark and configure up to 36 unique functions per game, including single key presses, complex macros or intricate LUA scripts.
09 – Razer DeathStalker Ultimate Gaming Keyboard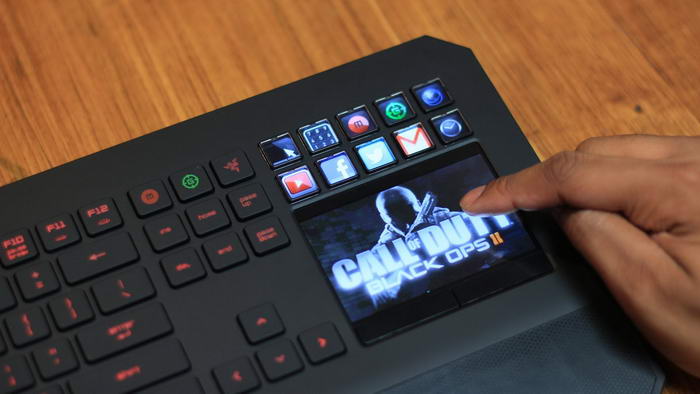 BUY HERE Razer DeathStalker Ultimate Gaming Keyboard

Razer's award-winning, proprietary Switchblade User Interface puts more control in your hands with ten dynamic adaptive tactile keys and an LCD panel. Bind an unlimited number of commands, macros, skills, spells, and any other control you need to ten tactile keys that dynamically change to suit the in-game situation. The LCD panel functions as a separate screen which displays in-game information or application widgets in full vibrant color, allowing you to stay ahead of the competition; or as a secondary mouse input device with new gesture controls.
08 – Razer Tartarus Gaming Keypad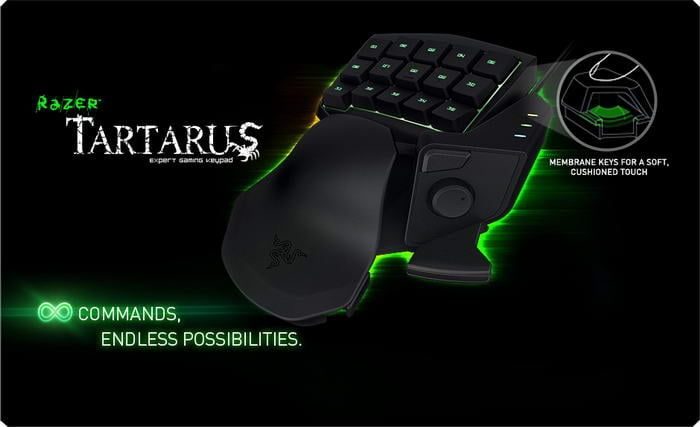 BUY HERE Razer Tartarus Gaming Keypad

The Razer Tartarus places an infinite amount of control into a single hand—literally—affording immense flexibility, power and an ultimately free other hand, which is a deadly competitive advantage. It has 25 fully programmable keys including an 8-way thumb-pad with ergonomic form factor.
07 – ROCCAT Ryos MK Pro Mechanical Gaming Keyboard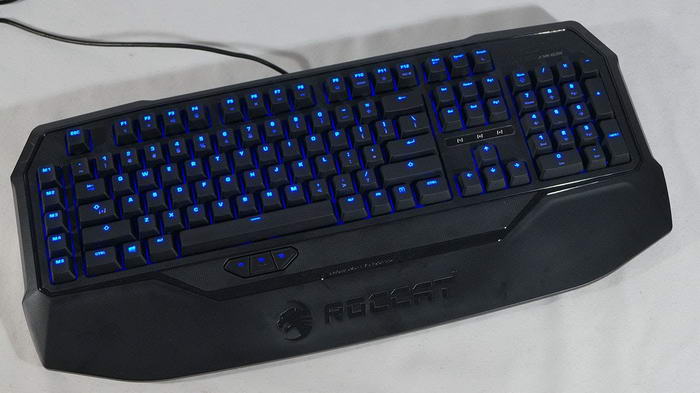 BUY HERE ROCCAT Ryos MK Pro Mechanical Gaming Keyboard with Per-Key Illumination – Red Cherry MX Key Switch (ROC-12-851-RD)

The Ryos MK Pro offers totally customizable, ROCCAT-engineered Per Key Illumination in two convenient modes: smart and manual. This means you can add awesome special effects to your keystrokes, configure your keyboard to highlight your in-game and application key bindings, your modifier keys, your macro sequences and cool downs, your system controls, and much, much more. The included software development kit ensures that only your imagination is the limit. With the Ryos MK Pro, Easy-Shift[+] becomes the completely remappable easy keyboard.
06 – Rosewill Helios Dual LED Illuminated Mechanical Gaming Keyboard

BUY HERE Rosewill Helios Mechanical Gaming Keyboard

The RK-9200 from Rosewill can help bring your gaming and typing experience to the next level. As the first mechanical keyboard to offer dual LED backlighting, RK-9200 provides the atmosphere that gamers love while also offering premium features such as active anti-ghosting 12-key rollover.
05 – Razer TRON Gaming Keyboard

BUY HERE Razer TRON Gaming Keyboard

Prepare to lay programs and fellow gamers to waste with the precision of a Lightcycle carving a jetwall. From the rez and derez lighting effects during startup and shutdown to the smooth black finish of the Hyperesponse keys, the backlit TRON® Gaming Keyboard Designed by Razer is exactly what you need to dominate the Game Grid. A detachable modular keypad, lighting effects triggered by in-game alerts, and fully programmable keys with macro capabilities almost turn this keyboard into a Recognizer capturing you in the TRON universe.
04 – Tt eSPORTS MEKA G1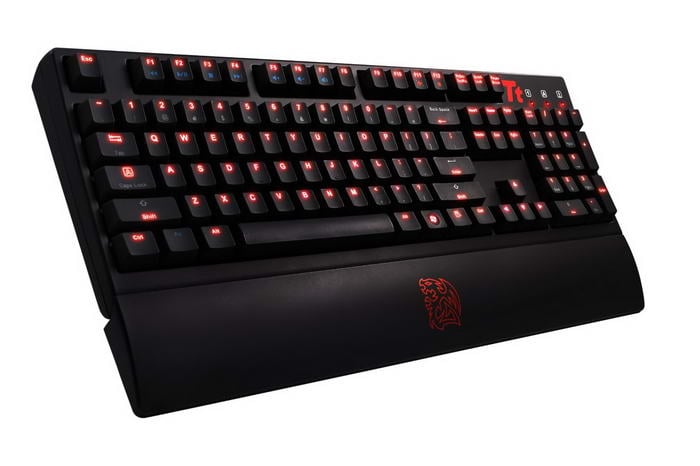 BUY HERE Tt eSPORTS MEKA G1 Illuminated Mechanical Gaming Keyboard

High-quality braided cable that brings two audio jacks and two additional USB ports. 1000 Hz Pooling Rate ensures maximum response time between the keyboard and the computer. 7 Multimedia Hotkeys provide gamers the instant control of audio sound, and the Detachable Palm Rest is provided for your long-hour gaming comfort.
03 – Corsair Vengeance K90

BUY HERE Corsair Vengeance K90 Performance MMO Mechanical Gaming Keyboard (CH-9000003-NA)

The Corsair Vengeance K90 is a premium performance mechanical keyboard designed for superior Massively Multiplayer Online (MMO) and Real Time Strategy (RTS) gaming. It features Cherry MX Red mechanical key switches which are of the best of the best key switches and coveted by gamers. They are defined by their low-operating force (45g) and smooth, linear key switch design so you can get quicker double and triple clicks… without the annoying click of a typist's keyboard. 18 dedicated, customizable macro keys provide easy access to your most frequently used macros, presets and key combinations.
02 – Azio Levetron Mech5 Mechanical Gaming Keyboard

BUY HERE Azio Levetron Mech5 Mechanical Gaming Keyboard

Power Within Reach: Macro keys are useful but only if they're easily accessible. The Mech5 gaming keyboard was design with that in mind. The modular D-Pad can be adjusted to perfectly complement your hands natural gaming position. Stop wasting time reaching for Macro keys all the way across the keyboard! Improve Your Game: Our simplistic design approach improves your speed and accuracy by keeping just 5 Macro keys to the immediate left and 6 additional ones (D-Pad) directly above your hand — all at your fingertips.
01 – Mad Catz S.T.R.I.K.E.5 Gaming Keyboard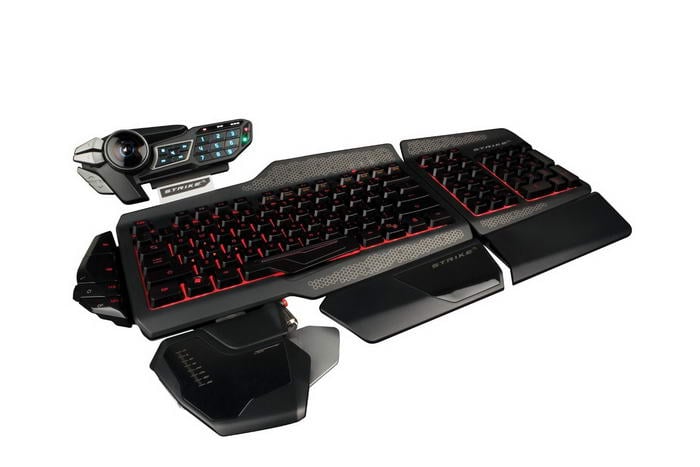 BUY HERE Mad Catz S.T.R.I.K.E.5 Gaming Keyboard

Introducing the S.T.R.I.K.E. 5 from Mad Catz, the perfect keyboard with which to construct your ideal gaming setup. Whether your game of choice is an RPG, FPS, MMO, RTS, MOBA or any other genre, you can now customize your keyboard's physical layout, backlighting, and programmable keys to meet your needs.