For this ''10 most'' series, i have managed to handpick everyday high quality products for conventional purposes. You can spice your life up a little and make your friends jealous. I hope you will find the unique products listed below cool, clever and creative. Just click on the link below each image and it'll lead you to Amazon, where all this cool stuff is available. You can buy one for yourself or give your friends as a gift.
This is part II. Check out 10 Most Creative Products That You Can Buy Online. Enjoy!
10 – USB Power Strip
The USB Power Strip keeps your electronic devices charged up and ready for action! Take full advantage of the plug and play capabilities of this travel sized, 4-port USB strip geared to juice up your phone, mp3 player, tablet, or any other USB gadget. You can connect the power device to your computer, and charge up to 4 gadgets at once. Both USB 1.1 and USB 2.0 compatible, this power charger runs at 480 mbps, and comes with an expand for the USB port and a 4 ft. power cord. Assorted black or white colors (color is random and chosen at the time of shipping). Sold individually. Recharge all of your gadgets in half the time!
09 – On the Rock Glass and Ice Ball
The bottom of the glass has our ROCK which creates a natural liquid motion increasing the nosing of aromas. Fill the included silicone mould to the fill line and put into the freezer to make a single solid ice ball that outlasts traditional ice cubes. The shape of the glass makes rolling easy without spilling. A slight hand movement rolls the ice ball around the ROCK evenly and cools your favorite scotch whiskey or liquor to perfection. Holds up to 8oz.
08 – The Avengers USB Sticks
2012 Avengers Marvel Sticks: Iron man, Thor, America Captain, Hulk.
07 – Duck Tea Infuser
Enjoy preparing a delicious cup of tea with this fun floating ducky tea infuser from RSVP. Fill this little ducky's mesh infuser halfway with coarse tea leaves and place in your tea cup. Once the tea leaves are saturated the duck will float upright. When not in use, the duck 'floats' on a blue water base. This infuser makes a great gift for any tea aficionado.
06 – Money Stacks Backpack
A Fun and Durable Backpack by Sprayground,Padded Laptop Compartment Fits Most 17″ Laptops,Breathable Mesh Fabric,Holds Everything You Need For The Day,Custom Zipper Pulleys and Emblems,Padded Shoulder Straps To Make The Bag Ride Comfortably,The Perfect Bag For Back To School,11.5″ X 17.5″ X 6″
05 – Portal 2 Bookends
Welcome to Aperture Science's Library! There are a lot of manuals for employees of Aperture Laboratories. But you don't necessarily have to read them. Being honest here. We used to hire smarter folks, but our death turnover rate is so high that we've had to lower our standards to the less-than-literate. But here's your Employee Manual and the various books on radiation poisoning that the government requires us to give all new hires. But really, don't bother reading them. It's not necessary to do your job. Just follow Cave Johnson's voice and you'll be fine, okay? Take these bookends, they'll hold the books up. Why yes, they do look exactly like a test subject going through a portal on one side and out the portal on the other. Pretty clever, isn't it?
04 – GQ Magazine Cover Mirror
Ever dreamed about becoming a cover model for the famous magazines you admire? With this mirror, you can "become" the cover model any way you like by just looking into it.
03 – Eton Rukus Portable Bluetooth Solar Powered Wireless Speaker System
The Eton Rukus Solar is a portable Bluetooth sound system with a high efficiency solar panel, so you can play your tunes all day long. Take it out to the park, to a tailgate, or use it at home with this self-powered sound system.With quick one-touch pairing, the Rukus Solar can wirelessly stream your music from any source. Its Bluetooth connectivity with AVRCP (one-touch pairing and control) and A2DP (high quality stereo streaming) support allows you to play music from any Bluetooth enabled smart phone, tablet or computer. It's lightweight and has an integrated handle making it easy to carry around. It also has a USB output to charge most smart phones and mobile devices and its storage net securely protects your device during transport.
02 – Zombie Head Cookie Jar
Delicious chocolate chips braiinnnz. Do you think that if zombies had enough presence of mind to cook, that they'd bake things out of brains? We can imagine there being zombie bakeries, where they whip up brain-shaped cupcakes with frosting made from blended parietal lobe. (Don't knock it until you've tried it. It really adds a certain zing to cream cheese frosting. Way better than nutmeg, IMNSHO.) And of course, there'd have to be chocolate chip cookies with chunks of medulla oblongata. OMG, delish. Are you hungry all of the sudden? We are… Just crack open this zombie head, reach inside, and grab some cookies. We recommend at least 3. You don't taste the first one, the second one is good but leaves you hungry, and the third one is the most satisfying. Maybe four cookies if you're extra hungry, but five is right out.
01 – 2-Slice Toaster and Egg Poacher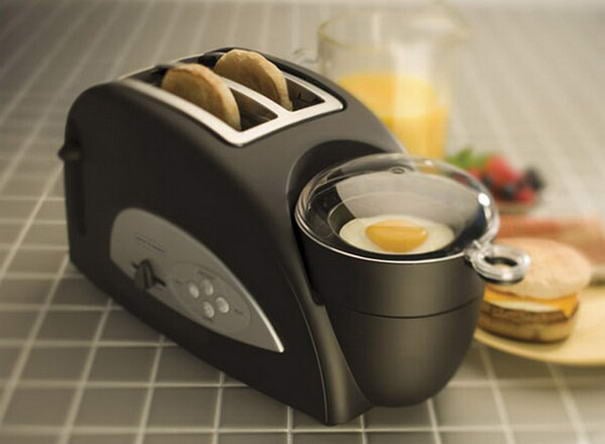 And you thought the drive-thru was fast! Make your favorite breakfast sandwiches — at home — in minutes. The Egg & Muffin Toaster brings innovation to the toaster category by combining the functions of a toaster and an egg poacher into one easy-to-use appliance. It even heats your breakfast sausage or bacon! The Egg & Muffin can be used solely as a full functioning toaster or poacher or can be used simultaneously to make the ultimate breakfast sandwich in just 4 minutes!. Simply add the necessary ingredients and start the machine.