Online shopping has continued to grow, yet many brands still have the idea that online retailers hold all the cards. In reality, Card Issuers actually have a great chance to grow their revenue streams as well. In particular, they can influence purchasing behavior at the point of sale to expand usage of their own payment products. If you frequently use online shopping websites, you know how overwhelming it can be with all the online deals, coupons, and promotions available in various websites. It's almost impossible to keep track with everything and it's even more impossible to compare product prices with thousands of other online retailers. So where do you find the time to do all of this research?
10 – Add To Amazon Wish List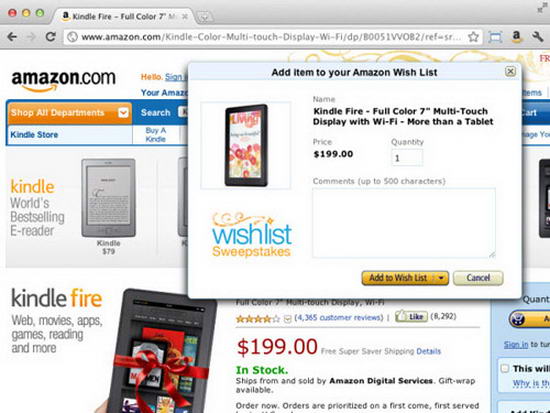 If you have an Amazon account, you've probably added items to your wish list. This extension allows you to add products from any website to your Amazon wish list. This extension makes it easier to track items that you want to eventually buy from anywhere on the Web, all from a single site.(Also on Safari,Firefox)
09 – InvisibleHand
InvisibleHand is a very useful tool that shows you the lowest price for whatever you're currently viewing. For instance when viewing a specific product on Amazon, InvisibleHand will notify you if that product is cheaper on another online shopping site. The tool supports more then 200 retailers from the US, UK, and Germany. Plus, not only is it great for products, but it can also help you find the cheapest flights from various travel sites. (Also on Safari,Firefox)
08 – Ciuvo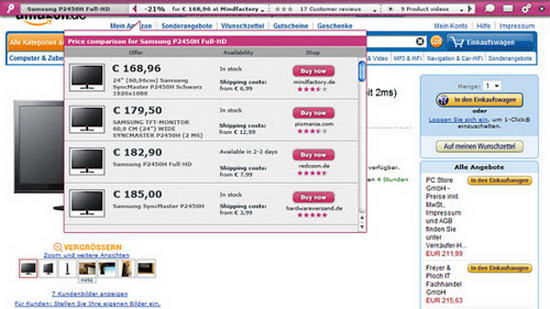 Ciuvo tool allows you to get the best deals by "presenting contextually relevant information in real-time." Not only will you see the best prices, but you'll also see relevant images, videos, customer reviews, and even availability of products in your local area. Ciuvo currently only works for retailers in the USA, Germany, and Austria. (Also available for Chrome, Safari and Internet Explorer)
07 – FreePriceAlerts
This tool lets you know if the current price that you're viewing is the best price. If it is, a green check mark will show in the top left corner of the screen. If it's not, it will show you the best price and where you can find it online. You can also add items to your wish list and set price alerts so that you'll receive an email when the product hits your target price. (Also available for Chrome, Safari, and Internet Explorer)
06 – WindowShopper
Window Shopper helps to notify you of lower priced items on various retail sites; it covers over 120 million products in various categories. Just click the "See Similar" button on your favorite shopping site to open the Window Shopper window and see similar products. You can then click on the stores like to see all stores that are selling that item. This is great way to save money on and get the best price on an item of interest.
05 – PriceTrace
With PriceTrace you can compare prices, check price history, and subscribe to price drop alerts for any product in just one click. This add-on adds a toolbar to Firefox that lets you "trace" any item on most retail sites like Amazon, Walmart, Newegg, and Best Buy; it also works on the search engines Google, Yahoo and Bing. You can also use the website to search for items and compare them by UPC, SKU, title, or URL. (Also on Chrome and Safari)
04 – Groolu
If you're a fan of shopping deal sites like Groupon and LivingSocial, you'll love Groolu. It collects coupons on a daily and hourly basis for the above-mentioned deal sites plus Tippr, Zozi, and Dealster. It then notifies you when a new coupon available and gives you relevant information such as an image, vendor details, deal name, percent off, and sale price.
03 – Voucherbox
At voucherbox, they are dedicated on finding you the best free voucher codes, discount codes, and promotional deals every day. Since their team is obsessed with saving money while shopping online you can always expect them to find you the top codes for all the top UK online stores such as Amazon, Expedia. They test and rate all voucher codes submitted to them. If you should find a voucher code on voucherbox.co.uk that is not valid anymore just drop them a line and they'll remove it. But don't worry, ideally all codes should be valid since their team is constantly checking, testing, searching and rating voucher codes for you.
02 – PriceBlink
This tool is similar to InvisibleHand, in that it shows you the lowest prices for any product that you're viewing; it supports over 3,000 merchants. In addition, it also shows you coupon codes and shipping codes that you may be able to use for the retailer you're currently on. This helps you to save even more money on your purchase. For many products it even shows you user ratings so that you can find the best products.
01 – The Camelizer
This tool lets you track price changes on various retailers like Amazon, Best Buy, Newegg, and more. It helps you figure out if a price is "good" or not by showing you the long-term price history for the specific product that you're viewing. Plus, the chart is unobtrusive since it is viewed by clicking on the extension icon in the omnibar.