The Ten Most Iconic Hot Hatch Cars Ever
Cars are something of an obsession for many people and certainly of passing interest to everyone else. This is not just because of the central role they play in our daily lives. The best cars are stylish, beautiful to look at and great fun to drive. While supercars certainly offer all this and more, they are not the only way to get next-level driving thrills.
If your budget does not run to a Lamborghini or Ferrari, hot hatches are the perfect solution. Not only do the best go like a bomb, deliver adrenaline charged driving and also look cool, they are affordable too. This has seen some models go down in history since the hot hatch burst onto the scene in the 1970's.
But which are the ten most iconic hot hatches ever made?
10 – Ford Fiesta RX 2
While the Focus and Escort listed later in this article shows how Ford have kept up with trends in this sector, the Fiesta RX2 remains where it all started for them. A true icon of 1980's motoring, it was quick, looked fantastic and did not weigh much. It also threw up some neat design touches (like pepper pot alloys, front mounted spotlights and massive flared wheel arches) for maximum impact. The result was a staggering hot hatch that was something you just had to seen in. With no ABS or power steering (like most cars of the era), it also made you fully involved with the drive and constantly feeling like a real racing driver.
09 – Citroen Saxo VTS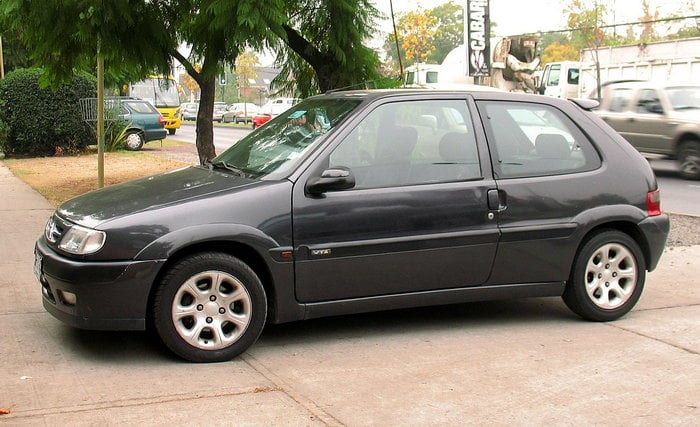 Some hot hatches end up being universally loved by everyone – from boy racers to families who wanted a sportier ride and track day petrolheads. The Saxo VTS from Citroen is a great example and a superb 1990's hot hatch. The chunky styling certainly caught the eye and gave it a distinct look which people remembered.
The peppy 1.6 litre 4 cylinder engine was perfect for this car and gave it lots of zip. This was also one of the sweetest handling hot hatches and always made you feel in control – even when pushing that speedometer. Torque was also pretty good – the 16 valve cylinder head combined with a free flowing exhaust system to generate 145Nm. As all the best hot hatches should be, this was a lightweight motor (around 900kg) which made the power provided by the engine feel all the more thrilling.
08 – SEAT Ibiza GTI
SEAT are well-known for their partnership with Volkswagen – this stunning 1990's Ibiza GTI was an early product of this relationship. Based on the MK3 Golf, it was a much better car than this. A shorter wheelbase gave much improved handling for example, while stiffer suspension gave a race-like feel when behind the wheel. The Golf's 4 cylinder petrol engine was thankfully in place and could get to 62mph in 8.6 seconds if you went for the 1.8 lite version. All in all, this was a great hot hatch to buy that was not only affordable and fast but also good looking.
07 – Ford Escort RS Turbo S1
Although another car from Ford might seem overkill, it is just impossible to leave the Escort RS Turbo S1 out. Like the Fiesta and Focus also included on this list, it is one of the most instantly recognisable hot hatches in history.
While the Turbo badge often left you underwhelmed in other cars of the time, it did not here. This saw the standard 1.6 litre Escort engine get fresh impetus due to intercooled induction. This boosted the total horsepower to 132 and made for a fun car that was full of personality to drive. Ford also included an innovative coupling-based slip diff for better power delivery and a stiffer chassis for a more enjoyable motoring experience. Recaro seats also made it a joy to sit in and the legendary looks it has still take the breath away to this day. Of course, a special mention should also be made at this point to the Escort RS Cosworth which was also a fabulous hot hatch to drive.
06 – Lancia Delta Integrale Evo 2
There is no doubt that this car was an instant hit for Lancia in the early 1990's. Although ably helped by this car's performance on the world rally circuit, it would probably have become a favourite anyway. Clearly taking a steer from the original Golf in terms of looks, it still managed to stand out as a separate car. Maybe this was down to a slightly flatter front-end and Lancia's distinctive grille.
Delivering over 200bhp, this has enough oomph for tearing along any road or motorway. The Torsen diff was an engineering miracle too and helped the Evo 2 be joyous to steer in most conditions. It was also a hot hatch that looked the part. Momo wheels and Recaro's gave the interior a young, cool feel at the time for example. Although it may not be seen as much now, it is still loved by true hot hatch fans.
05 – Ford Focus RS MK 1
What is not to like about this stunning car from Ford? From the precision delivered by the independent rear suspension to the aggressive, bullish stance it had on the road, it just worked on every level. Typical hot hatch drivers will also have loved the dazzling OZ alloy wheels and 2 litre engine. With over 200bhp thrown out by this beast, you had plenty of power and speed when pulling away at a junction. Torque steer also made it a real drivers car and there were lots of gadgets inside the cockpit to play with too. Although the original MK1 Focus was a great hot hatch, this took it to another level.
04 – Honda Civic Type R EP3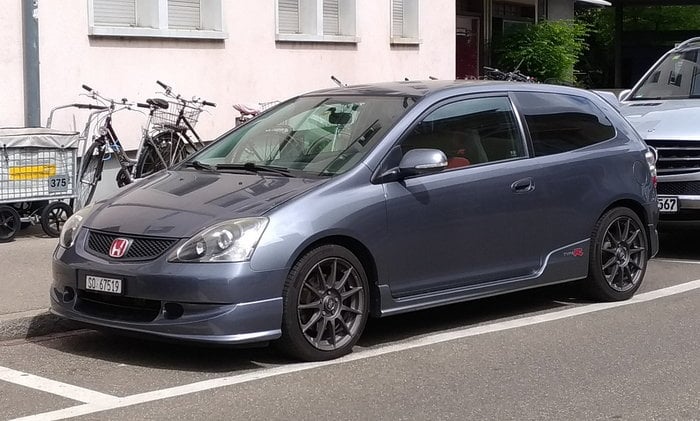 The 2000's were still a great time for this type of car and continued the good work done in previous decades. Honda were responsible for much of this, due to their monstrous Civic Type R EP3. Although the handling could be a bit frisky in the wet, it really was a thing of joy to drive. The naturally aspirated 1998c engine gave drivers 197bhp to play with and defined Honda's VTEC approach.
The gearshift was smooth and the car had a distinctive look which really made it stand out. If you wanted a hot hatch which sounded fierce, drew admiring glances and was the ideal thing to be cruising about in with your boyfriend or girlfriend, this was it.
03 – Renault Clio Williams
Another iconic hot hatch was the small but perfectly formed Renault Clio Williams. The original Clio could well have had a place on our list anyway as it was compact, fun to drive and ideal for nipping around town in with friends. Partnering with respected F1 team Williams instantly gave this special edition more appeal though and a cooler vibe.
With upgraded suspension for a better ride and a front sub-frame from a Clip Cup racer, it was very nice to drive. The manual gearbox was smooth and enabled a truly involved driving experience. With a 2 litre engine chucking out around 148bhp, it could also shift too.
02 – VW Golf (MK 1)
Next to the Peugeot 205 GTI, this is still THE definitive hot hatch for many cat enthusiasts. Coming out in 1976, it really did make waves and make history at the time. It was after all the first time a sporty car which looked great and felt awesome to drive was affordable for many people. But why was it so good?
It certainly scores well for design and has that edgy, eye-catching feel all the best hot hatches have. Whether you were driving it or riding along as a passenger, the cool look of the MK 1 Golf made you want to be inside it. There is also zingy handling, an engine that sounds as good as it drives and decent acceleration to enjoy.
01 – Peugeot 205 GTI
Although this car might not be THE original hot hatch it is arguably the one which most people know and is most iconic. It is also the car which set the template for what hot hatches could and should do. With a sporty 3 door design, its 900kg kerbweight meant it did not have issues with inertia.
The 1.6 lire, 105bhp engine also give this car plenty of poke and saw it go like a train. The acceleration in particular was very impressive. With lively handling and precise steering, this was the perfect thing to be whizzing around in and tearing up country lanes. It was also a real looker – the famous red go-faster inserts still look amazing and the iconic bodyshape has rarely been bettered in this class.
There is no doubt that hot hatches have a proud history but also remain very popular in the present day. Their mixture of value for money prices, practicality, cool looks and sporty driving never gets old after all. Although more models will roll off the production line in future, the cars listed above are still the ten most iconic hot hatch cars ever.