Gentlemen, start your engines! We're about to embark on a wild ride through the world of expensive cars. You know, the kind that make your heart race and your palms sweat just by looking at them. These high-octane beauties are the stuff of dreams for many car enthusiasts. It is for a good reason – they're sleek, powerful, and downright gorgeous. From classic luxury sports cars to modern marvels of automotive engineering. These babies are built to impress and leave onlookers in awe.
But, let's face it. Most of us will never get behind the wheel of one of these jaw-dropping machines, much less own one. So, why not indulge in a little car envy and take a virtual tour of the most expensive cars on the planet? It's the perfect opportunity to drool over some seriously sexy wheels, learn about the incredible feats of design and performance that make these cars so special, and maybe even daydream about hitting the open road in a shiny new sports car. So, buckle up and hold on tight – we're about to shift into high gear and floor it!
10 – Pagani Huayra ($1.6 million)
This beauty is named after the God of the winds, Wayra Tata, in Quechua, the official language of the Inca Empire. Top Gear Magazine called the Huayra the Hypercar of the Year 2012. Richard Hammond tested it on Top Gear and he designed it as the fastest car to go around Top Gear Test Track. Amazing design and unimaginable speed combine to create a legendary car.
09 – Koenigsegg Agera R ($1.6 million)
Produced by the Swedish car maker Koenigsegg, this mid-engined sports car gained the title of Hypercar of the Year in 2010 (Top Gear Magazine). Its name stems from the Swedish verb "agera", meaning "to act". Therefore, we are talking about an action car, about speed, precision and dynamism.
08 – Zenvo ST1 ($1.8 million)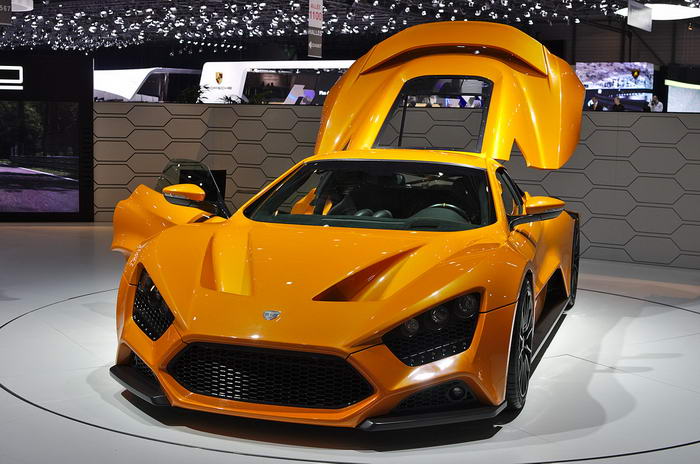 Enter the Zenvo ST1, a Scandinavian marvel from Denmark. This limited-production supercar is a rare gem, with only 15 units ever made. Its aggressive, angular design and bold features make it a head-turner. But there's more to it than just good looks.
The ST1 houses a 6.8-liter V8 engine, producing an incredible 1,104 horsepower and 1,054 lb-ft of torque. With a top speed of 233 mph and a 0-60 mph time of just 3.0 seconds, it's a beast on the track. The advanced aerodynamics, lightweight carbon fiber body, and race-inspired suspension guarantee a driving experience like no other.
07 – Aston Martin One ($1.85 million)

Built by the British car manufacturer, Aston Martin, this car was revealed to the public in 2009 at the famous Geneva Motor Show. Deliveries began from 2011 and there were only 77 models available for purchase. This car is elegant, luxurious, fit for royalty, some would say.
06 – Pagani Zonda Cinque Roadster ($1.85 million)
When Italian engineering meets exclusivity and luxury, you get the Pagani Zonda Cinque Roadster. With only five units in the world, this roadster is a rare sight. The carbon fiber body, gullwing doors, and jaw-dropping design make it a masterpiece on wheels. But it's not just about the looks.
The Cinque Roadster has a 7.3-liter V12 engine, boasting 678 horsepower and 575 lb-ft of torque. It hits a top speed of 217 mph and goes from 0-60 mph in a mere 3.4 seconds. On top of that, its F1-inspired suspension and aerodynamics make driving this beauty a thrilling experience.
05 – Lamborghini Reventon ($2 million)
Now, let's shift our attention to the Lamborghini Reventón, an Italian masterpiece that is both rare and awe-inspiring. With only 20 units produced, this limited-edition car is a collector's dream. Its aggressive, angular design takes inspiration from the world of fighter jets, resulting in a truly unique look.
Underneath the hood, you'll find a 6.5-liter V12 engine that churns out a staggering 641 horsepower and 487 lb-ft of torque. As a result, this beast is capable of hitting a top speed of 211 mph, and it can sprint from 0-60 mph in just 3.3 seconds. Moreover, the advanced all-wheel-drive system and F1-inspired suspension ensure that the Reventón handles like a dream on the road.
In summary, the Lamborghini Reventón is a stunning combination of striking design, impressive performance, and exclusivity, making it one of the most desirable cars in the world.
04 – Bugatti Veyron Super Sports ($2.4 million)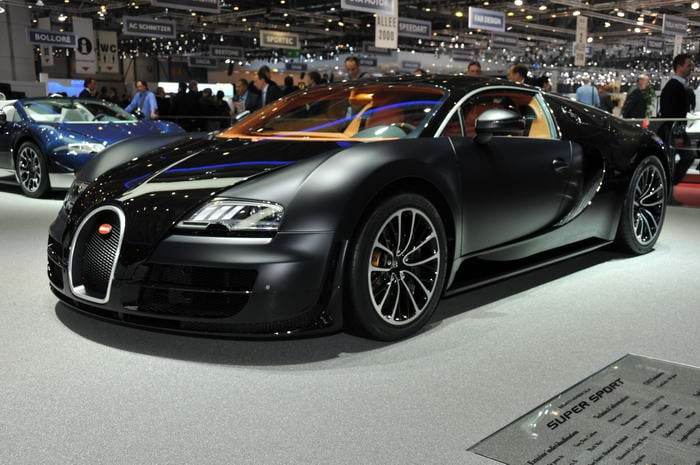 The Bugatti Veyron Super Sports is a symbol of speed, luxury, and engineering perfection. This French icon held the title of the world's fastest production car for years. Its sleek, curvy design and unmistakable horseshoe grille make it an automotive milestone and a benchmark for luxury sports cars.
Beneath its beautiful exterior lies a quad-turbocharged 8.0-liter W16 engine, producing a mind-blowing 1,200 horsepower and 1,106 lb-ft of torque. It reaches a top speed of 267 mph and goes from 0-60 mph in a lightning-fast 2.4 seconds. The innovative aerodynamics, advanced suspension system, and all-wheel-drive configuration combine for a driving experience that's both thrilling and refined.
03 – Lykan Hypersport ($3.4 million)
This beauty is a limited production sports car, designed by W Motors, a United Arab Emirates based company founded in 2012. This is the first supercar produced in the Middle East. Additionally, it appeared in the famous movie Furious 7 and in several video games. It is the first car to be produced and designed indigenously in the Arab World.
02 – Lamborghini Veneno ($4.5 million)
One of the world's most exclusive and expensive cars, the Lamborghini Veneno was launched on February 11 at the Geneva Motor Show and it had impressive reviews. It was praised for quality, design and speed and it was called the best Lamborghini ever made by Top Gear.
01 – Maybach Exelero ($8 million)
The German luxury car manufacturer Maybach, created this model as a modern interpretation of its legendary streamlined sportscar from the 1930s. The luxurious vehicle is famous for being featured in an episode of long-running German show Cobra 11. If you remember, it is used in the ending chase of the episode "Freundschaft". According to Top Gear Magazine, the vehicle was purchased by rapper Birdman in 2011 for $8 million.
Well, there you have it – a peek into the ultra-luxurious world of the most expensive cars on the market. We hope you enjoyed this high-speed journey as much as we did. After all, who wouldn't want to take one of these magnificent machines for a spin?
But, even if we can't afford one of these babies in our garage, we can still appreciate artistry and innovation. Additionally, sheer beauty that goes into creating these automotive masterpieces. And who knows! Maybe someday one of us will hit the jackpot and get to experience the thrill of driving one of these incredible cars for real. Until then, we'll just have to keep dreaming and admiring from afar.
In the meantime, remember that the world of car enthusiasts is vast and varied. And there's always something new and exciting to discover. So, keep exploring, stay curious, and never lose your passion for all things automotive. After all, life's too short to drive boring cars!