When you check into a hotel, little extras like fluffy robes, room service and a nightly turndown are all welcome. But what if the hotel's "extras" include ghosts, apparitions and unexplained noises and happenings?
All over the U.S., hotels and inns claim visitors from another realm. Whether famous figures from the past, former guests or the victims of tragedy, these visitors startle — and often delight — guests who flock to well-known properties for the chance to have a ghostly encounter. While not all claims have been substantiated, these are some of the most legendary, and repeatedly confirmed haunted hotels.
10 – Hotel del Coronado, California
Room 3502 at this San Diego–area property is one of the most well-known haunted lodgings in the U.S. In 1892, Kate Morton checked in to meet her estranged husband for a Thanksgiving getaway — only he never showed, and her body was found several days later on the stairs leading to the ocean. Today, visitors staying in Morton's room report strange noises and unexplained breezes, and a few even mention seeing a ghostly vision of a woman in a black lace dress.
09 – The Menger Hotel, San Antonio
In 1876, a chambermaid at the hotel, Sallie White, was killed by her husband after spending the night in the hotel with another man. However, Sallie is believed to still roam the hotel's hallways; one guest reported opening his door to see Sallie in the hallway, still wearing her Victorian-style chambermaid's uniform.
08 – Renaissance Mayflower Hotel, Washington, D.C.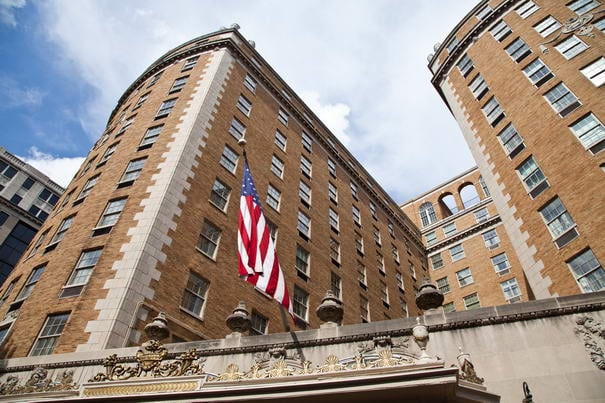 By Almonroth (Own work) [CC-BY-SA-3.0], via Wikimedia Commons
In March 1925, the Mayflower hosted the very first Inaugural Ball — but the new president, Calvin Coolidge was not in attendance, as he was mourning the death of his son. Twelve years later, Inauguration Day was changed to 20 January — and the Mayflower has reported strange occurrences ever since. From flickering lights to mysterious trays of appetizers to stuck elevators, hotel staff believes the ghostly happenings are the Coolidge finally attending the grand party in his honour.
07 – The Equinox, Manchester Village, Vermont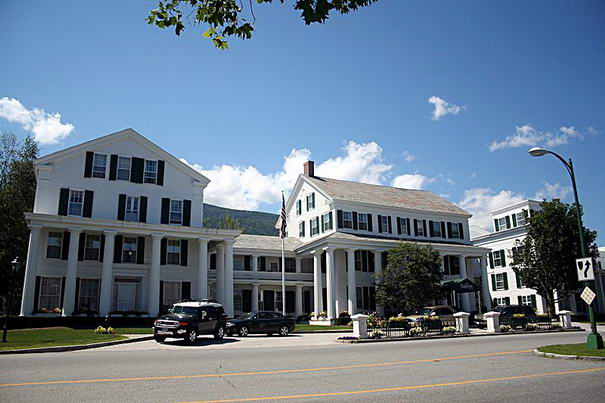 By Rolf Müller (User:Rolfmueller) (Own work) [GFDL or CC-BY-SA-3.0], via Wikimedia Commons
First Lady Mary Todd Lincoln was a regular summer visitor to this bucolic country inn, bringing her children to escape the Washington heat. After Abraham Lincoln's assassination in 1865, his son purchased the estate neighboring the hotel, and some of the Equinox's guests report seeing images of people resembling Mrs. Lincoln and her sons on the hotel's third floor.
06 – Crescent Hotel, Eureka Springs, Arkansas
One of the most legendary and haunted spots in all of the Ozarks, the grand Crescent Hotel has reported spirits from a number of different time periods in the property's history. Along with assorted whispers and noises indicating paranormal activity, guests have reported spotting ghosts ranging from "Michael," a mason who worked on the original hotel, to nurses and patients from the property's days as a hospital and a wide range of dancers and partygoers in Victorian-era garb.
05 – The Myrtles Plantation, St. Francisville, Louisiana
Believed to be one of America's most haunted homes, by some estimates the antebellum-style home contains no fewer than 12 ghosts, including the ghost of William Winter, who was murdered on the grounds in 1871.
04 – The Brown Palace Hotel, Denver
This Denver historic landmark is well-known for its connection to the "Unsinkable" Molly Brown, who survived the Titanic disaster, but it's also notable for its ghostly residents. Guests have reported a string quartet in the hotel bar, uniformed waiters in the service elevator and the sounds of children playing in hallways.
03 – Hollywood Roosevelt Hotel, Los Angeles
Marilyn Monroe and Montgomery Clift are said to be among the many spirits that haunt this Hollywood landmark, which served as the site of both Monroe's very first fashion shoot and the first Academy Awards ceremony. Other haunting reports include cold spots and photographic orbs, as well as mysterious phone calls from empty rooms.
02 – Wayside Inn, Middletown, Virginia
Civil War buffs flock to this quaint country inn in hopes of catching a glimpse of an apparition of a soldier from the War Between the States. The inn served as a hospital during the war, caring for soldiers from both sides; ghostly sightings include injured men in both blue and gray.
01 – San Carlos Hotel, Phoenix
By Cygnusloop99 (Own work) [CC-BY-SA-3.0 or GFDL], via Wikimedia Commons
Another tale of unrequited love, guests at this historic Phoenix property report strange breezes, noises and images of a woman in a ball gown, believed to be the ghost of Leone Jensen, who jumped to her death in 1928 after being spurned by one of the hotel's bellboys.
Many of these haunted accommodations offer ghost tours, and employees are usually more than happy to share the tales of things that go bump in the night. So if you're in the mood for an encounter with a Civil War soldier or Marilyn Monroe, check in to one of these spots and prepare to be spooked.
About the Author: Addison Barker has a degree in history and enjoys visiting historical landmarks around the U.S., which she writes about for her own personal blog and several history magazines. She most definitely believes in ghosts.