Florence has been attracting visitors for ages, and the path is well worn to many of the cultural sites in this northern Italian city. But, what are the absolute must-see, must-do attractions in Florence?
Take a look below for ten of the best activities in Firenze. When you plan your city breaks to Florence, don't forget to put these on your itinerary! Check out 10 Most Popular Tourist Attractions in Florence.
10 – Eat Gelato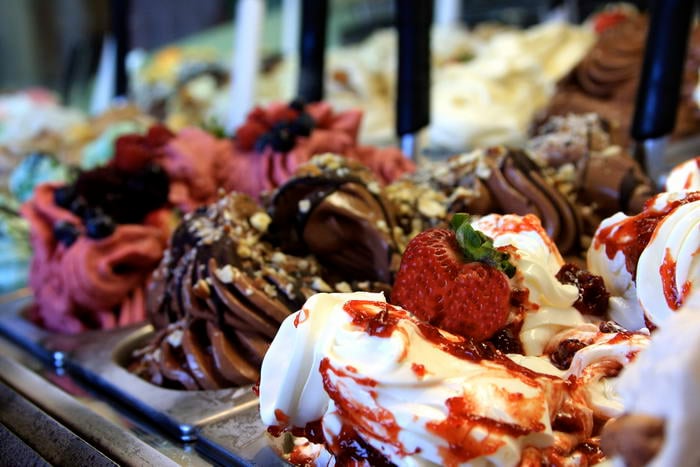 There are few holidays to Florence that don't provide ample opportunity for the consumption of gelato. Italy's answer to ice cream comes in surprising flavours from fresh fruit to popcorn. Nowhere does it than Florence.
09 – Marvel at the Uffizi Gallery
Photo credit: by robertamurphy @Flickr
Once you've sweetened up with some gelato, get in line for the Uffizi Gallery, which holds the world's best collection of art from the Renaissance. Because so many people rank this stop as their primary reason for visiting Florence, book tickets in advance and beat the crowds. Inside, there are works by Leonardo da Vinci, Michelangelo and Botticelli.
08 – Ramble in the Countryside
Photo credit: by Donatella Cinelli Colombini @Flickr
The Tuscan countryside has a fabled beauty. If you have the time to take some day trips from Florence, it's highly recommended you explore the region. For a nearby excursion, try the Boboli Gardens. If you can wander a little farther, venture to the village of San Gimignano. It offers 1,000 years of history 45 minutes from the city. Monteriggioni is another nearby village that you should experience. It's a walled village, built in 1213, located between Florence and Siena. If you don't have your own transportation, ask at your hotel about available tours.
07 – Soak in Scenery at Piazza Della Signoria
Photo credit: by ethan-lin @Flickr
In front of the Palazzo Vecchio, wander through the outdoor sculpture gallery Loggia dei Lanzi, buy a coffee or snack in one of the nearby restaurants and bars, and watch other visitors to the city react to this piazza's art-filled charm.
06 – Pay Your Respects at Il Duomo
Photo credit: By ®DS @Flickr
Everyone calls it simply "Il Duomo," the cathedral, but this breath-taking Gothic structure's real name is the Cathedral of Santa Maria del Fiore. It took nearly 200 years to build and was completed in 1436. Outside, it's covered in rosy-hued marble; inside, marvel at Brunelleschi's Dome and contemplate the 44 stained-glass windows designed by Renaissance-era master artists.
05 – Shop for a Snack at the San Lorenzo Market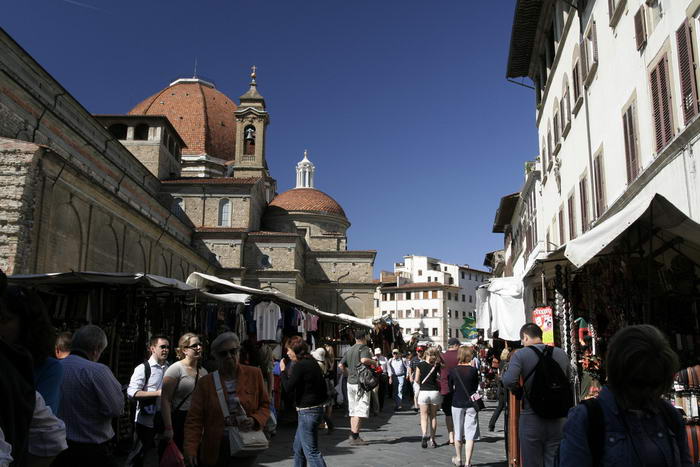 Photo credit: by MissNanners @Flickr
Walking into the closed San Lorenzo market may feel like going back in time. Before supermarkets changed the way people shop, everyone in Florence went to produce markets to get fresh ingredients for their daily meals. It's less busy than it was, but you can still find specialty meats, and locally grown vegetables and fruits.
04 – Wish for Gold While Crossing the Ponte Vecchio
Photo credit: by marvos82 @Flickr
The name means "Old Bridge," but those aren't the words that come to mind when you first see this medieval structure over the Arno River. Since the 1500s, merchants have kept shop in the storefronts lining the bridge. These shops used to house butchers, but now they sell gold, gems, jewellery and souvenirs.
03 – Take in the Sunset at Piazzale Michelangelo
Photo credit: by Magerson @Flickr
Trek up to Oltrarno, the highest part of the city, for the sunset. From the piazza you get a panoramic view of Firenze and the Arno.
02 – Feel the Romance at Dante and Beatrice's Church
Photo credit: by persaperstrada74 @Flickr
Dante lived near Santa Margherita dei Cerchi and that's where he fell in love with Beatrice, his forbidden sweetheart. Her grave is here too; distraught lovers sometimes leave her messages.
01 – Light a Candle for Art at the Basilica of Santa Croce
Photo credit: by aguyiusedtoknow @Flickr
Dante, Galileo, Rossini and Michelangelo's tombs are here, the largest Franciscan church in Italy. So many of Florence's famous sons have been laid to rest at Santa Croce that it's also nicknamed the "Temple of the Italian Glories."
About the Author: Shelly Krumps is a British expat living in Rome. She enjoys la vita bella by drinking wine daily and taking trips to area cities monthly.