Ibiza is one of Spain's Balearic Islands and perhaps the most famous party hotspot within Europe and indeed the world. Home to many of the planet's best bars and nightclubs, it is a real mecca for dance music fans and those wanting to have fun in the summer months. However, this is not all Ibiza has to offer! For those who want a different kind of holiday to enjoy there are plenty of other attractions across the whole of the island to check out.
Here are the ten most inspiring and awesome things to see in Ibiza that doesn't include wild night's out or dancing until dawn.
10 – Ibiza Museum of Contemporary Art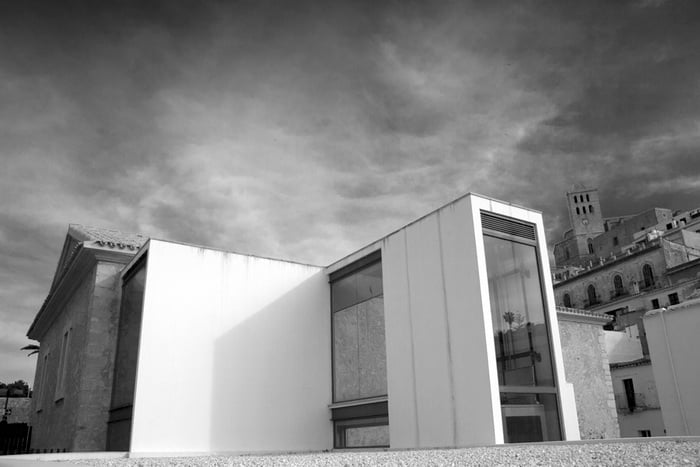 This fabulous museum is a top attraction for those more interested in culture than dancing. It is a must-see if you are into art and want to see some truly stunning works in person. The building itself is gorgeous with restored glass floors covering a historic archaeological site below. In terms of artists, this famous Ibizan museum has some international famous ones in its collection. Antoni Mari Ribas has a permanent collection here – this is no surprise due to the artist being born in on the island though! There are lots of temporary exhibits here too – previous ones include designs from the LOEWE fashion house. If you're passing, pop in – you will not regret it.
09 – Casita Verde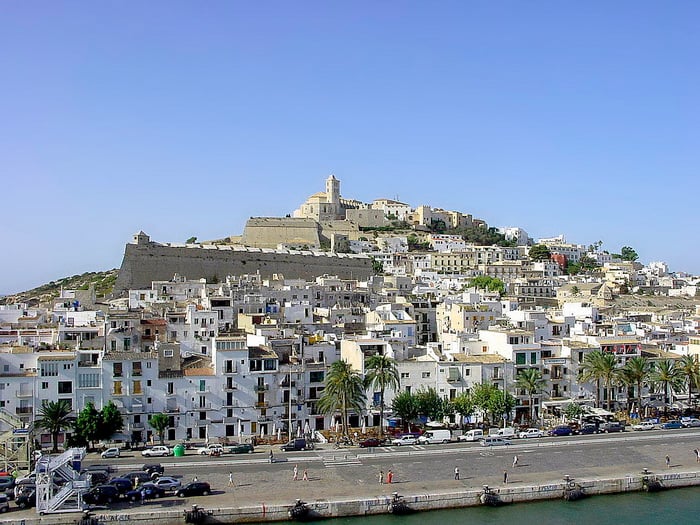 This is actually the name of the traditional Ibizan cottage a sustainable eco-education project calls home. With the current interest in green living, this is certainly a good place to visit now when in Ibiza. Set in a renovated finca and run by volunteers, it gives visitors a glimpse into how you can live in a more sustainable way. There are open days every Sunday where anyone can pop along to find out more. This includes a tour of the farm, the chance to enjoy a veggie lunch and the opportunity to take part in workshops. If you are very lucky, you might even get to enjoy a massage or one of the other therapies on offer.
08 – Bar Anita
If you still want to have a drink but without a glow stick in each hand, this is the perfect spot to visit. Found in San Carlos, this has been a popular hippy hangout since the 1960's and is still going strong to this day. It is a great spot to visit for the day and sit round taking in the atmosphere and enjoying a few drinks. It is still home to an eclectic mix of patrons and some fabulous artwork lines the walls from artists who used to visit the bar over the years. To this day, it acts as a place to collect mail for those in the area who are too remote for regular postal delivery. The quiet, shady courtyard is a particularly nice spot to chill out in for the afternoon.
07 – Cala Comte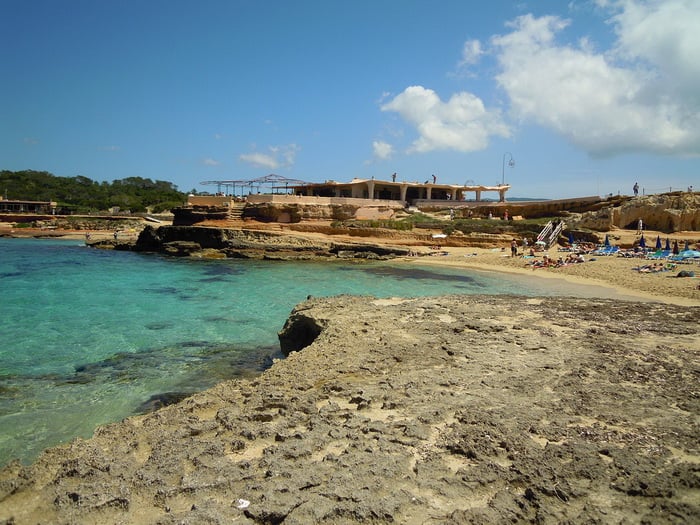 If you want to enjoy Ibiza's beaches but in a more sophisticated, relaxed way then Cala Comte on the West of Ibiza is a perfect spot. The small beach is great for families to play on while there are enough sun loungers to go around. The rocky coastline is great to gaze over whilst holding a cocktail with carved flat platforms to lie on as well. When you do venture into the water, it is shallow enough to be safe for kids or non-swimmers. Once you get ready for something to eat, there are 3 stunning restaurants above the beach to dine in.
06 – Hippy Markets
Ibiza is famous for the hippy markets that are found in many locations across the island. You can find lots of bargains here and pick up some great souvenirs to take home also. Full of colour and some unique characters to watch, it is a great way to pass a day on this magical island. Las Dalias offers something a little different if you fancy heading to the markets at night. Open each Monday and Tuesday night until 1am from June to September, it is a great way to spend the evening away from Ibiza's clubs. The main one most will head to though is Punta Arabi which is the biggest and oldest hippy market on the island. With tasty food and live music along with the many stalls, this is certainly worth visiting.
05 – Dalt Vila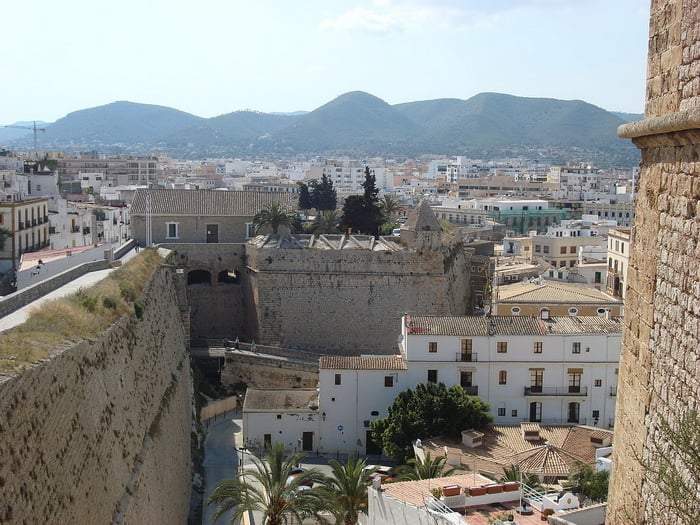 The name literally means 'Upper Town' and is known as Ibiza's old town. Found on a hill, it has great views of the sea to take in when there. It also has ancient walls to check out for those who like to get some history when on holiday. With charming cobbled streets to wander around and a stunning cathedral to take in, it is a fabulous way to spend a day on the island. There is also plenty to do here too with some fantastic boutique shops, museums and art galleries. For a real glimpse of authentic Ibizan life, this is hard to beat.
04 – Puig des Molins Necropolis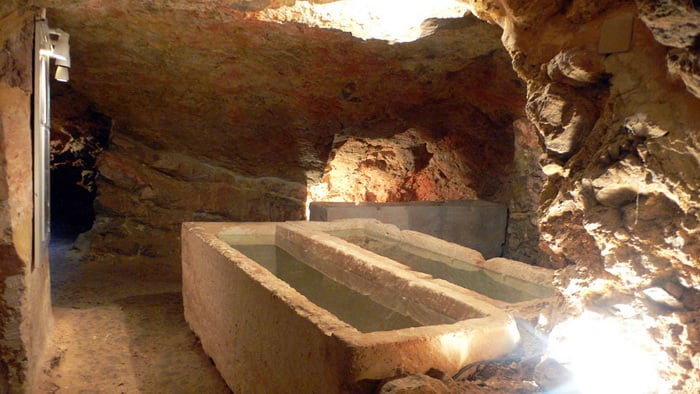 Translating as a 'Hill of Windmills', this site is found just outside of the old town of Ibiza. It dates back to the 7th Century and the area contains a large and ancient necropolis with almost 3000 tombs there. A handful of these is open to the public which means you can get the full flavour of what is found there. For those who want to really take in what is found here there is even a set route which you can follow. A UNESCO World Heritage Site, there is a museum here which makes for a truly fascinating visit.
03 – Café Del Mar
This truly iconic café cum bar is a must-see when you visit this part of the Balearics. It allows you to experience a little of the famed Ibizan nightlife and atmosphere but without having to get too involved in the hustle and bustle of what goes on. The best time to had here is sundown when you can grab a few drinks and watch the sun go down from the large outside terrace. The music here is great to chill out with and gives a very relaxing backdrop to those refreshing drinks. A visit here may be a cliché in some ways but is something you must do.
02 – Teatro Pereyra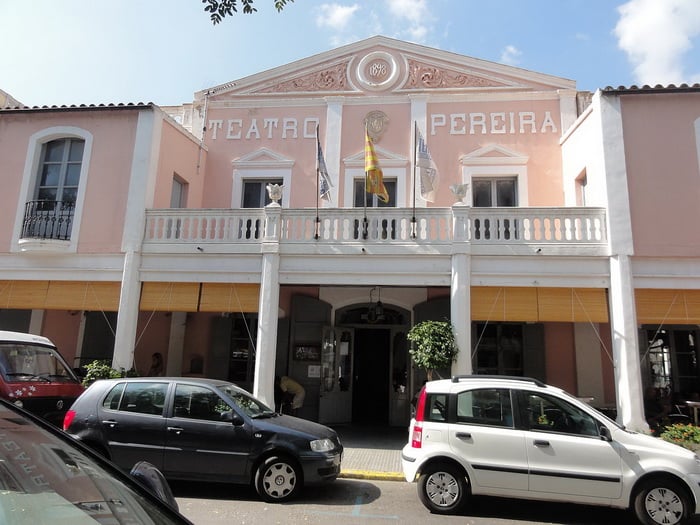 Constructed in 1898, this fabulous theatre is full of history. It now acts as a live music venue and has seen a wide range of artists play over the years. Sometimes it even hosts comedy nights for a change of direction. The design inside is pure glamour with red drapes and chandeliers. Open until 4am, it is popular with locals as well as tourists which makes for a great mix. If you do pay this building a visit, you need to look at the extensive cocktail list which has some amazing concoctions on it. With a lively atmosphere, it is the perfect place to catch some live music in Ibiza.
01 – Es Vedra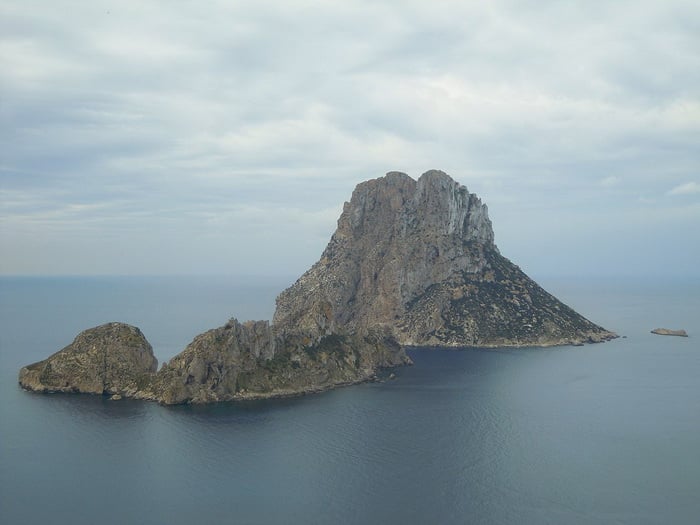 This rocky island is one of the most magical and mystical places around Ibiza. Found off the South-West coast of the island, it stands 413 metres high and is uninhabited. Local legends hold that the goddess Tanit was born here and that it was once home to sea nymphs who appear Homer's Odyssey. Even without the mythology around it, Es Vedra is a great place to see the sun go down and take some stunning pictures to bring home.
Ibiza is rightfully famous for its party scene and nightlife. However, this is not all it has to offer for those who prefer to holiday in a different way. There are some great sites and buildings to visit all over the island which give a totally unique way to see this part of Spain.